Scouting Notebook: Tyler Bray Struggles, Notre Dame Dominates, Country-Wide Scouting Notes, and Top 10
Page 1 of 2
In a week that featured the first Tennessee/Florida game where both were ranked in 7 years, Louisiana Monroe nearly beating another SEC team, Notre Dame dismantle Michigan State, and USC fall to Stanford, there were many scouting notes to gather from this past weekend.

Tyler Bray looked more like a work in progress than a future 1st rounder, Notre Dame's speed shut down Le'Von Bell of Michigan State, and scouting notes from the USC/Stanford game, Penn State/Navy game, and Northern Illinois/Army.


Tyler Bray Flashes More Serious Flaws That True Excitement
Tyler Bray's (injury limited) sophomore season got many Tennessee fans and NFL evaluators excited for what the future may hold for the development of his talents. But this past weekend's games against Florida did more to limit and maybe even turn negative the scouting excitement over the future of Tyler Bray.

Bray still showcased his quick, explosive release, his fantastic arm downfield, and willingness to take chances down field. However, it's that gunslinger mentality combined with very sloppy mechanics and footwork that lead to the struggles for Tennessee. Under pressure, Bray seemed to choose between launching passes deep downfield into double coverage, or making a quick, obvious check-down calls that lead to near or actual turnovers. His reads/decisions are both concerning pre- and post-snap, consistently looking for either the big play (and over-trusting his receivers Justin Hunter and Cordelle Patterson) or the short dump off that doesn't have any consistency.

If Bray can't clean up his mechanics and footwork under pressure, make much better progressions/decisions downfield, and show more focus and decisiveness as a quarterback, he'll have bigger concerns than just his NFL draft stock. He'll be in store for a long SEC season if he can't build off his Florida loss.


RELATED: Former Tennessee receiver Da'Rick Rodgers Kicked off Team, Heads to Tennessee Tech
----------------

Notre Dame Dominates Michigan State With Speed, Range, and Scheme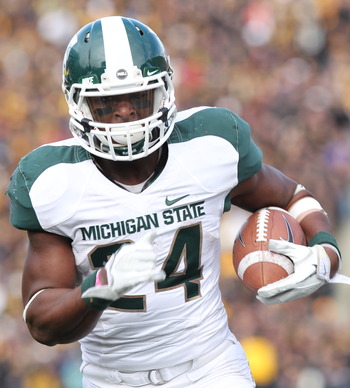 After re-watching what was an absolute domination of Michigan State, it's clear Notre Dame has something defensive that they haven't in a while: true speed, range, and fundamental play by their defense. Senior linebacker Manti Te'o is clearly the leader of this team and fits that defensive personality well. His fluidity as a runner in the open field, scrapping ability in downfield coverage, and quickness/speed to the ball on the edge is a tone setter for this defense. All game long, the defense forced junior runner Le'Veon Bell outside, forcing this offense to consistently struggle to move up and down.

Te'o's style is a perfect fit for this defense, but his struggles through traffic, lack of great lower body force through blockers, and may struggle as an inside linebacker in most schemes. As for Bell, his explosive second step through the hole, powerful lower half to consistently drive forward, and (most importantly) his confidence in his natural ability and vision is what separates him as a runner. He wasn't able to get upfield against the Notre Dame speed defensively, but his complete talents for a 230 running back are special.

As for the Michigan State defense, they contained Notre Dame for much of the game, outside of a handful of athletic plays by freshman quarterback Everett Gholston. His best offensive weapon, junior Tyler Eifert, was both covered with multiple defensive backs as well as not being featured enough in the offense.

Michigan State senior cornerback Johnny Adams was featured on Eifert on a few occasions, but for the most part, Adams wasn't attacked much at all by Notre Dame. He did, however, showcase his suddenness in run support, aggressiveness and sound tackling ability, and physicality as a cover cornerback. Finally, Michigan State defensive end William Gholston has many concerns as a pass rusher (including lacking a speed rush, not a great motor, not very decisive in pursuit, takes poor angles in run support, lacks elite speed for range to the edge), but with his 6'7 size, ability to pinch the inside at an elite level, and upside as a likely 5-technique, Gholston still has a better than expected chance at the 1st round.

Head to the next page for our scouting notes from across the country by our staff.