NFL Training Camp Preview: Chargers, Raiders, and Ravens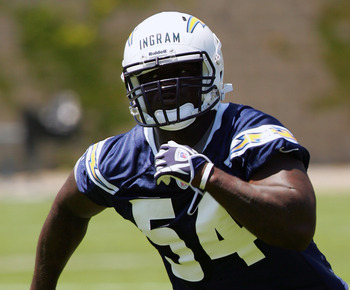 There are countless differences between every NFL team and their approach to the season. From play calling philosophies to dress codes, every team does things differently.

The one common denominator for all 32 NFL teams? Pressure. It may take different forms: some teams, like Oakland, need to show their trade for Carson Palmer was the cost, while others, like San Diego need desperately to make the playoffs. Still others, like Baltimore, will feel the season is a disappointment without a Super Bowl win.

As each team hits the field for the first practice July 27th, they'll all be feeling the pressure to reach those expectations. Will they rise to the challenge, or crumble under that weight?

Rookie Watch

The Chargers were able to boost their pass rush by adding outside linebacker Melvin Ingram to their defense. Ingram is an ideal fit in San Diego's 3-4 defense and although he was one of the top pass rushers in the draft, don't under estimate his ability against the run. Ingram is a solid all around talent and will help turn outside from a weakness into a strength.

Defensive lineman Kendall Reyes is another excellent fit on the 'Bolts defensive front, and has the potential to torment passers. Safety Brandon Taylor was taken earlier (third round) than many expected, but he made plays in college and although he's lacking in athleticism he should be able to contribute on special teams this season.

For the rest of the draft, San Diego focused on the offensive side of the ball. Tight end Ladarius Green has the chance to be a younger Antonio Gates, but he'll need to spend 2012 developing a NFL body. Johnnie Troutman and David Molk are two offensive lineman that will also need a year to get ready to compete at this level.

Because the Raiders didn't have a selection until the third round of the draft, it was going to take a strong showing from their front office to add any players that would make a year one impact. At least on paper, it's not clear that they were able to make that happen.

Offensive lineman Tony Bergstrom won't be able to play left tackle for the Raiders, but can likely play inside or at right tackle. He'll provide solid depth in 2012, and has a chance to grow into a good starter in the future. Defensive end Jack Crawford's draft stock dropped when he was arrested in a drug related incident. If he stays under control off the field he could be a good value as run stopping defensive end.

Wide receiver Juron Criner isn't the most athletic receiver in this class, but he's strong, physical, and has great hands. His lack of speed isn't likely to be too much of a detriment to him and he should prove to be a good player in Oakland's offense.


Linebacker Miles Burris on the other hand is extremely athletic, but he's going to need time to develop better technique. Training camp will be a crucial first step in their long term development for all of the Raiders' 2012 draft class.

Baltimore's talented defense added yet another talented player with their first selection in the draft, outside linebacker Courtney Upshaw. Upshaw and the Ravens are seemingly a match made in football heaven, and he should be able to contribute from day one. Kelechi Osemele will be transitioning from playing offensive tackle in college to guard in the pros. If he can manage that change during camp, he could be another instant impact player for Baltimore.

Running back Bernard Pierce won't be asked to be a starter, but as one of the best running backs in the draft he'll be able to produce when called upon. He carried the ball a ton in college and will benefit from not having to carry a full load with the Ravens.

The rest of the Ravens' draft will spend 2012 developing. Gino Gradkowski will eventually be center Matt Birk's replacement, Tommy Streeter is a burner at wide receiver but needs to develop, and DeAngelo Tyson is a big body on the defensive line that will provide valuable depth.
--------------------

Top Position Battles

Chargers – Louis Castillo vs. Kendall Reyes vs. Vaughn Martin

Louis Castillo was a leader on the Chargers' defensive line, but the broken leg that forced him to miss last year could hinder him again in 2012. It's tough to bounce back from an injury like that and be 100% just one year later.

Vaughn Martin stepped up admirably in Castillo's absence, recording 47 tackles and a sack. However, he's can play both tackle and end and won't likely to tied to one spot now that Castillo is back and Reyes is in the mix at end.

Reyes is the probably the biggest obstacle to Castillo reclaiming his starting role. Reyes has the size, strength, and athleticism San Diego wants in their defensive ends. He doesn't have the experience Castillo has, but he has more than enough talent to have a legitimate chance at the job.

Raiders – Ron Bartell vs. Shawntae Spencer vs. Brandon Underwood vs. DeMarcus Van Dyke vs. Chimdi Chekwa (Cornerback)

There is no position with more uncertainty for the Raiders than at cornerback. To put it lightly, there's not a ton of talent here.

Ron Bartell only started one game in 2011, but he's likely to be a full time starter in 2012. For the spot opposite him, Shawntae Spencer is probably the favorite. He was a starter in 2009 and 2010 in San Francisco before being relegated to a backup role in 2011.

DeMarcus Van Dyke and Chimdi Chekwa are young DBs that are talented enough to be starting corners, but haven't developed enough consistency yet. They'll battle it out for the nickel role, but both could fight their way to becoming full time starters.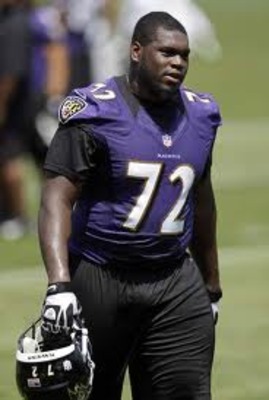 Ravens - Jah Reid vs. Kelechi Osemele (Left Guard)

The departure of Ben Grubbs via free agency means that the Ravens have a hole at left guard. Second year player Jah Reid was expected to be the early favorite, and he's made it no secret that he's considered the front runner for the position.

That may all be changing, however. Osemele has made a strong early impression during many camps, and is now thought to have a very good chance at winning the battle. Even if Reid wins the battle initially, he'll have to keep an eye on Osemele all year long.


--------------------

One Last Chance for the Ravens' Defense?

During the offseason Joe Flacco followed in the footsteps of Eli Manning, and stated that he felt he was the best quarterback in the NFL. The statement was controversial (and probably incorrect, at least now) but it's an example of the atmosphere surrounding the Ravens this summer. The time to win a Super Bowl is now. But no matter what you may think about Flacco's proclamation, there may be more questions surrounding Baltimore's defense heading into training camp.

For years, the Ravens defense has consistently been one of the league's best defenses. Ray Lewis, Ed Reed, and Terrell Suggs have been one of the most fearsome groups of players that any NFL offense could square off with. But as we head into camp, there are major question marks around each player.


Terrell Suggs is hoping that his torn Achilles' tendon isn't going to keep him out for the entire season, and he's reported that his rehab is going well so far. But no matter how successful his rehab is, Achilles' injuries are not often something that an athlete can quickly bounce back from. It's true and Suggs may make it back to the field in November, but it remains to be seen just how well he plays. The most likely scenario is that the rookie Upshaw will be saddled with the responsibility of filling the void left by Suggs.

There's no doubt the heart of the Ravens' defense of the last decade plus has been Ray Lewis. His leadership has been without question, and remains so. But will he be able to maintain his level of play much longer? Heading into his 17th season, continuing to play at the Pro Bowl level he has would be a lot to ask. Fortunately for Lewis, he has guys like Halite Ngata working in front of him, making Lewis' job as easy as possible. The 37 year old linebacker will be retiring soon, but he's still got enough in the tank to elevate the Ravens' defense for 1 more year.

The biggest unknown right now is Ed Reed. As of right now, it's not even clear if the safety is going to play at all this year. He's demanding a new contract, and thus far he's been holding out until he gets one. This has become a near yearly occurrence for Baltimore. Reed often debates retiring, or asks for a new contract before finally reporting to camp. But this year things have seemed a little different. He's struggled to stay healthy and recently said his mind was nowhere near football. If Reed doesn't play in 2012, it could be a big blow to Baltimore's secondary.
Flacco and the offense will of course play a big role in the Ravens' 2012 success. But to win a Super Bowl, which will be their collective goal, they'll need a strong effort from their defense as well. And they'll have to do it now, as it's apparent the window for their current defense is closing fast.

The Pressure is on in San Diego

In one of the weaker divisions in the NFL, a glance at their roster would make you think that the Chargers would be making perennial playoff appearances. The harsh reality is that they've missed the playoffs two seasons in a row, and it's questionable as to whether they did enough in the offseason to correct that.

The biggest issue on offense that San Diego had in 2011 was their offensive line. Phillip Rivers was harassed all season long, and it obviously hurt his play. He wasn't nearly as comfortable as he should have been, and it led to his throwing a whopping 20 interceptions. Jared Gaither helped to solidify the offense line after he was released by Kansas City, and the Chargers will have to hope that his presence is enough to keep Rivers comfortable in 2012.

Defensively, the Chargers pass rush was atrocious, and their secondary wasn't much better. They focused on improving the pass rush via the draft, adding Ingram and Reyes. An improved pass rush will in turn make the secondary look better, but that won't be enough to get the Chargers to the playoffs alone.


Antoine Cason came in to the league with high expectations, but he's been limited by his size and has been mired in mediocrity thus far in his career. Opposite him is Quinton Jammer – a player who has had a solid career, but will be 33 by the season's end. He's very obviously not the player he once was.

The answers to the Chargers' problems in the secondary may already be on their roster. Young corners Marcus Gilchrist and Shareece Wright both possess raw talent and have the potential to be long term starters. But San Diego needs to give them the chance, and not stick with trusted but aging veterans as has been the norm there.

As is the case across the league, the success or failure will ultimately come down to how Rivers plays. Will he regain his confidence in the pocket? Will he yield to pressure (real or imaginary) or force passes again like he did in 2011? That remains to be seen. What is known, however, is the urgency he and the rest of the Chargers should feel. If they go a third straight year without a playoff berth, there will be some major changes both on the roster and with the coaches and front office.