NFL Training Camp Preview: Cardinals, Bears, and Redskins
Hope springs eternal during the summer in the NFL, the Arizona Cardinals, Chicago Bears, and Washington Redskins are no exceptions. As those three teams get training camp started on July 26th, each will have high expectations about new additions to their teams.

In Arizona, Cardinals' fans will be anticipating the introduction of Michael Floyd to the offense across from Larry Fitzgerald. Washington will, of course, be looking forward to seeing their new franchise quarterback begin his career. Jay Cutler will be excited to get back to work with Brandon Marshall, this time in a Bears uniform.

Will these new additions work out for each team? We won't have a complete answer until January; but the picture will begin to crystalize in just a couple of weeks.



Rookie Watch

Larry Fitzgerald made it no secret that he wanted his Arizona Cardinals to draft Notre Dame stand out Michael Floyd with their first round pick, and he got his wish. Floyd will give Fitzgerald the quality running mate that he hasn't had since Anquan Boldin went to Baltimore years ago.

Unfortunately, that's probably the only player that will be providing a quick impact from this draft class. Cornerback Jamell Fleming has a knack for making plays but is stiff and isn't likely to be more than a nickel or dime back in 2012. Bobby Massie and Senio Kelemete are two offensive linemen that project well long term, but need to spend the upcoming season developing. Justin Bethel is a tremendous athlete with a 60 inch vertical, but he too will need to refine his game before he's ready for the next level.

Say what you want about the Chicago's 2012 draft class, but you can't accuse them of playing it safe. Shea McClellin is a pass rusher with good talent, but it's not exactly clear where he's going to fit in the Bears' 4-3 defense. His athleticism will allow Chicago to use him in a number of positions, but he'll need to bulk up if he's going to consistently play defensive end.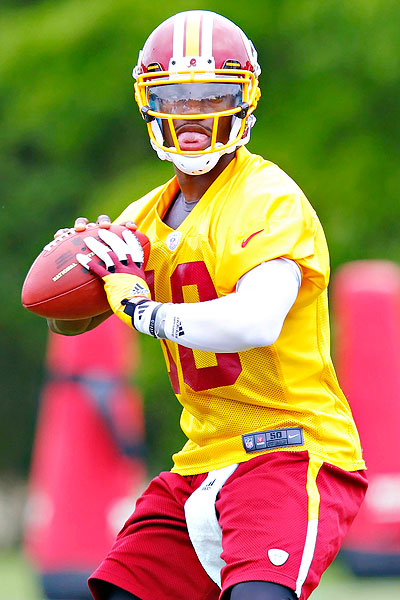 Their second round pick, Alshon Jeffery is just as risky. As one of the better wide receiver talents in the draft, the upside is clearly there. But he's been followed by motor and conditioning questions throughout his career, and it remains to be seen if he has what it takes to perform in the NFL.


Chicago spent three of their following picks on defensive backs. Safety Brandon Hardin was a pretty big stretch as a third round pick in my eyes, but both Isaiah Frey and Greg McCoy should provide help on special teams and quality depth in the secondary.

The Redskins addressed a number of issues with their selections in the 2012 draft. Linebacker Keenan Robinson will have the opportunity to learn from one of the best with London Fletcher. Josh LeRibus and Adam Gettis are two offensive guards that should excel in Mike Shanahan's zone blocking scheme.

Tom Compton is an intriguing prospect at offensive tackle from South Dakota. He has the size and athleticism you want from a tackle, and he could prove to be a huge steal. Alfred Morris is a typical Shanahan running back selection in the 6th round, but it's tough to see him getting many touches in 2012.

It's obvious, of course, that the ultimate success or failure of this class will rest on the shoulders of their new franchise quarterback, Robert Griffin III. Will he carry one of the NFL's most recognizable franchises back to glory?

--------------------

Top Position Battles


Arizona- A.J. Jefferson vs. William Gay vs. Jamell Fleming (Cornerback)

Most of the media's focus in Arizona will be on the battle at quarterback between Kevin Kolb and John Skelton. But in reality, it'd be difficult for Kolb to lose that battle. The Cardinals have made a big time investment in him, and not having Kolb start would put a number of front office jobs in jeopardy.

The real battle will for the cornerback spot opposite of Patrick Peterson. Solidifying the secondary is the next step that Arizona needs to make on the defensive side of the ball, and they have a number of options. The rookie Jamell Fleming has consistently been around the ball during mini camps and has drawn plenty of praise from his coaches. If he continues to make plays throughout training camp he could surprise and earn a starting spot.

To do that he'll have to beat out last year's part time starter, A.J. Jefferson. Jefferson replaced Richard Marshall (now in Miami) in the line up in 2011, and was pretty impressive in 5 starts.

William Gay is clearly not playing in the prime of his career anymore, but as a free agent addition he brings some veteran experience that the other competitors for this position just don't have.

Chicago - J'Marcus Webb vs. Chris Williams (Left Tackle)

The Bears have learned the hard way that keeping quarterback Jay Cutler healthy is key in their quest for postseason success. That all starts at left tackle, and unfortunately there is a huge question mark there right now.

J'Marcus Webb is the incumbent starter, but in 2011 he struggled mightily in pass protection. In fairness, it was his first season playing at left tackle in the NFL, but the Bears were so concerned with his play that they elected to move Chris Williams outside from guard to compete with Webb for the position.

It's tough to get a feel for who the leader in this competition is currently. Webb and Williams have been splitting first team reps evenly throughout minicamps. Neither player will be able to separate himself from the other until training camp gets underway and pads go on. Until then Chicago must hope that one of these two will step up and provide Cutler with adequate protection in 2012.

Washington - Madieu Williams vs. Tanard Jackson vs. DeJohn Gomes

Washington is in the process of overhauling both safety positions. They let incumbent starters LaRon Landry and O.J. Atgowe hit the road, and added Brandon Merriweather, Tanard Jackson and Madieu Williams. Merriweather is clearly the starter at strong safety, leaving Williams, Jackson and Gomes fighting for the free safety position.

Jackson has the distinct advantage of having played for the Redskins defensive backs coach Raheem Morris while they were both in Tampa Bay. Morris called Jackson as soon as he was released by the Buccaneers and the two have a very good working relationship. DeJohn Gomes will benefit from being the only competitor that was with the Redskins in 2011, so he won't have to deal with changing teams, playbooks, and terminology.

The leader in the clubhouse right now is clearly Williams, however. His Redskin coaches can't stop talking about his leadership and veteran savy, which is crucial at free safety. He's been making plays in addition to orchestrating the rest of the secondary during mini camps, and he's going to be tough to beat out in August.

--------------------


A Dynamic Duo is Reunited in Chicago

Chicago is one of the most storied franchises in the NFL. And yet, in it's nearly century long history, it's had a wide receiver catch 100+ passes only once (Marty Booker in 2001). Thanks to the reunion of Jay Cutler and Brandon Marshall, that is likely to change very quickly.

It's nearly impossible to overstate the importance of chemistry between a quarterback and his receiver. When two players just exchange a glance and know what the other is thinking, it's a weapon that is nearly invaluable. Peyton Manning and Marvin Harrison had that sort of connection.Tom Brady has it with Wes Welker, and Aaron Rodgers seems to have it with everyone on the Packers' roster not named Jermichael Finley. And unfortunately for the rest of the NFC North, Cutler and Marshall have that same sort of connection.

At a pro day I was covering this spring, I got a chance to talk to an NFL coach that had a good knowledge of Cutler and Marshall's time together in Denver. He told me that Marshall, in spite of his reputation, was probably the single biggest help to Cutler's on the field development. When Cutler struggled to manage the huddle at times in his first two seasons, it was Marshall who helped get things under control. The two were inseparable off the field as well. Cutler and Marshall spent offseasons together working out and improving their timing. In their last season together in Denver, no one worked together better than Cutler and Marshall – Cutler looked to Marshall more than any other QB – WR tandem in the league.

Both players have had ups and downs since they were broken up, but they're still big time talents. Marshall is one of only five players to have three consecutive 100 catch seasons, and Cutler has to be thrilled to be able to work with him again.
For a preview of what to expect in Chicago this season, look no further than the 2008 season. Cutler put of 4,526 passing yards, had 8 300+ yard games and threw for 25 touchdowns. Marshall caught 104 passes for over 1200 yards and 6 touchdowns. If they have that sort of success in 2012 -coupled with Matt Forte making plays out of the backfield - Cutler and Marshall could be celebrating a division title or even more in 2012.

Washington's Offense: More Than Just a Solo Act?

A young quarterback's success depends on much more than just his talent. He needs to be put into a good situation as well – a solid coaching staff with good supporting talent surrounding him on offense. If he's forced to do too much on his own, bad habits are likely to develop and it could torpedo his career permanently.

Will RGIII have what he needs to succeed in Washington? Mike Shanahan certainly is an experienced, veteran coach that will be able to assist Griffin as he develops. It's not as clear that his teammates will be as able to help Griffin maximize his potential.

At running back, the Redskins have plenty of depth but not clear cut starter. Roy Helu and Evan Royster both showed good talent in 2011, but will one of them step up and be a 16 game force in 2012?

Griffin will have the benefit of having a decent collection of weapons to throw to. Santana Moss has been a legitimate threat for years, but his 584 yards in 2011 was his worst season in over a decade. Will Griffin rejuvenate Moss' career, or is this the end of the road for the veteran? Pierre Garcon was signed in the offseason to be the new top receiver in Washington. He had the best season of his career in 2011, and he'll get his first chance to be the top dog this season.

The keys could be Lenard Hankerson and Fred Davis. Both could boom or bust in 2012 – Hankerson is looking to prove himself after a hip injury, and Davis is trying to prove he can stay out of off the field troubles. Hankerson flashed some big potential last season, like in his eight catch performance against the Dolphins. He's likely to be the Redskins' best option in the slot.

Davis, along with fellow tight end Niles Paul, are some of the most athletic players on the Redskins' roster. If Davis can avoid suspensions he can be one of the best in the game. Paul, who runs a 4.55 40, is transitioning to tight end from wide receiver so there should be a learning curve expected. But when he's adjusted Davis and Paul will provide Griffin with some explosive weapons, rather than just a security blanket.