NFL Training Camp Preview: Buccaneers, Seahawks, and Titans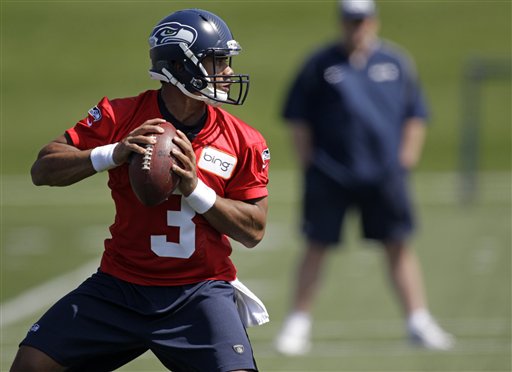 Training camp is a crucial time for any NFL team, but it's doubly important for teams built around young players. July and August is when good habits are made and bad ones are broken. There's no time during the season to address those fundamentals. If a young team doesn't get those details ironed out during the summer, it's sure to be a long season.

Tampa Bay, Tennessee, and Seattle are all hoping to improve from their 2011 showings, and they're all looking to do so with a relatively young and unproven roster. As they hit the field on July 27th, what areas will each team specifically be looking to improve on?



Rookie Watch

It may have been a surprise to see Mark Barron drafted in the top ten, but as a hard hitting in the box safety Barron isn't likely to be a disappointment in Tampa Bay. He should start from day one and although he's not particularly strong in coverage, his presence in the box will give the Bucs' defense a boost.

Running back Doug Martin will already have his eyes on Tampa Bay's starting running back position. He's a good receiver and blocker, has good vision and awareness, and a low center of gravity. The Buccaneers may say he was drafted to compliment LeGarrette Blount, but that may not last for long.

Linebackers Lavonte David and Najee Goode were interesting picks. Neither have the typical size you'd expect out of an NFL linebacker, but have athleticism and awareness to have a chance to see the field. Running back Michael David is going to have a difficult time getting many reps with Martin and Blount ahead of him.


The Titans added another playmaker to an offense that has the potential to be very fun to watch with Kendall Wright. Putting him on the field with Kenny Britt, Chris Johnson, Jared Cook, and Nate Washington will give defensive coordinators headaches.

Linebacker Zach Brown might be one of the most athletic linebackers in the NFL. Time will tell if he has the toughness and instincts to play at the next level. He and cornerback Coty Sensabaugh will be interesting projects to watch as they develop during training camp.

There are no questions about defensive tackle Mike Martin's toughness. He's a monster on the inside and will find a spot in Tennessee's rotation very early. Tight end Taylor Thompson will be the guy to watch during camp. He's an athletic specimen, but is transition from playing defensive end in college. How quickly will he be able to make the move? The results have been good so far.

Seattle's selection of Bruce Irvin in the first round was probably the most surprising moment of the draft. He's widely viewed as a situational pass rusher only, and now there is going to be a ton of pressure on him to make an impact quickly. Linebacker Bobby Wagner is a much safer pick in the second round. He's not particularly athletic, but he has what it takes to be a weak side linebacker.

The gem of the Seahawks' class may be quarterback Russell Wilson. He slipped in the draft because he doesn't have prototypical height, but he has everything else you'd want in a quarterback. He's already starting to challenge for reps with starters now, and by 2013 he could be ready to take over in Seattle.

Seattle had plenty of picks in the 4th round, but outside of running back Robert Turbin it's difficult to see where the impact is going to come from. Defensive tackle Jaye Howard didn't produce while at Florida, and Kory Toomer and Jeremy Lane weren't even expected by most to be drafted.
--------------------

Top Position Battles


Tampa Bay – LeGarrette Blount vs. Doug Martin (Running back)

LeGarrette Blount has been a great success relative to how he entered the league as an undrafted free agent. But there are too many holes in his game for him to be fully relied upon as a starting running back. He's a total non factor in the passing game – he's got poor hands and isn't a good blocker in spite of his imposing presence. He fumbles far too often and has a tendency to sometimes disappear in big moments.

Much of what Blount does poorly, Doug Martin excels at. He's a good receiver and blocker, and although he too struggles with ball security he's a more well rounded runner than Blount. The ideal scenario would be for Martin to carry the load through three quarters, allowing Blount to batter a worn out defense late in the game.

Tennessee – Matt Hasselbeck vs. Jake Locker (Quarterback)

The free agent acquisition of Matt Hasselbeck by the Titans was one of the best moves of the last offseason. But while Hasselbeck still has a ton to provide in terms of leadership, the days of his being an effective quarterback are likely over. There's no debating that over the last half of the season his arm strength dropped off dramatically, and that will only get worse as he gets older.

The Titans could get away with that in 2011 when they only had Nate Washington to stretch the field anyway. But now that Kenny Britt and Kendall Wright are in the mix, they'll need Jake Locker's big arm to fully maximize their talents. Tennessee plans to run an offense similar to the Run and Shoot that offensive coordinator Chris Palmer helped invent years ago, and Locker's talents are a near perfect fit for that scheme.

Seattle – Matt Flynn vs. Tarvaris Jackson vs. Russell Wilson

Matt Flynn was expected to be one of the top prizes on the market, but interest in the quarterback was much more tepid than he had hoped. Because of that, Seattle didn't have to give him a blockbuster contract, making this a real competition.

The only anticipated competition here was going to be between Flynn and Jackson, a battle Flynn was likely going to have little problem winning. However, rookie Russell Wilson has been a revelation in minicamps and appears to have a legitimate shot at winning the job. In the end, Wilson may need a year to get ready, but there's a very good chance that Wilson will beat out Jackson for the backup spot.

-------------------


Can Britt Bounce Back?

Through the first two and a half games of last season, there's no debating that Kenny Britt was one of the league's biggest play makers. In ten quarters he had already put up nearly 300 receiving yards and three touchdowns. Titans' fans thought they were finally witnessing Britt put it all together.

But it all fell apart when Britt went down with a torn ACL in week three. Just like that Tennessee's offense went from dynamic to dismal, and a run at a playoff berth quickly became an after thought.

It hasn't been all bad, however. The injury has forced Britt to stay in Nashville and rehab instead of going back to New Jersey, where's he gotten into trouble in the past. He's said that the injury has led him dedicating himself to the game and inspired a new work ethic.

The Titans certainly hope so. Even with the addition of Kendall Wright, there's no doubt that Britt is the key to the offense. When he's been healthy, his presence has opened up the field for Chris Johnson, Nate Washington and the rest of the playmakers on the Tennessee offense. Adding Wright and potentially Jake Locker to that mix could create an outstanding offense.

But Britt has to bounce back, and he has to stay healthy. All reports are the Britt is coming back right on, if not a bit ahead of schedule. But we all know that returning from an ACL tear often a two year process, and hoping for Britt to return to his 2011 form before 2013 is probably asking too much. However, if he can still be an above average receiver, his presence alone will help take the Titans' offense to the next level.

Back to the Basics in Tampa Bay

When you have a roster full of young players, it's crucial that your coaches make discipline and structure a priority. In 2011 the Buccaneers had tons of young talent, but very little discipline. In an attempt to solve that, Tampa Bay is welcoming former Rutgers head coach Greg Schiano as their new coach in 2012.

Schiano is certainly going to bring a hard nosed, physical mentality to the Bucs. He's already emphasizing a renewed dedication to fundamentals. Gone are the days of Tampa Bay's gifted young players relying on their athleticism to make plays. If a player isn't using the proper technique, he'll find himself on the sideline.

And the change has certainly been needed. Gerald McCoy, the third overall pick three years ago, told reporters that he didn't even know how to tackle properly until Schiano arrived. Buccaneers players are now expected to lift weights on a daily basis, something they haven't done in years.
Off the field, an increased focus on discipline has been desperately needed as well. Aqib Talib's numerous issues have been well documented, and they've been a major distraction for the franchise. One of Schiano's first acts as coach was to trade away the often disgruntled tight end Kellen Winslow Jr., in part due to the fact that he wasn't willing to participate in workouts with the team during the offseason.

Of course, deep rooted culture issues aren't over night fixes. Eric Wright, whom the Bucs gave a $37 million contract to, was recently arrested on suspicion of DUI. In spite of that, the overall feeling in Tampa Bay has definitely changed. There is a new sense of accountability and responsibility. We'll begin to see in July if that results in a better product on the field.
By the way , Kellen Winslow Jr. has medical limits on how much he can do. That's why he's limited in practice. The only thing he was ever "disgruntled " about was being on a losing team. One which he led in receptions for the last three years. Trading him to Seattle for next to nothing was not a very smart move. He will however fit very nice in the Seahawks offense. Thank you very, very, much Tampa for donating your best offensive player to Seattle.
last two drafts the critics all spoke of Seattle "reaching" on picks and wondering why in the world they would draft this or that player. Guys like Kam Chancellor, Richard Sherman, K. J. Wright.  The fact is Pete Carroll knows this stuff a little better than most. The past two drafts have yielded 17 picks. 15 are still with the team, 9 are starters, 2 have been to the pro-bowl and more will follow. Pete Carroll took a defense that was last in almost everything to being in the conversation as THE best in the NFL in just two years. And not with big money free-agents but with players like Richard Sherman, Kam Chancellor, Red Bryant, Chris Clemons, Brandon Browner. Players Nobody else even wanted. This years draft and free agent pick-ups are more of the same. When Korey Toomer gets 12 sacks or Jeremy Lane gets 6 picks I won't be one bit surprised.