2012 NFL Youth Movements: NFC North
In the second instalation of our 2012 Youth Movement series, we're taking a look at one of the best divisions in the NFL. Which ever team makes it out of the NFC North with a divison crown will likely end up being the favorite to win it all. Make no mistake about it: the road to an NFC Championship will go through the NFC North.

Not only are some of the best teams in the NFC North, but it's full of some the best young talent to enter the league in recent years. Who are the best players in the division under age 25? Will any of those young players help carry their team to a Super Bowl this season?





1. Matthew Stafford, Quarterback, Detroit Lions
As a 23 year old coming off a season where he only played in three games, Matthew Stafford had a season most quarterbacks could only dream of. Completing 64% of his passes, he threw for over 5,000 yards, 41 touchdowns, and only 16 interceptions. Not bad at all for his first full season in the league.
His detractors will be quick to point out that he's struggled to stay healthy over the course of his career, and it's a valid point. He missed 19 games in his first two seasons, certainly not the type of stat you want associated with your franchise quarterback. But he started all 16 games in 2011, and the fact that he could put up the type of numbers he did in his first full season is a real testament to the immense talent that he possesses as a passer.
The addition of Ryan Broyles, along with the hopes that they'll have an effective running game for the first time in Stafford's career means things should only get better in his fourth season. He's already a top ten quarterback as it is, and if he is able to capitalize on all the talent that surrounds him, he'll be a top five player in the league by the time the 2012 season is in the books.
2. Bryan Bulaga, Offensive Tackle, Green Bay Packers
In a division that has a surplus of talented young players, it might be a surprise that Bryan Bulaga would be ranked as the second best young player in the NFC North – but it shouldn't be. Over the past two years Bulaga has developed in a Pro Bowl level right tackle that's simply been overshadowed by the numerous other stars that he plays along side every Sunday.
The knock on Bulaga as a draft prospect was that his arms were too short, but he's shown no signs of that being a hindrance for him. He's one of the best run blocking tackles in the league and with some more development his pass blocking will be at an elite level as well.
Bulaga is an anchor on the right side of the line, but the Packers should consider moving him to left tackle. Green Bay has no clear cut solution there, and Bulaga clearly has the athleticism to protect Aaron Rodger's blind side. Regardless of whether he's playing on the right or left side, Bulaga will be a tremendous asset for the Packers in 2012.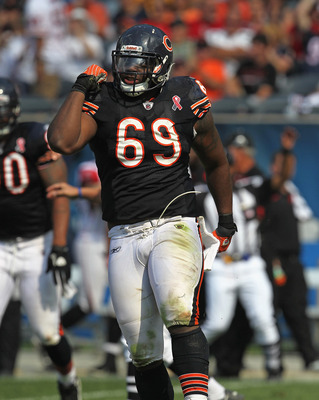 3. Henry Melton, Defensive Tackle, Chicago Bears
When looking for a defensive tackle, you want a strong, athletic player who can impact both the running game and the passing game. As the anchor of your defense, he needs to be a player you can count on to be on the field week after week. Henry Melton embodies all of these traits.
His athleticism is clearly apparent: when he began his career at Texas University, he was a running back, not a defensive tackle. He scored 16 touchdowns as a Longhorn, and averaged 4.7 yards a carry. He also played defensive end at Texas and still has the versatility needed to play either defensive tackle or end. The Bears are even experimenting with the 6'3, 295 lb Melton playing some fullback during OTAs.
Melton proved to be a reliable starter as soon as he got the opportunity in 2011. He started 15 games, and got to the quarterback 7 times. He was a consistent force on the inside, and he should be able to build on the revelation that was his 2011 season. He'll have the added benefit of playing alongside a healthy Stephen Paea in the trenches, and both young defensive tackles should feed off of each other in 2012.
4. Percy Harvin, Wide Receiver, Minnesota Vikings
Percy Harvin is known for his speed, as most players who run in the low 4.3s are. But even though he's one of the fastest players in the league, his speed isn't the only thing to like. Although he's slight of frame at 5'11, 184 lbs, he doesn't shy away from contact as many receivers his size do.
He came into the league very raw, but in his three seasons he has consistently developed from one year to the next. His rookie year was solid: 60 catches for 790 yards. He's improved to the point that in 2011 he had 87 catches for nearly 1000 yards. His game has evolved from just being an option deep, and now he's a threat in short and intermediate routes as well.
Because of his development at receiver, the Vikings have begun to rely less on his talents as a kick returner, but it's still a tremendously valuable aspect to his game. In his career he's amassed over 2600 return yards and scored 4 touchdowns. His speed and all around athleticism make him one of the best weapons in the league no matter where he touches the ball, and that will only help young quarterback Christian Ponder as he continues to grow into the role of being Minnesota's franchise quarterback.
5. Ndamukong Suh, Defensive Tackle, Detroit Lions
Early in his career, Ndamukong Suh did something that is nearly impossible for most defensive tackles: he routinely made highlight packages with his disruptive, violent play. In 2011 Suh made headlines again; but this time it was for far more negative reasons. Repeated immature outbursts that eventually culminated in an infamous stomping incident that left Suh suspended.
When he was able to be on the field, his play took a major decline as well. He's known for his pass rushing, but he only had four quarterback sacks in 2011, six less than his rookie season. His tackles dropped dramatically as well, from 66 in 2010 to only 36 in 2012.
Suh is obviously one of the most naturally talented players in the NFL, but it's the mental and psychological aspects of the game that keep him from ranked any higher on this list. He is so preoccupied with getting to the quarterback that he notoriously over pursues, often times running right past the ball carrier, leaving him a wide open lane. His immaturity after the whistle and reputation for being a dirty player must be cleaned up before he can even begin to realize his potential. He has a chance to be one of the best defensive tackles to ever play the game, but he has a ways to go before he arrives there.
Best of the Rest:
Christian Ponder didn't make the same type of impact in his rookie year that Cam Newton did, but the Vikings still have to feel pretty good about how their franchise quarterback progressed over the season. 2012 will be very telling in how his career will play out.
Chicago will be looking forward to seeing a healthy Stephen Paea play alongside Melton in 2012. Paea is extremely physically gifted, and if he develops like he should the Bears will have a fantastic interior defensive line.
Titus Young had a pretty solid rookie season, catching 48 passes for 607 yards. He, like many of Detroit's roster, will need to gain a good deal of maturity over the summer if the Lions are going to take the next step this fall.
Green Bay has two of the most physically gifted receivers around in Jermichael Finley and Randall Cobb. However, Finley is a one dimensional tight end that isn't a factor at all in the running game and Cobb, while he's talented, is stuck at the back of a very deep receiving corps.
The Packers will be hoping B.J. Raji returns to his 2010 form in 2012. Raji was a big time factor in their Super Bowl run, but last season was tough for Raji and the rest of Green Bay's defense.