2012 NFL Scouting: Week Ten in Review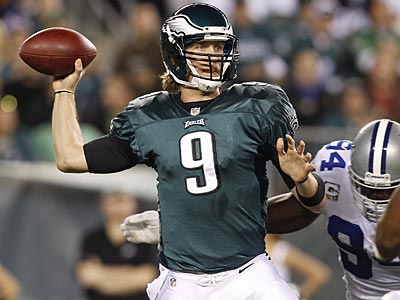 Week ten proved a rough week to be a starting quarterback in the NFL. If you weren't throwing multiple interceptions or playing in a torrential downpour, there's a good chance you got knocked out of the game at some point.
With so many starting quarterbacks now out or questionable with injuries for week eleven, next weekend will likely be very interesting. But before we look ahead to the weekend, let's take one last look back at week ten.
I've hesitated to mention the quarterback controversy in Philadelphia over the past several weeks, primarily because I had no faith in the coaching staff to make a change, making the conversation a pointless one.
With Andy Reid's announcement that Mike Vick has suffered a "pretty significant" concussion (memo to Reid: all concussions are pretty significant), it appears as though the Eagles' hand has been forced and the rookie Nick Foles will be the starter for at least the next couple of games.
What does that mean for the Eagles? As would be expected, Foles made both good and bad decisions under pressure. The good saw Foles complete nearly 70% of his passes for 219 yards and a touchdown. There was plenty of bad too, including an interception that was returned for a touchdown. It could be argued that those miscues cost Philadelphia the game, but it's just as reasonable to say that they would have been out of the game entirely without the plays he did make.
The ability for Foles to succeed in the future will largely rest on the same factors that ultimately doomed Vick. The Eagles' offensive line is a train wreck and that doesn't appear to be changing any time soon. There are very few quarterbacks that can make plays when they are constantly under pressure. Vick isn't one of those guys, and it's doubtful a rookie will be that sort of player either.
The other factor will be the use of LeSean McCoy. For whatever reason, Reid and the Eagles haven't used McCoy as often as they have in years passed. He's been an almost non-factor in the passing game, as Philadelphia has chosen to keep him in pass protection more (a result of the aforementioned poor offensive line). They've also taken carries from McCoy and given them to Bryce Brown, a rookie who has shown promise but is still not the player McCoy is.
On paper this looks like a pretty dismal situation for Foles and the Eagles, as evidenced by the overall results we saw after Foles came into the game on Sunday. But there is some reason for hope. Up until this year, Reid made a living off of using running backs on stretch plays and in the passing game.
He's gotten away from that this year, and it's hurt the offense. Now that his back is against the wall, and he's forced to use a rookie quarterback in his attempt to save his job, it would stand to reason that Reid would go back to that. McCoy is now without question the best player on their offense, and using him in the passing game would make Foles' life much easier. Can the offensive line get Foles enough time in the pocket with McCoy staying in to protect, though?
------------
Recapping the Top Match-ups to Watch
Cincinnati DT Geno Atkins vs. New York's offensive line
One of the most surprising scores of the weekend was the Bengals' big 31-13 win over the Giants. The fact that the Bengals won was surprising enough, and hardly anyone expected such a lopsided game. In reality though, it was an outcome that probably could have been predicted, at when the match-up of New York's offense and Cincinnati's defense is considered.
We said on Friday that the success or failure of the Giants' offense was likely going to be based on how the offensive line handled Geno Atkins, and that's exactly how it played out. While Atkins has the ability to play anywhere on the line, the Bengals elected to keep him playing primarily on the inside on Sunday, and for good reason. Offensive guards Kevin Boothe and Chris Snee had great difficulty slowing Atkins down, and the results were disastrous for Eli Manning and the rest of the offense.
Atkins finished the game with two tackles and no sacks – a rather harmless looking entry in the box score. But Atkins may have been the most dominate player on the field in this game. He knocked Manning down five times and recorded nine hurries. Those are ridiculous stats for a defensive tackle, and his pass rushing was a primary reason the Bengals defense was able to shut down the Giants' offense.
New Orleans' ground game vs. Atlanta's rushing defense
Watching Drew Brees directing the Saints' offense on a typical Sunday can give the false impression that New Orleans is a one dimensional offense. The reality is that there is quite a stable of running backs in New Orleans, but they can often take a back seat to Brees' elite passing and the play making abilities of Darren Sproles.
With Sproles out, Mark Ingram, Pierre Thomas, and Chris Ivory have all gotten the chance to show that they too are NFL quality running backs, and no one has capitalized on that more than Ivory.
After not even dressing for the first seven weeks of the season, Ivory has shown that the Saints probably shouldn't be deactivating him anymore. Over the last two weeks he's averaged 7.1 yards per carry and scored two touchdowns. His 56 yard score on Sunday sent the signal that Atlanta and their undefeated record was in trouble, and the Saints offense never really looked back.
The Falcons haven't excelled against the run all year long, but the performance against the Saints was surprising because of where they struggled the most. Up until this point it'd been the interior of their defense that had the liability, but that wasn't the case on Sunday. Their defensive tackles played a decent game, but New Orleans made a living running outside of the tackles. The main problem for Atlanta was tackling: they were in position to make plays, but more often than not they failed to wrap up the ball carrier.
Tampa Bay WR Vincent Jackson vs. San Diego's Secondary
The Chargers made it a point of emphasis to shut down Vincent Jackson, and for the most part they succeed. Jackson, who had been a primary target for Josh Freeman up until this point, only caught five passes for 57 yards. He was only targeted seven times and for the most part was a non-factor.
Unfortunately for San Diego, the entire Buccaneer offense is rolling right now, and not just Jackson. Instead of focusing on Jackson, Freeman spread the ball around, hitting six different receivers, as well as giving Doug Martin his fair share of carries. Even with Jackson being held in check, and Martin failing to hit 100 yards rushing, the Bucs still put up 34 points. It's a young offense, and will likely hit a rough game or two at some point, but they're certainly looking dangerous right now.
------------
Rookie Watch
Tannehill Finally Looks Like a Rookie
I mentioned on Friday that even though he'd been overshadowed by Andrew Luck, Ryan Tannehill was quietly having an outstanding season for a rookie, and was poised for a breakout performance against a poor Tennessee defense. Right on cue, Tannehill finally looked like a rookie for the first time this season.
Tannehill threw three interceptions on a day where there wasn't one player in a Dolphin uniform that could really feel good about their performance. For the second week in a row Jake Long joined the rest of Miami's offensive line in failing to get Tannehill any sort of protection, and the rookie's play suffered greatly for it.
One of his three interceptions was on a deflected pass, and at least partial blame could be given to the offensive line for failing to keep the Titans' pass rusher from making that play. Tannehill looked more and more uncomfortable as the game went on, and there's really no defense for the other two interceptions. Both were awful decisions accompanied by poor throws, and they spelled disaster for the Dolphins.
Fortunately for Miami, Tannehill will get another chance against Buffalo's struggling defense. Will he be able to bounce back and return to form?
------------
Scouting Notes from Across the League
Tim Tebow doesn't offer much as a traditional quarterback, but neither does Mark Sanchez. The Jets need a major spark if they want to salvage their season, and one of the only options they have is to insert Tebow into the starting line up. They have plenty of players that are familiar with playing in an option offense, and the time to make that switch is now.
Seattle's Richard Sherman has made headlines for being confident/cocky in his coverage skills, but he's proven time and time again this year that he has every reason to be confident. He's grown into one of the best corners in the league, and it's a shame he isn't recognized more for it.
Second year linebacker Colin McCarthy continues to battle a high ankle sprain, but he's getting healthy and returning to the form we saw last year. He was all over the field against Miami, returning an interception for a TD, and although he only recorded three tackles he made an impact in the entire game. He, along with Akeem Ayers and Zach Brown make up the youngest group of starting linebackers in the league. Their development will be crucial to the Titans' overall success over the next several years, and so far the results have been promising.
Curiously, the Ravens used Courtney Upshaw at defensive tackle occasionally against the Raiders. Hopefully this experiment was a one time event, as he struggled mightily to get any push against the running game.