2012 NFL Scouting: Week Six's Top Match-ups, Rookies to Watch, and More
With Tennessee's upset win over the Steelers on Thursday night, week six is already off to an unpredictable start. The odds are that there will be plenty more exciting finishes this weekend.

On paper it appears as though many of this week's match-ups will be defensive battles, meaning every big play is even more critical. What match-ups will determine who comes out as winners in week six? Which rookies will make those key big plays this weekend?

Top Match-ups to Watch
Cincinnati WR AJ Green vs. Cleveland CB Joe Haden
One of the best individual match-ups in recent SEC history was when Georgia's AJ Green got the opportunity to face off against Florida's Joe Haden. In 2008, their first meeting, Green caught five passes for 91 yards. 2009 was less generous to Green, as he only saw three catches.
As fate would have it, the two college rivals would become division rivals in the NFL. Green and Haden have faced each other twice at this level, and there have been mixed results. Green be able to make many catches against Haden, but the few balls he has been able to reel in have been significant. Green's first catch against the Browns was a game winning TD, and his fourth against Haden was a 51 yard catch to set up a game winning field goal.
With Haden out due to suspension in their first game this year, Green and the rest of the Bengals' offense did pretty much whatever they wanted against the Browns. Not only did Green have a big impact on the game, but the amount of attention the secondary had to give the second year wide out freed up plenty of room for the rest of Cincinnati to operate. Will Haden help turn things around for Cleveland?
Philadelphia LG Evan Mathis vs. Detroit DT Ndamukong Suh
The Eagles haven't gotten off to the start they were hoping to, and many believe it's because Philadelphia hasn't made a big effort to get LeSean McCoy rolling. They'll get another chance to on Sunday when they face off against the Lions and their struggling run defense, but will they be able to capitalize?
The key for Detroit will be whether or not Ndamukong Suh can return to his level of play from years past. His aggressive style of play has never really translated to his playing well against the run, but 2012 has been particularly bad. He's made no impact against the run for the most part.
It'll take a big effort from Suh if that's going to change against the Eagles. He'll be matched up with left guard Evan Mathis often. Mathis isn't as well known as Suh is, but Mathis has been an outstanding run blocker for most of the season and should be able to handle Suh if both guys play as they have so far this year. Will that lead to McCoy's break out game?
Atlanta TE Tony Gonzalez vs. Oakland S Tyvon Branch
On paper, there are match-ups for the Falcons to exploit all over the field on this one. With such talented threats as Roddy White and Julio Jones on the outside, it'd make sense for the Raiders' secondary to be focused on them. But they can't overlook tight end Tony Gonzalez, either. Unfortunately, there's only one guy on the Oakland defense that can really match up with Gonzalez.
Tyvon Branch has had great success against elite tight ends in the past. Most recently he played extremely well when matched up against Rob Gronkowski in 2011. The big question, however, will be how much Branch is able to cover Gonzalez. With two elite receivers on the outside, it's going to be difficult to justify putting Oakland's DBs on an island to cover the tight end. Regardless of what strategy the Raiders decide to employ, it'll take a big game from Branch if they want to have a shot at winning this game.
------------
Rookie Watch
Young Running Backs Get a Chance to Shine
The Browns traded up in the draft to make sure that Trent Richardson would be playing in Cleveland for the foreseeable future. He's had some flashes here and there, but with the passing game sputtering from game to game, it's time that Cleveland make sure Richardson is the cornerstone of the offense.
He's not had a great yards per carry average and his overall rushing totals haven't been great, but as great players do, he's found other ways to contribute. He's been a surprisingly large factor in the passing game, catching 20 passes for 170 yards. Richardson has shown he can make plays, and the Browns have to capitalize on that.
Cleveland's defense has struggled, and even with the return of Haden to the secondary they'll still be out matched against the Bengals' offense. The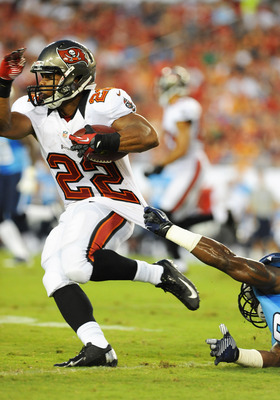 best way for the Browns to win on Sunday will be by controlling the clock, and that means feeding Richardson the ball. Will he finally get the chance to show he's the elite running back we all know he can be?
Much like Cleveland, Tampa Bay has a great young running back that has fallen victim to the teams' offensive struggles as a whole. Doug Martin was compared to guys like Ray Rice during the summer, but now he's already losing carries to LeGarrette Blount.
Fortunately, he's facing a Kansas City defense that is ranked 22nd against the run. The Bucs should come out running the ball early and often (they have nothing else that would work on offense, anyway). The question here will just be if Tampa Bay's coaches have regained their senses and give the ball to Martin, or if Blount will continue to eat away at the rookie's carries.
Rookie quarterback Andrew Luck is already carrying the offensive load in Indianapolis, but week six will see another rookie get extensive playing time for the Colts. Donald Brown is out for at least 2-3 weeks following knee surgery, and rookie runner Vick Ballard will step into the starting role.
Ballard was a work horse in his time at Mississippi State, but a lack of speed and big plays kept him from being a highly coveted prospect during the draft. But the Colts' have a third down back in Mewelde Moore. They don't need a big play maker in the offense – when they need a chunk of yards, they're looking to Reggie Wayne.
Ballard is just what the offense needs at this point. He'll be a reliable, bruisng runner that will control the clock and move the chains. The Colts can use his runs up the middle to take advantage of a Jets defense that is likely going to blitz early and often, and if Ballard has success it'll keep that pressure off of Luck.
Seattle DE Bruce Irvin
Seattle's selection of Bruce Irvin in the first round was a selection that was widely criticized and labeled as a reach. Irvin has proved all of his doubters wrong early in his career, however. He's leading all rookies with 4.5 sacks, and has quickly become a player that must be game planned for.
He'll have a big test against New England and Tom Brady this weekend. The Patriots' offense is rolling, and they've started using more no huddle in an attempt to keep defenses off balance. This could be a big problem especially for Irvin. Right now he's an excellent pass rusher, but still hasn't entirely proven himself on first and second downs. If the Patriots are able to keep him on the field using the no huddle, he'll have to show that he can be a play maker in all phases of the game.
Miami RT Jonathan Martin
It's been a rough start to Jonathan Martin's career in the NFL, and it won't get any easier as he'll likely be matched-up against one of the top pass rushers in the league, St. Louis' Chris Long.
Martin looked improved against the Bengals last week, but no one he faced came close to the talent that Long has. Long already has 34 pressures this season, and he has to be licking his chops at the potential this match-up has for him. Will Martin be able to keep Long away from fellow rookie Ryan Tannehill?

------------
Fantasy Quick Hits
What happened to Torrey Smith? After having two solid weeks in a row, week five was a dud for Smith and the Ravens' passing offense. There was plenty of hype surrounding Joe Flacco and the new look Baltimore offense, but it' still a work in progress. There's no need to panic, but be aware that there will be a few bad days like this to go along with Smith's big day potential. The Ravens face a solid Dallas defense, meaning it might be another one of those rough days ahead.
Remember when CJ Spiller was a top fantasy play a few weeks ago? Hopefully you were able to sell high on Spiller, because both he and Fred Jackson are sharing snaps equally. It's a good plan for Buffalo's offense, but it spells disaster for your fantasy line ups. Both guys are only flex plays at this point.
If you find yourself in need of a quarterback, Andrew Luck might be the guy to pursue. He's throwing the ball a ton, and so far his targets (especially Reggie Wayne) haven't let him down. Starting a rookie can be a roller coaster, but it's likely to pay off with the offense playing like it is.
If you happen to be stuck with Kevin Kolb, go ahead and start him this week. He's not a great play most weeks, but his match-up with the Bills is one of the best across the league in week six.
It's tough to get a read on when Stevan Ridley will be a good fantasy play. It's not likely that this will be the week. No running back has had success against the Seahawks so far this season, and you'd be wise to look elsewhere for a RB this week.