2012 NFL Preseason Scouting: NFC West
Quarterback play may be the theme of the NFC West this year. San Francisco may be the favorites, but can Alex Smith repeat his 2011 performance? Seattle has plenty of young talent and an exciting young quarterback that is sure to have the team and fans motivated for 2012. Arizona has some nice young players as well, but they just don't have the quarterbacks to compete, and Jeff Fisher will be looking to continue the development of Sam Bradford.
Every team needs solid play around their QBs, too. Who is stepping up to help shoulder some of their quarterback's burdens?
Arizona Cardinals
S Justin Bethel: A Youtube video showing off Justin Bethel's elite athleticism gained him a good deal of publicity prior to the draft. His play making ability on special teams will likely earn him a roster spot. He's blocked three kicks in the preseason, more than most players will block in their entire careers.
He's done much more than just block kicks, however. In the Hall of Fame Game he recorded six tackles, and overall he's taken down the ball carrier 12 times during the preseason. Coach Ken Whisenhunt has said Bethel is a safe bet to make the roster as a special teams player in 2012, but he could grow into a defensive player later in his career.
QB Ryan Lindley: Arizona had hoped that either Kevin Kolb or John Skelton would show improvement and take command of the starting quarterback job. Unfortunately for the Cardinals, the only quarterback that has shown significant improvement from week to week is rookie Ryan Lindley.
Lindley will take the field with the starters tonight in the final preseason game, but he doesn't have a real chance to be the week one starter. Still, he's looked better against back ups than Kolb and Skelton have against starters, and if he plays well against a first string defense it's likely to cause even more controversy in Arizona. And if Kolb and Skelton continue to play at a low level, Lindley may get a chance to start late in the regular season.
San Francisco 49ers
WR Michael Crabtree: Michael Crabtree has often flashed both exciting potential as well as shown a lack of consistency early in his NFL career. He hoping getting significant work in the preseason for the first time will help correct that.
So far it appears that the extra practice has been a big benefit to the young receiver. His numbers themselves haven't been huge – 5 catches for 28 yards – but throughout training camp he's gained good reviews. He's appeared more professional off the field and more polished on it, which will be crucial if the 49ers have ambitions of reaching the Super Bowl.
RB/FB Anthony Dixon: In crowded running back group in San Francisco, many thought that Anthony Dixon was clearly the odd man out. Dixon saw the writing on the wall, too. But instead of demanding a trade or simply mailing in his training camp performance, he did something else: he asked the coaches for a chance to play fullback.
The coaches allowed him to make the transition, and it's likely solidified his spot on the roster. He's played quite well at full back and on special teams, as well as making his limited time at running back count. In San Francisco's win over the Broncos, he ran for 58 yards on 13 carries, including a touchdown. His hard work has been an excellent example for the locker room, and has truly made Dixon one of the best stories of the preseason.
Seattle Seahawks
QB Russell Wilson: Countless online followers of the NFL Draft were screaming as loud as they could about the potential of Russell Wilson prior to the draft, and Wilson has made it clear why those draftniks were so adamant about his potential as a NFL quarterback.
Wilson has already overtaken the Seahawks' big free acquisition, Matt Flynn, as the starting quarterback follow a strong preseason. His first start saw him put of a stat line of 13-19, 185 yards and two touchdowns. He leads the league in preseason passer rating (119.4) and has only thrown one interception. It's a start that has exceeded even his biggest fans' imaginations, and has given the Seattle fan base much to get excited about.
WR Braylon Edwards: Seattle parted ways with one veteran wide receiver, Mike Williams, and brought in two more to replace him. Braylon Edwards and Terrell Owens were brought in to compete for Williams' vacated roster spot, and it was Edwards that secured it.
While the cynical fan may think that it was Owens' attitude that determined both player's fates, that's not being fair to Edwards. He arrived in Seattle ready to work, and at times has looked like his old self. He almost immediately developed a strong connection with Russell Wilson – convenient now that Wilson is the starter. Edwards may not put up Pro Bowl numbers, but he'll be a solid option for the rookie QB this fall.
St. Louis Rams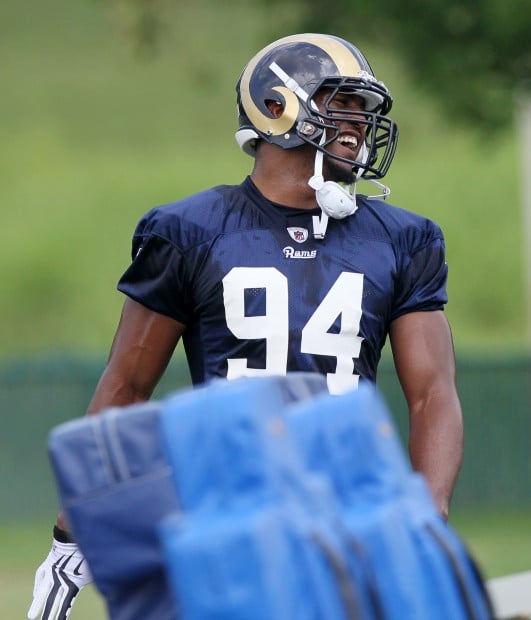 DE Robert Quinn: It's taken some time, but Robert Quinn has looked like a player to make a significant jump in his second season. His rookie year saw him record five sacks, whereas now he's already got to the quarterback three times in three games.
After a massive turnover on the defensive line, Quinn is suddenly a veteran in the group, even though he's still a young player. But he appears to be coming into his own, and if he keeps up his early performances he'll help improve the Rams' pass rush in 2012.
K Greg Zuerlein: It takes a lot for a rookie kicker to get noticed, and usually it's for the wrong reasons. That's not the case with Greg Zuerlein, however. Drafted to replace Josh Brown, Zuerlein has been nothing but spectacular during the preseason.
He's made three 50 yard+ field goals so far this season, and all have been converted with plenty of distance to spare. He appears to have one of the strongest legs in the league, and with Jeff Fisher calling the shots he'll be sure to get plenty of long distance opportunities.