2012 NFL Position Battles: Wide Receivers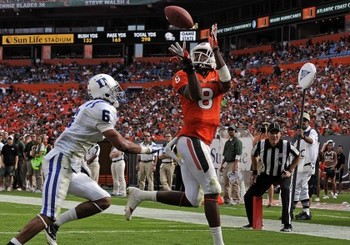 The 2012 NFL Draft provided the league with one of the deeper rookie classes of wide receivers in recent memory. That class is going to participate in some of the most interesting position battles across the NFL. There are even several scenarios where undrafted free agent receivers could over take entrenched veterans and win their positions by the time week one kicks off.

Just where are these UDFA's looking to make a splash? What other battles for opportunities will be playing out?


Baltimore Ravens

Contenders: Tandon Doss, David Reed, Jacoby Jones, Tommy Streeter, LaQuan Williams

Torrey Smith and Anquan Boldin are the undisputed starters at wide receiver for the Ravens, but one of the most highly contested position battles at training camp with be for the third wide receiver spot. There are no less than five players competing for that one position; and for several players if they don't win the battle they may not make the roster at all.

The early favorite to win the battle is Jacoby Jones. Jones signed a two year contract with Baltimore after being released in May by Houston. The experience he brings is primarily why he's considered to be the favorite, but he's far from a lock to be the Ravens' third receiver. His 2011 season was extremely disappointing, as he was only able to catch 31 passes for 512 yards, even though fellow Texan wide receiver Andre Johnson missed over half the season.

Many Baltimore fans were thrilled when the Ravens drafted the big and athletic Tommy Streeter out of Miami in the sixth round of the draft. However, based on his early performances in OTAs, Streeter has a long way to go before he'll see the field in the regular season. He struggled both with running routes and catching the ball, which shouldn't be too surprising since he only had one year of production at Miami. He'll be in Baltimore's long term plans, but he needs time to develop.

Tandon Doss was a fourth round pick in 2011, but remains largely an unknown. He was only active for a handful of games, and failed to make a reception in any of them. As many of the other Ravens' receivers, Doss brings good size to the table, but lacks the experience Baltimore would like to have for a guy they'll need to get production out of. Still, both he and LaQuan Williams, a training camp star in 2011, will have a chance to beat out Jones if he underwhelms in camp.

Although there is a chance, when you factor in the $7 million Baltimore is paying Jones when they had other holes they could have addressed, it's hard to see anyone but Jones being the third receiver, at least to start the year. He'll be pushed by Doss and Williams all year, and by the time Jones' two year deal expires it's likely Streeter will have taken his spot.


Buffalo Bills

Contenders: David Clowney, Marcus Easley, T.J. Graham, Derek Hagan, Donald Jones

Much like Baltimore, the Bills have two of their receiver spots essentially locked up. The newly resigned Stevie Johnson will obviously be the top option for quarterback Ryan Fitzpatrick, and while David Nelson can play outside, he excels in the slot and that's where he'll see the majority of his playing time in 2012. That leaves a spot on the outside up for grabs, and there are plenty of players contending for it.

Donald Jones is considered by many to be the favorite to win the open starting position. He performed adequately in limited action last year, catching 23 passes in 7 games. He has been a great surprise for Buffalo, going from an undrafted free agent in 2010 to a potential starter in 2012. He's not particularly athletic though, and he won't be the kind of player that stretches the field.

The role Jones played in 2011 was one that the Bills had intended for Marcus Easley to fill. But Easley was a surprise inactive for the first game of the season, and then shortly afterwards Buffalo announced that a heart condition would force them to put Easley on injured reserve for the remainder of the season. He's been cleared to play in 2012, and the fourth round pick will bring a great combination of size and speed (6'2, 4.39 forty yard dash) to the competition.

T.J. Graham, the Bills' 2012 third round pick, has the same speed that Easley has, but he's smaller, which could give an advantage to Easley. Graham has explosion and suddenness that Easley hasn't yet shown, however. Graham is still a bit raw, and he probably needs to bulk up some before he's a full time contributor.

Jones may head into camp as the second receiver, but it's going to be hard to ignore Easley once he showcases his size and speed. He's a great fit in Buffalo's offense, and he has the ability to stretch defenses in ways that Jones just can't do. He'll make the most of his second chance to play in the NFL and earn the starting spot opposite of Stevie Johnson.

Detroit Lions

Contenders: Nate Burleson, Ryan Broyles

Just a quick glance at the numbers reveals what a stellar collegiate career Ryan Broyles had. In his college career, he amassed 3429 receiving yards, 35 touchdowns, and a FBS record 349 receptions. With those types of numbers, many would think he would be a lock to be a first round draft pick. However, after a torn ACL cut his final season at Oklahoma short, Broyles fell to the end of the second round before Detroit selected him.

The Lions have tremendous playmaking ability at wide receiver with Calvin Johnson and Titus Young, and with other areas of need it may have been a surprise that Detroit made a move to draft another wide receiver early in the draft. But in reality, the move makes perfect sense. The Lions' run game isn't consistent enough to truly be relied on, and they've often times struggled to convert short yardage situations. They needed a possession receiver that can get first downs in situations where their running game can't.

Nate Burleson has been that guy for the Lions for the last two years, picking up 68 first downs over that time. But he's thirty years old, and he's shown signs of that age lately. He'll continue to be the leader of the receivers off the field, but on it his reliability over the long term isn't guaranteed anymore.

Broyles may not be ready for week one, and until his recovery from the ACL injury is complete Burleson will be the undisputed third receiver for Matt Stafford to work with. But when Broyles is healthy, Burleson will have to be looking over his shoulder. 2013 may be the target for Broyles taking over as the third receiver, but if his quick recovery continues he may earn that spot before 2012 is in the books.


Cincinnati Bengals

Contenders: Armon Binns, Andrew Hawkins, Marvin Jones, Mohammed Sanu, Jordan Shipley, Brandon Tate

Following an outstanding rookie season, AJ Green is not only the best receiver on the Bengals' roster, but he's one of the best receivers in the league. He's a versatile guy who can play all three receiver positions. As Joe Goodberry pointed out, this is of tremendous benefit to Cincinnati. However, it also makes it more difficult to project who's going to make the roster as well.

Rookies Marvin Jones and Mohammed Sanu can play outside. Assuming Jordan Shipley is able to avoid landing on the PUP list to start the season, he'd be the primary guy to play in the slot. However, if he isn't able to play early in the season, Sanu would be an ideal candidate to slide in there. He's very much like Shipley, but provides a bigger target with the same reliable hands that Shipley has.

Jones wouldn't likely figure in to the equation in the slot, but he could develop into a force on the outside. His skill set has been widely compared to Chad Johnson's, and if that turns out to be true Andy Dalton will have quite a receiving corps to work with. Because he's smaller, he, like Johnson, will need to contribute most as the Z receiver, with Green playing the X.

Green, Shipley, Sanu and Jones will be the primary guys competing for catches. Armon Binns, Andrew Hawkins, and Brandon Tate will be competing for the final couple of spots on the roster. In all likelihood Tate and Whalen will be the odd men out. Binns is the only other true X receiver the Bengals have, and Hawkins provides explosiveness out of the slot that the rest of Cincinnati's receivers lack.

Dallas Cowboys

Contenders: Danny Coale, Kevin Ogletree, Dwayne Harris, Raymond Radway, Andre Holmes, Tim Benford

The departure of Laurent Robinson left Dallas without a third wide receiver. Robinson was a huge part of the Cowboys' offense in 2011 (858 yards and 11 touchdowns), and finding a solid replacement will be crucial for their success in 2012.

The obvious candidate would be Danny Coale, the Cowboys' fifth round draft pick. And while he still could come out of this position battle on top, his chances were dealt a big blow when he broke his foot during OTAs. The injury will likely force him to some of training camp, a big disadvantage for a rookie trying to adjust to the NFL.

His injury opens the door for a number of Dallas receivers aiming to make a good impression on the coaching staff. Kevin Ogletree hasn't put up big numbers since entering the league as an undrafted free agent. He was penciled in as the third receiver in 2011 before Robinson exploded onto the scene, and this year Ogletree doesn't have the luxury of being the favorite. It'll take a big jump from him to win the position this year.

Andre Holmes has gone from relative unknown to the favorite to emerge as the third receiver in some circles. He's one of the best athletes on Dallas' roster: the 2011 undrafted free agent out of Hillsdale College is 6'5, 210 lbs and runs a 4.45 40 yard dash. He spent most of 2011 on the Cowboys' practice squad before they elevated him to the 53 man roster late in the season. Jason Garrett has had nothing but good things to say about Holmes, praising his route running and work ethic.

A sleeper to take over in the slot is undrafted free agent Tim Benford. Since the rookie minicamps, Benford's play has consistently been noted by both media and coaches after every workout. Like Holmes, Benford's route running has been solid. He's got good hands, he's explosive at the snap and has good deep speed. Once considered a long shot to even make the team, he could be pushing for playing time if he continues to put up strong performances.

If Coale hadn't broken his foot, he'd clearly be the favorite to work out of the slot this fall for Dallas. But the time he's likely to miss is going to be costly, and it will allow players like Holmes and Benford to continue to refine their games and demonstrate their athleticism. A player with the talent like Holmes has is going to be hard to keep down. He's had a year to develop, he knows the offense, and he'll earn his spot as the Cowboys' third receiver in training camp.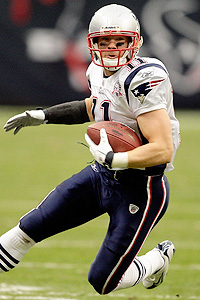 New England Patriots

Contenders: Deion Branch, Julian Edelman, Jabar Gaffney, Chad Ochocinco, Matthew Slater, Donte' Stallworth, Anthony Gonzalez, Jeremy Ebert

With 12 wide receivers on the roster, and only two of them (Wes Welker and Brandon Lloyd) considered to be true locks to make the team, the battle for the remaining roster spots and playing time will be one of the fiercest in the league.

In the chase for the third receiver spot, Jabar Gaffney likely has a foot up on the rest of the roster. He's coming of the best stretch of his career, racking almost 2000 receiving yards in the past two seasons. Although he was a free agent acquisition, he won't have the same issues other players often have when adjusting to a new team. Because Gaffney spent three years with the Patriots, he has a familiarity with both the playbook and Tom Brady.

It's assumed that the primary competitor for the third spot would be Deion Branch. He and Brady have an outstanding chemistry together, and Branch has still remained productive. But he's aging, and he's not the player he once was. The shear volume of wide receivers that New England has added does raise questions about the Patriots' confidence in Branch.

With so much competition, for a receiver to make the team outside of the top three or four wideouts, contributions on special teams will become a crucial factor. For guys like Chad Ochocinco, Donte Stallworth, and Anthony Gonzalez, that's certainly not a good thing. It gives a huge boost to guys like Julian Edleman and Matthew Slater, who become near guarantees to make the final roster due to their tremendous versatility.

San Francisco 49ers

Contenders: Michael Crabtree, Ted Ginn Jr, AJ Jenkins, Mario Manningham, Randy Moss, Chris Owusu, Kyle Williams

With the additions of Randy Moss, Mario Manningham, A.J. Jenkins, and Chris Owusu, San Francisco has made it clear where they feel the weaknesses were on their roster in 2011. Every player in this group will be fighting for playing time, as even Michael Crabtree isn't a lock to be the team's top option any more. It will be one of the most entertaining battle to watch during training camp in the league.

Signing Moss made headlines across the NFL, but it's doubtful that he'll make the same impact on the field. His time in 2010 with the Titans proved he's lost more than just one step. He's arrived in San Francisco with a good attitude, and that's encouraging. But he's just not an impact player anymore, and that will become evident once live bullets starting flying in August. He's being hyped up now, but there's a good chance he won't make the final roster.

Manningham's contributions will be much more significant. After his outstanding performance in the Super Bowl, it's time now for Manningham to become a primary receiver. He's only gone over 60 receptions once in his career, but if he can use the momentum from a strong post season in to 2012, he has a chance to be a bit time play maker for the 49ers.

San Francisco also added two young play makers in Jenkins and Owusu. Jenkins may not get a ton of playing time in 2012, as its hard to imagine him being any more than a third receiver this early in his career. When you factor in Vernon Davis and Frank Gore's receptions, there just won't be many extra passes to get to Jenkins. But he still has a chance to make somewhat of an impact while developing for the future.

The way the roster is put together, Owusu, Ted Ginn Jr, Kyle Williams and Moss will be fighting for at the most three spots in the roster. Ginn's return skills give him an edge over Moss, and Owusu has a chance to be the deep threat the 49ers want to get from Moss. The odd man out will most likely be either Williams or Moss. In spite of his age, it's likely that the 49ers will give Moss the one last chance to show he can still be a difference maker at the NFL level.