2012 NFL Position Battles: Defensive Line
It may not be one of the most glamorous positions to play, but the NFL's defensive linemen may just make up one of the most important position groups in the game. They're the first line of defense against both the run game and the passing game, and an ineffective defensive line is tough for any defense to over come.

Across the league, battles will be fought for playing time along the defensive line. For some players, winning would mean their first opportunity to start in their career. For others, losing could be the end of the road. What will be some of the most fiercely contested battles on the defensive line this summer?



Buffalo Bills

Contenders: Mark Anderson, Chris Kelsay, Shawn Merriman (Defensive End)

The additions of Mario Williams and Mark Anderson during the offseason have given Buffalo what should be one of the most talented defensive lines in the entire league. The pressing question for the Bills is not if their defensive line will be good, but how playing time will be divided, especially at defensive end.

Chris Kelsay has been a consistent force in Buffalo for the last decade. He's only missed six games since the Bills drafted him in 2003, and his dedication to Buffalo has made him a fan favorite for years. But is it possible that after nine years, Kelsay could find himself out of the starting line up? Is there a chance he may not even be a Bill in 2012?

Kelsay, who has played as an outside linebacker in Buffalo's 3-4 defense throughout his career, will be moving to defensive end as the Bills transition to a 4-3. Changing positions can be tricky, but there is reason to believe it should go smoothly for Kelsay. He was a nickel defensive end often in 2011, and he feels confident he can excel as a full time end in 2012.

The Bills' made clear that the want to put pressure on the opposing quarterback when they gave Anderson a $19.5 million contract in March. A deal that size may lead you to believe that Anderson is a lock to start opposite of Williams, but that may not be the case. He was running with the second team during Buffalo's first round of OTAs. Kelsay was the starter with Williams, and that may have been more than a token move for the long time Bill.

Anderson is best suited as a situational speed rushing threat. He's not a force against the run, and if you look past his ten sack 2011 season, he's put up very lack luster numbers in his career. Since he came in to the league in 2007, his sack totals have been: 12, 5, 1, 3.5, 0, 4, and 10. At the very least, consistency has to be a concern.

There have also been some rumblings out of Buffalo that linebacker Shawn Merriman could get some time at defensive end. At 6'4, 261 pounds, he's built like a prototypical 4-3 defensive end. But while he may look the part, Merriman has struggled enough to stay healthy as a linebacker. He's never played a full 16 game slate in his career, and has only played in eight games the past two seasons. It's nice to think about the possibilities of a circa 2005 Merriman rushing the passer opposite of Williams, but it's not likely his body can take the beating that playing defensive end will bring.

The Bills will likely want their nearly $20 million investment in Anderson to pay off by having him be a starter, but they're more likely to get better results using him as a situational pass rusher. Kelsay should be the starter, Anderson should play in passing situations, and Merriman should stay at linebacker.

Chicago Bears

Contenders: Israel Idonije, Shea McClellin (Defensive End)

Leading up to the draft, one of the hottest topics of debate was just how Shea McClellin would project to the next level. Was the Boise State product an outside linebacker, or was he better playing with his hand in the dirt? Chicago decided that McClellin's best fit was as a defensive end, and he should get the chance to start there right away for the Bears.

He'll be challenging Israel Idonije for the starting defensive end position opposite of Julius Peppers. Idonije has been a team leader on and off the field since he was signed as an undrafted free agent from the University of Manitoba in 2004. If he's unseated, it will be a huge change on Chicago's defensive front. But the potential for a change is there; Idonije is a solid run stopper but doesn't bring much to the table as a pass rusher. He only averages 2.7 sacks per season over his career, and even playing with Peppers hasn't increased his production enough.

McClellin on the other hand should bring that explosiveness off the edge that the Bears are lacking. McClellin's high motor play and athleticism will make it difficult for him to be stopped. It's why Chicago drafted him with the 19th overall pick, when honestly he isn't more than a second round player on film. Pass rushing ability is a tremendous asset in today's NFL, and that's McClellin's specialty.

So, to recap: Chicago has two defensive ends competing for one starting spot- one plays the pass well, another is better against the run. The solution here will simple: McClellin should play on passing downs, and Idonije will contribute as a run stopping specialist. The title of starter will likely be insignificant here, but it's likely McClellin will end up seeing more snaps than Idonije.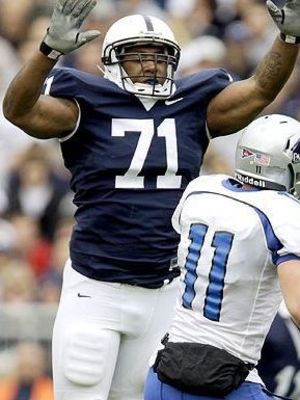 Cincinnati Bengals

Contenders: Geno Atkins, Domata Peko, Pat Sims, Devon Still, Brandon Thompson (Defensive Tackle)

The Bengals went into the draft needing to get a little younger at defensive tackle. They left the draft with arguably two of the three best defensive tackles in their class, Devon Still and Brandon Thompson. Geno Atkins, Pat Sims, and Domata Peko were both solid in 2011. Where are these younger guys going to fit in?

Atkins' play didn't get much press in 2011, and that's a shame. He was one of the best defensive tackles in the league, and his penetrating style of play will have him locked in as a starter in 2012. He'll likely be backed up by the rookie Still, who will be hard to keep off the field. The competition and rotation of Atkins and Still should keep each player playing at a high level through out the season.

Peko is an outstanding nose tackle in the Bengals' system and he, like Atkins, should be penciled in as a starter for 2012. His back up will be Thompson. Thompson has many of the same qualities Peko has – a fierce player on the inside that not only will take up space but has the athleticism to make some big plays as well. Neither guy will get after the quarterback very often, but both will make a huge impact in the game.

Sims is playing some of the bets football of his career, but is tough to see how he'll consistently fit into the rotation at defensive tackle. But he's also coming off a ankle injury that sidelined him for the final six games of 2011. He may end up making the final roster (he recently signed a one year contract), but it's tough to imagine a third nose tackle getting notable playing time for the Bengals.

Cleveland Browns

Contenders: John Hughes, Scott Paxson, Brian Schaefering, Billy Winn

Phil Taylors' torn pectoral muscle is a huge blow to Cleveland's defense. There's a decent chance he'll miss the entire season. Fortunately, the Browns drafted two other tackles this past April, and they'll likely get their chance to shine much sooner than originally anticipated. Who will be playing alongside Ahtyba Rubin on Cleveland's defensive line?

John Hughes has been widely regarded as the next man up for the Browns. The third round pick out of Cincinnati was a guy whom many thought would be available much later in the draft. The injury to Taylor will give him a chance to prove the doubters wrong, but is he ready? Head coach Pat Shurmur has made it clear that he's an option, but he's also not slotted into that spot just because of his draft position. At 6'3, 320 pounds, Hughes doesn't bring the same size that Taylor does to the inside of the line, but he's more of a threat to rush the passer as well.

Scott Paxson has yet to make an impact in the league, but he appeared in all 16 games last year for Cleveland and has the experience that Hughes doesn't have. However, he's undersized to play the same nose tackle position that Taylor did, and just isn't the type of talent you want to rely on during the course of a season.

Brian Schaefering is recovering from a sports hernia, and that will hurt him at least initially in the competition. In his favor are his back to back seasons of appearing in all 16 games for the Browns. He, like Paxson, is just a role player and Cleveland shouldn't rely on him to be a consistent force at tackle. Billy Winn is a tweener that's too small to be powerful inside, but too slow to be explosive on the end. He may be able to contribute, but it won't be in Taylor's role.

Hughes is the most likely winner of this battle by default. He'll get the majority of the snaps, but the rest of the tackles should be featured heavily in a rotation. And in reality, you have to figure the Browns will be scouring the waiver wire after camp cuts for another big body to bring in.


Green Bay Packers

Contenders: Mike Daniels, Phillip Merling, Ryan Pickett, Jerel Worthy, Jarius Wynn

After dismal defensive line performance in 2011, the Packers may have part of a solution at defensive end in Anthony Hargrove. But he's been suspended for eight games in the fall out from the New Orleans Saints' bounty scandal, rendering that acquisition an afterthought for at least the first half of the season. Green Bay will also be without Mike Neal due to a drug suspension for four games, leaving the Packers with some tough decisions to make on the defensive line.

Rookie Jerel Worthy, if he corrects the potential motor issues that knocked him to the second round, should be one starter at defensive end. Physically he reminds many in Green Bay of Cullen Jenkins, whom the Packers missed desperately in 2011. The best case scenario for the Packers is that Worthy plays with a chip on his shoulder, and performs at the first round talent he showed he can be at Michigan State. If that's the case, he should be a solid starter at defensive end for years to come.

Ryan Pickett started 14 games last season, but don't assume he'll be a starter again in 2012. He failed to make much of an impact, and at 32 years old his level of play isn't likely to improve. He's set to make $4.5 million this season, and if he doesn't clearly win a starting job in camp he could be cut.

There's been very positive press coming out of Green Bay concerning rookie Mike Daniels, and although he's a fourth round pick he could end up benefitting from the Packers' suspensions and contribute immediately. Daniels has battled injuries throughout his collegiate career, and was held out of some rookie camp work to insure that he'd be healthy enough for camp. However, with Hargrove and Neal set to both be back by mid season, the Packers can probably afford to feature Daniels more heavily than usual for the first month of the season.

Kansas City Chiefs

Contenders: Amon Gordon, Dontari Poe, Jerrell Powe (Nose Tackle)

When Dontari Poe went to Kansas City with the 11th pick of the draft, it raised some eyebrows. Sure, Poe has the body to anchor a 3-4 defensive front at nose tackle. But with his athleticism and college tape, many felt he was more suited to play in a 4-3. The Chiefs felt otherwise, and now Poe is tasked with making the transition to a 3-4.

Both Poe and the Kansas City coaching staff have admitted he has much to learn between now and week one if he's going to be the starter. While he learns, both Jerell Powe and Amon Gordon have a chance to pull ahead of the first round pick and prove they deserve to be the starter.
Unfortunately for Powe, it appears he may not get much of a chance. Gordon has been working with the first team, leaving Powe to work with the third string defensive line. It's not an ideal situation for the fan favorite. He's got all the physical tools and certainly looks the part, but he may fall victim to a loaded position group and may need to go elsewhere to get a significant chance to play.

It appears currently the Gordon is has the best chance of being the week one starter for Kansas City. Gordon was just a journeyman nose tackle before arriving in Kansas City, but Romeo Crennel has turned him into a solid nose tackle. He won't make the same big plays that Poe has the potential to, but he's got the technique down that's necessary to play in the NFL. Until Poe can master that, he'll be a guy who contributes in sub packages.