2012 NFL Draft Grades: NFC South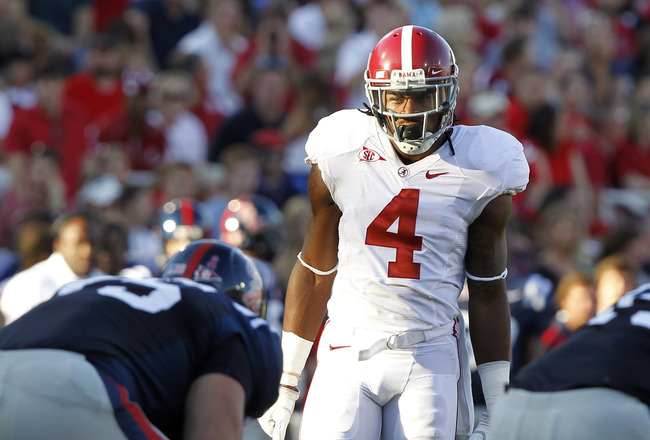 In Matt Ryan's rookie year of 2008, the Falcons flew to new heights and the franchise's first playoff appearance since 2004. Ryan won NFL Offensive Rookie of the Year honors for his efforts in 2008, and despite missing the playoffs in 2009, earned first-round byes in the 2010 and 2011 playoffs for back-to-back double digit win seasons. Since then, however critics have done nothing but point at Ryan's lack of a single playoff victory and failure to take the team to the next level –the Super Bowl.
Similarly to Ryan, Tampa Bay's Josh Freeman experienced early success that was only followed by failure. Fully assuming the starting job as a sophomore, Freeman led one of the NFL's most impressive single-season turnarounds by flipping the Bucs record in 2009 of 3-13 to the tune of 10-6; even so, Freeman couldn't overcome the adversity and trials of an atrocious 2011 season, giving way to a 4-12 record.
For the state of Carolina, will the former first overall pick, 2nd year player, and 2011 NFL Offensive Rookie of the Year, Cam Newton follow up his record breaking season with the Panthers by failing to make the playoffs for a second consecutive season?
And what is even more pressing, are the Bounty Gate scandal suspensions for the New Orleans Saints and the looming contract situation of Drew Brees. It should make for a wild ride in the 2012 season, and NFL fans need to take note of each of these young, rising teams from the NFC South.
Tampa Bay Buccaneers
7. Mark Barron, safety, Alabama
31. Doug Martin, running back, Boise State
58. Lavonte David, outside linebacker, Nebraska
140. Najee Goode, inside linebacker, West Virginia
174. Keith Tandy, cornerback, West Virginia
212. Michael Smith, running back, Utah State
233. Drake Dunsmore, tight end, Northwestern
Summary:
Dropping down 2 slots from pick 5 to pick 7 and picking up an extra 4th rounder in the process, the Bucs were able to select their primary target in safety
Mark Barron
from Alabama. Barron immediately upgrades the Bucs secondary as a day 1 starter, and in a division with quarterbacks
Drew Brees
,
Cam Newton
, and
Matt Ryan
, having an elite safety is crucial.
Continuing to stay active on the first night, the Bucs jumped back into the 1st round to select Boise State running back
Doug Martin
. Flipping the 4th round pick acquired in the earlier trade down at number 5 overall, the Bucs slid 25 slots in round 4 (swapping pick 101 with Denver's 126) in order to move up 5 slots from round 2 into round 1 (swapping pick 36 with Denver's 31). Martin, who has recently drawn comparisons to Greg Schiano's former running back
Ray Rice
(now of the Baltimore Ravens), is an every down back that could soon overtake LeGarrette Blount as the starter. Additionally, Martin's ability as a scan protector and receiver out of the backfield make him an ideal 3rd down back as a rookie.
After an excellent first round of draft board manipulation and targeting of specific needs, the Bucs traded back up into the 2nd round in order to secure one of my personal favorite defensive players in the entire draft –
Lavonte David
from Nebraska. David fits perfectly in Tampa's Cover 2 system as a Will linebacker, and exhibits incredible on field, playing speed on a consistent basis. With elite closing speed to chase down outside runners and a knack for finding the football, David should be highly productive right away. The only problem with this selection was the fact that the Bucs sacrificed picks 68 and 126 (3rd and 4th rounders).
In the last day of the draft, the Buccaneers were able to add quality depth: drafting a potential starting Mike linebacker and immediate special team's "head hunter" in
Najee Goode
; cornerback/safety hybrid
Keith Tandy
, who could see the field often as a rookie on passing downs;
Michael Smith
, who is built similarly to Doug Martin with a low center of gravity, thick, compact build, and explosive element to his game; and
Drake Dunsmore
, who can play as an off-the-line slot Y, movable H-Back, or traditionally as a number 2 or 3 tight end.
In the picks following Barron at number 7, the Bucs specifically targeted versatile players who could contribute at a multitude of positions and in a variety of roles. Although they executed an excellent trade up from pick 36 to 31, the Bucs' draft movement lost its luster by receiving minimal return in a trade down from pick 5 to 7 and the over paid for pick 58. Adding 3 immediate impact players and starters at that, the Buccaneers deserve a solid B for their efforts in the 2012 NFL Draft.
Grade: B
Carolina Panthers
9. Luke Kuechly, linebacker, Boston College
40. Amini Silatolu, offensive guard, Midwestern State
103. Frank Alexander, defensive end, Oklahoma
104. Joe Adams, wide receiver, Arkansas
143. Josh Norman, cornerback, Coastal Carolina
207. Brad Nortman, punter, Wisconsin
216. D.J. Campbell, safety, Cal
Summary:
Having selected their offensive quarterback in 2011, with first overall draft pick
Cam Newton
, General Manager Marty Hurney and Head Coach Ron Rivera turned their eyes to the defensive side of the ball in 2012, by drafting
Luke Kuechly
with the tenth overall pick. Kuechly serves as an extension of the coaching staff, having a rare blend of football intelligence and instincts as a player; Kuechly can play every linebacker position, has the size and speed you look for, and is constantly in on the play. For the worst tackling team in the NFL, the Panther's couldn't have made a more sound football decision in drafting Kuechly.
The next pick in offensive guard
Amini Silatolu
, spells disaster for opposing defenses in the NFC South; Silatolu's violent, finishing attitude as a blocker, combined with his mobility to pull, locate, and stick blocks on the second level, will lead to increased use of the power-o or G scheme in the Panther's run game. With Newton as the team's franchise quarterback,
DeAngelo Williams
locked up long term with
Jonathan Stewart
as the primary backup, and the recent free agent acquisition of fullback
Mike Tolbert
, the Panthers are a good bet to rank among the league leaders in all rushing categories in 2012.
The fourth round is where the Panthers made their biggest move, in trading away pick number 180 and a 2013 3rd rounder, for defensive end
Frank Alexander
at number 103 overall. While the trade and selection value are below average, Alexander is a solid fit in Rivera's 4-man front as a right or left defensive end. He'll work into the rotation early because of his natural pass rush ability and active play style versus the run. The next pick of
Joe Adams
brings an exciting and explosive punt returner to the fold. Adams can string together multiple cuts, stop on a dime, change directions in an instant, and pull away from defenders in the open field with his blazing speed. Offensively, Adams can work the slot and even on the outside to provide Newton with another weapon.
Coastal Carolina cornerback
Josh Norman
in round 5 could be the best value pick for the Panthers, as he has the size, length, and ball skills to be a playmaking, starting corner in the NFL.
Brad Nortman
, a punter out of Wisconsin has already been given the starting punting job, and
D.J. Campbell
should serve as a special teams player only if he makes the active roster.
While I disagree with the notion that the Panthers needed to trade up to secure Alexander at pick 103, they still added major difference makers throughout and earned a B-.
Grade: B-
Atlanta Falcons
55. Peter Konz, center, Wisconsin
91. Lamar Holmes, offensive tackle, Southern Miss
157. Bradie Ewing, fullback, Wisconsin
164. Jonathan Massaquoi, defensive end, Troy
192. Charles Mitchell, safety, Mississippi State
249. Travian Robertson, defensive tackle, South Carolina
Summary:
Trading up for
Julio Jones
in the 2011 NFL Draft left the Falcons at home for the first day in the 2012 NFL Draft, having given up their first rounder to the Cleveland Browns. Nevertheless, the Falcons used each of their first three picks in the '12 draft to protect franchise quarterback
Matt Ryan
. 2nd rounder
Peter Konz
, who was the top center in the draft, fell down NFL Draft boards due to a bad combine medical checkup that spotted ankle and blood clotting issues. The Falcons did their own homework, brought in Konz to Atlanta to test him out again, and discovered that the blood clots were an anomaly. Konz can play either guard position, and will compete for the starting right guard position while backing up center
Todd McClure
.
Following up that selection, the Falcons upgraded their tackle depth with
Lamar Holmes
out of Southern Miss. Holmes has the prototype size and length, and can develop into a starting left tackle. Returning to Wisconsin, the Falcons selected their new starting fullback in
Bradie Ewing
; this pick effectively closed the door on
Ovie Mughelli's
Atlanta Falcon's career, which was cut within a week after the draft to create a starting position for the rookie Ewing.
With their final three picks, the Flacons addressed some depth issues by adding another rotational edge rusher, a nickel safety, and a developmental interior pass rusher.
Jonathan Massaquoi
flashed an explosive first step and straight-line speed off the line during his stay at Troy, but struggled to hold the point of attack and doesn't show great instincts versus the run. Massaquoi can initially convert speed to power and create a jolt on initial engagement, however he is unable to maintain this power due to a still-developing lower half. He's best suited as a wide-9 end and will need to time improve his lower leg drive and overall strength at the point. Massaquoi will be able to learn behind one of the great 4-3 ends of the last decade in
John Abraham
, and could develop into his eventual successor.
Charles Mitchell
is a safety prospect I personally evaluated at the Player's All-Star Classic; Mitchell, though not spectacular or great in any one area, has the click and close athleticism you look for in safeties to efficiently transition out of his pedal. Mitchell has the loose hips and acceleration needed to get in and out of breaks, deciphers post snap information quickly, and makes good reads off the ball.
Travian Robertson
is body upside pick, who will need to add weight to his tall, long, defensive tackle frame; need to see consistent leverage from Robertson and improved hand placement before he can be slated as a reliable, rotational interior piece.
Even in the aftermath of a blockbuster 2011 draft day trade-up (a trade in which the Falcons gave up their 2012 1st and 4th round picks), the Falcons found a way to address their offensive line needs and for that reason, they get a B- draft grade.
Grade: B-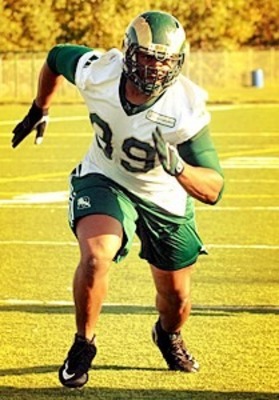 New Orleans Saints
89. Akiem Hicks, defensive tackle, Regina
122. Nick Toon, wide receiver, Wisconsin
162. Corey White, safety, Samford
179. Andrew Tiller, offensive guard, Syracuse
234. Marcel Jones, offensive tackle, Nebraska
Summary:
To be quite honest with you, this offseason has been absolutely awful for the New Orleans Saints. They can't seem to lock
Drew Brees
up long term and they're caught up in a multitude of scandals, most notably Bounty Gate – an organized pay for play scheme set up by the coaching staff to reward players for "taking out" opposing players. More disastrous have been the repercussions of such acts, including a year long suspension for Head Coach Sean Payton and Middle Linebacker
Jonathan Vilma
, other key players, and even General Manager Mickey Loomis, who himself was accused of wire-tapping opposing Head Coaches' audio headsets.
Going back to the draft the Saints had already given away their 2012 1st round pick in order to select
Mark Ingram
in the previous year's draft, and had to forfeit their 2012 and 2013 2nd round picks stemming from the Bounty Gate scandal. So, without further delay let's get into the picks themselves; with their first pick, the Saints bring in Canada's version of
Michael Brockers
–
Akiem Hicks
. Originally at LSU, Hicks was forced to transfer out due to eligibility issues and his development as a prospect suffered as a result. His technique is near non-existent, won't be counted on for much as a rookie, and is a raw piece of clay at this point; Hicks' elite size, length, and dominating strength give him a high ceiling, but his lack of polish limit his early production.
Contrary to the previous prospect mentioned, wide receiver
Nick Toon
from Wisconsin follows in the footsteps of his father Al Toon, who was an incredibly productive player for the New York Jets in the late 80's and early 90's. Toon's football IQ, ball skills, and overall body length will get him on the field early and often as a rookie; with the absence of
Robert Meachem
on the outside, Toon will receive ample opportunity to seize control of a starting position and get red zone targets from Brees.
Another player I scouted at the Player's All-Star Classic,
Corey White
of Samford, was selected by the Saints, and he'll serve this team in a variety of ways ranging from traditional safety, nickel safety, slot corner, to special teams' coverage units. White has a maxed out, physically impressive frame for an undersized safety, and showed the footwork, fluid hips, and suddenness to keep up with receivers out of the slot.
The final two selections both were massive, mauling lineman that need to improve their overall body technique and hand placement in order to gain starter consideration;
Andrew Tiller
is a road grading guard and
Marcel Jones
is a body-type upside pick that has the size/strength combo to work at right tackle.
This offseason for the Saints has been an absolute mess, and the draft was really no different; without a first or second round pick, the Saints didn't select a day 1 contributor until pick 122. Selecting a measly 5 players in the 2012 draft, in a year with multiple, high impact players being suspended for their team, the Saints were simply unable to attack this draft as they would have liked, earning a C-
Grade: C-