2012 NFL Draft Grades: AFC West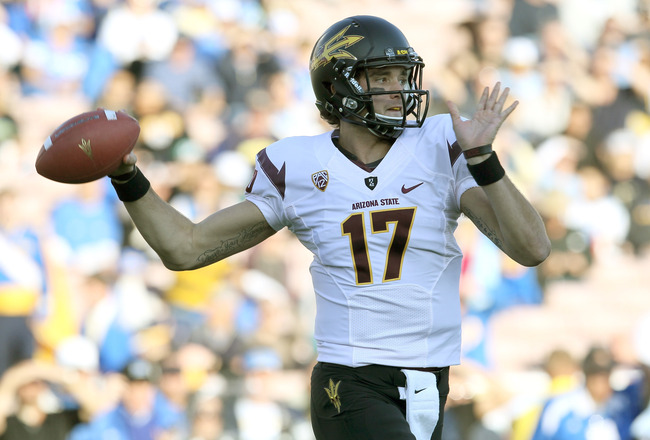 The AFC West may not currently be one of the league's best, but it is one of the most competitive. It will be one of the most fun to watch in 2012: The Broncos are now led by Peyton Manning, Carson Palmer has had an entire offseason to work with the rest of the Raiders, Kansas City gets Jamaal Charles back, and the Chargers always seem to be a game or two away from greatness every season.
With this divisional chase set up to be so tight, the addition of difference makers via the draft could prove to be the deciding factor. Was any team in the AFC West able to get a leg up on their competion during the draft?
Denver Broncos
36. Derek Wolfe, defensive tackle, Cincinnati
57. Brock Osweiler, quarterback, Arizona State
67. Ronnie Hillman, running back, San Diego State
101. Omar Bolden, corner back, Arizona State
108. Phillip Blake, center, Baylor
137. Malik Jackson, defensive end, Tennessee
188. Danny Trevathan, linebacker, Kentucky
Analysis:
Denver's draft is one that got off to a rough start, but ended on a strong note. The primary cause for concerns around the Broncos' draft is while they addressed positions of need, it appears that they did a poor job of assessing value.
No one would deny that defensive tackle was a huge need for Denver heading into the draft. But the selection of
Derek Wolfe
in the second round was a head scratcher. They passed up guys like
Devon Still
,
Jerel Worthy
, and
Brandon Thompson
to reach and select Wolfe. It's a huge gamble and I'm not sure it's one that will pay off.
The selection of
Ronnie Hillman
is another episode that leaves you wondering exactly what the Broncos were thinking. Again, running back is a need in Denver. But is Hillman a better option than
Lamar Miller
or
Bernard Pierce
? For me, that's highly doubtful.
Peyton Manning
was the biggest acquisition of the offseason in the league, and it was important that the Broncos found some insurance for him in the case that his neck becomes problematic during the season. In drafting
Brock Osweiler
, they have a quarterback who is extremely raw and shouldn't be expected to contribute in year one. He's not going to make the coaching staff feel comfortable about their 2012 quarterback situation at all.
It wasn't all bad for Denver. They found a day one starter at center with
Phillip Blake
. Blake couldn't ask for a better situation, as he's a good fit in the system and will get to work with one of the greatest quarterbacks in history.
Malik Jackson
is a underated defensive end who played out of position at Tennessee. He could prove to be the best value in this class.
Grade: C
Kansas City Chiefs
11. Dontari Poe, defensive tackle, Memphis
44. Jeff Allen, offensive lineman, Illinois
74. Donald Stephenson, offensive tackle, Oklahoma
107. Devon Wylie, wide receiver, Fresno State
146. DeQuan Menzie, defensive back, Alabama
182. Cyrus Gray, running back, Texas A&M
218. Jerome Long, defensive tackle, San Diego State
238. Junior Hemingway, wide receiver, Michigan
Analysis:
The Chiefs valued athleticism and sky high potential over production on tape when they drafted
Dontari Poe
. Poe is probably a better fit in a 4-3, but with his tremendous upside it's hard to fault Kansas City too much for this selection. Without question it's a boom or bust type pick that could make their war room look like geniuses or fools in a couple of years.
Drafting offensive linemen back to back isn't a move that is going to excite the fan base, but the Chiefs got two talented linemen here.
Jeff Allen
could probably play anywhere on the line, but could contribute most at guard this year. He's a guy who you can expect to likely see as a starter at some point during the season.
Donald Stephenson
will need a little more time to develop but will also be a valuable contributor to the team.
Kansas City added two solid role players in the fourth and fifth rounds.
Devon Wylie's
play is awfully reminiscent of
Wes Welker's
. If Wylie can stay healthy he'll add a valuable aspect to both the offense and special teams.
DeQuan Menzie
is a guy who wasn't talked about much leading up to the draft, but he just may be the best pure nickel corner in the draft and was an outstanding value at pick 146.
Grade: B+
Oakland Raiders
95. Tony Bergstrom, offensive tackle, Utah
129. Miles Burris, outside linebacker, San Diego State
158. Jack Crawford, defensive end, Penn State
168. Juron Criner, wide receiver, Arizona
189. Christo Bilukidi, defensive end, Georgia State
230. Nathan Stupar, outside linebacker, Penn State
Analysis:
Thanks to trades for
Carson Palmer
and
Richard Seymour
, as well as the selection of
Terrell Pryor
in the supplemental draft, Oakland didn't have a selection in the draft until late in the third round. It's difficult to make a big impact on your team without an early picks. However, the Raiders could have done much, much better than they actually did.
Tony Bergstrom
played offensive tackle at Utah, but it's more likely that he'll fit in at guard for the Raiders. This won't be a popular pick with fans, but it's a solid choice. Oakland is transitioning to a zone blocking scheme, which relies on good guard play. Bergstrom won't likely be a pro bowl talent, but he should at least be someone the Raiders can rely on at left guard.
With the departure of
Kamerion Wimbley
, Oakland found themselves without a real pass rushing threat on the outside.
Milles Burris
and
Jack Crawford
were drafted in an attempt to rectify that. Burris was very productive in college and should be able to contribute as a situational pass rusher early in his career. Crawford on the other hand will take awhile to develop and will only contribute on special teams in 2012.
One of the more talked about selections in Oakland was
Juron Criner
. With below average speed and above average hands, he's the polar opposite of what previous Raider regimes have drafted. He's not a guy who is going to be a deep threat, but his hands could give him a very successful career as a possession receiver.
Grade: C
San Diego Chargers
18. Melvin Ingram, outside linebacker, South Carolina
49. Kendall Reyes, defensive tackle, Connecticut
73. Brandon Taylor, safety, Louisiana State
110. Ladarius Green, tight end, Lousiana-Lafayette
149. Johnnie Troutman, offensive guard, Penn State
226. David Molk, center, Michigan
250. Edwin Baker, running back, Michigan State
Analysis:
The Chargers were in desperate of a shot of youth to an aging defense. Fortunately for San Diego fans, they were able to accomplish just that. In addition, they were able to add some developmental prospects on the other side of the ball that show a ton of potential.
Taking
Melvin Ingram
was somewhat of a no brainer. It was a small surprise that he fell to the 18th pick. He's one of the best pass rushers in the draft, which is something the Chargers have been in dire need of.
Kendall Reyes
is another great value at 49 and will likely be a starter sooner than later this year.
Brandon Taylor
doesn't show great coverage skills, but should be a solid in the box safety.
San Diego was focused on potential in the later rounds.
Ladarius Green
is a work out warrior that needs plenty of time to develop. With
Antonio Gates
ahead of him, the Chargers won't need him to be on the field immediately. The idea of the two working together in the future has to give some AFC West defensive coaches head aches already, however. A center drafted in the later rounds isn't going to garner much attention from fans, but
David Molk
is very likely to develop into a starter over the next couple of years.
Grade: B+