Youth Movements – AFC South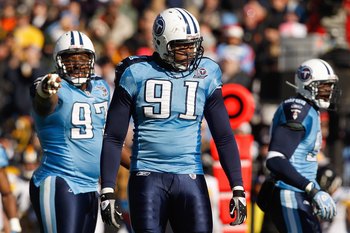 Even the most casual NFL fan is more than aware of the young superstars like Desean Jackson and Chris Johnson. These players have dominated both opposing teams and post game highlight reels very early in their careers. These superstars are not the only young players that are changing games on Sundays, however. The NFL is a rich with young talent, and much of goes largely unnoticed.

For the next few weeks, we'll be writing about the top young talent that you may or may not have heard of in each division. The focus is going to be on players that under 26 years old, and haven't yet been named to the Pro Bowl, though many have developed into Pro Bowl level talents.

The AFC South is a division full of young talent. Each team has a handful of solid young players, but the Texans are a step ahead of the rest. Houston has seen several young players earn trips to the Pro Bowl very early in their careers. Which of their rivals are the closest to catching the Texans?
1. DL Jason Jones, Tennessee- Jones had big shoes to fill when drafted out of Eastern Washington, as Tennessee had plans for Jones to eventually replace DT Albert Haynesworth. For the most part Jones, while he plays a different style than Haynesworth, has not disappointed. Jones can play any position on the defensive line, and is expected to play more at DE when the Titans move to a 4-3/3-4 hybrid in 2011. If Jones can stay healthy, which has been an issue in the past, a Pro Bowl invitation is not an unreasonable expectation for him.

2. CB Jerraud Powers, Indianapolis¬- The Colts had very high expectations for Powers after his rookie year where he displayed a great deal of promise. Powers was having a strong 2010 season before it was cut short when he suffered a broken arm. As long as Powers can pick up where he left of, there are many people in the league expecting Powers to make the Pro Bowl in 2011.

3. LB Pat Angerer, Indianapolis- Powers isn't the only young defensive talent on the Colts' roster. Angerer was expected to be a back up and contribute on special teams in his rookie year, but when MLB Gary Bracket went down, Angerer was called on to start. The former Hawkeye star finished 2011 with 11 starts and 88 tacklers, far exceeding what the Colts expected from him. Angerer will now put pressure on all of the Indianapolis LBs, as he's shown he's too good to keep off the field.

4. OT's Eugene Monroe & Eben Britton, Jacksonville- Before they drafted their QB of the future in Blaine Gabbert, Jacksonville focused on building a line to protect him. The Jags spent their top two picks in 2009 on the two OTs, and it has proven to be a great investment. Monroe has already seen 28 starts in his two year career, and Britton has started 22 (he missed 10 games in 2010 due to injury). Whenever Gabbert takes the field for Jacksonville, he can rest assured that he will be well protected by these bookends.

5. CB Alteraunn Verner, Tennessee- Coming out of UCLA, it was widely thought that Verner lacked the athleticism necessary to be an elite CB in the NFL. After training camp started, Verner put those doubts to rest. He parlayed a camp where he rarely went a day without an interception into a rookie year featuring 12 starts, 101 tackles, and 3 INTs. Verner will now need to show he can produce when he goes into a season where a solid year is expected.

6. WR Kenny Britt, Tennessee- Britt has the size, strength, and explosiveness to be the top player on this list. Unfortunately, his repeated run ins with the law (Britt has been involved in 5 investigations in the past 17 months) have cast doubt over whether or not he will be able to avoid suspensions from violations of the NFL's personal conduct policy. If Britt can mature over the course of the season, the sky is the limit for the young WR. He put up big numbers with an unstable QB situation, and if Jake Locker can get him the ball Britt will have another solid year in 2011.


7. TE Jacob Tamme, Indianapolis- Playing for the Colts has proven to be both a blessing and a curse for Tamme. The benefits of playing with Peyton Manning are obvious, but it's not likely that Tamme will ever get the playing time he deserves with Dallas Clark ahead of him. Tamme proved in 2010 he's more than a capable starter, catching nearly 70 passes for over 600 yards. In spite of that, he'll likely have to contribute mostly on special teams unless Clark is injured again in 2011.

8. CB Derek Cox, Jacksonville- Cox, a third round pick in 2009, made a splash in his very first game, intercepting a pass from Peyton Manning. Cox went on to have a great rookie season, but a bad game in week 1 of 2010 left Cox on the sidelines. He regained his starting spot in October, but will need to continue to improve to cement his hold on the position.

9. OT Duane Brown, Houston- With all the young players like Arian Foster and Brian Cushing grabbing headlines, Brown goes underappreciated in Houston. Brown has been solid since being drafted in 2008, starting every game except for the 4 he missed due to a suspension for violating the league's policy on performance enhancing drugs. Brown's absence for those four games left a huge void, which proved his value to the Texan's offense.

10. DT Tyson Alualu, Jacksonville- Alualu was arguably the most suprising pick of the 2009 first round, but it turned out the be the right call for Jacksonville. Alualu displayed a relentless motor and quickness off the snap in 2010 and started all 16 games. Alualu figures to be an anchor for the Jags defense for years to come. Honorable Mention:
WR Austin Collie, INDY
CB Jason McCourty, TENN
DT Terrance Knighton, JAX
WR Damien Williams, TENN