NFL Draft: Ranking the Top Senior and Junior Transfers in College Football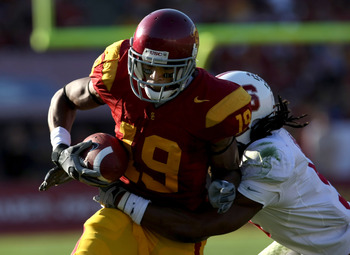 Transfers in college football don't make up an overly large portion of impact players or NFL Draft prospects in general. But we've seen one-year wonders like Russell Wilson and Janoris Jenkins move on from major programs and still be coveted by NFL teams thanks to the move.

These rankings are only based off of players who will be eligible to play immediately and were either with their old team a year ago or sat out for eligibility purposes. For transfers that made appearances this year (see the juniors) check last year's Top 40 overall eligible transfers.

While the transfer class doesn't have a whole lot of superstar talent, it does feature some potential impact players for their respective teams for this year and potentially for NFL teams in the future.

Top Senior Eligible Transfers
1 . RJ Dill - OL - Maryland -> Rutgers
-Maryland's left tackle primarily as a sophomore, Dill left Maryland for likely a variety of reasons, but mostly tied to the fact the program was on a downward spiral. He's a 6'7 well built tackle with experience on both sides of the line and experience against top competition. Look for him to step in right away as a starter this year with the chance to be among the Big East's best tackles and a legit NFL Draft Prospect.

2 . Brice Butler - WR - USC -> San Diego State
-A member of the Pac-12 All-Freshman team back in 2009, Butler's numbers actually dropped in his sophomore season, likely prompting his transfer to San Diego State. A former highly coveted recruit, Butler's flashes as a freshman, 6'4 size, and high ceiling as a receiver could lead him to a great final season in college.

3 . Ryan Katz - QB - Oregon State -> San Diego State
-Along with Brice Butler, San Diego State will have another new piece to it's offense. While after Butler, this list goes downhill fast in terms of NFL Draft prospects, Katz will have a chance to thrive in a system that lead Ryan Lindley to a great season. He'll have a new face at running back behind him, but experienced pass catchers.

4 . Deion Walker - WR - Notre Dame -> Massachusettes
-A former Top 25 receiver coming out of high school, Walker couldn't thrive at Notre Dame thanks to being behind Michael Floyd. Now that he's a graduate transferring for his last year of eligibility to an offensive coach he knows (Charly Molnar has Notre Dame ties), he'll be the top offensive option in an offense with a fairly experienced quarterback and offensive line in the MAC.

5 . Dayne Crist - QB - Notre Dame -> Kansas
-Crist lost the quarterback battle (rightfully so, in my opinion), but really never had a chance once Charlie Weis left town. Now in Weis's new home at Kansas, the 6'4 experienced starter will inherit an offense with quite a bit of experience returning, now in Weis's second year with the team. Crist has every chance to thrive this season.

6 . Braden Hanson - QB - North Carolina -> North Dakota
-Among the top quarterbacks out of high school and the Gatorade Player of the Year in North Carolina, the 6'6 lefty gunslinger never got a shot to be the starter in North Carolina, unable to pass now NFL passer TJ Yates and current UNC starter Bryn Renner. Hanson heads to a North Dakota program that has had success and some NFL prospects in the past. He'll have high expectations this year, but he has the talent to meet it.

7 . De'Leon Eskridge - RB - Minnesota -> San Jose State
-While at Minnesota, he lead the team in rushing in his freshman and junior seasons, gaining just over 600 yards in both years. The compact, 215 pound runner delivers a pop while running on the interior, and has some sneaky speed in the open field. He'll be the workhorse of the offense, as they don't return a rusher with more than 30 carries from a season ago.

8 . Tyson Williams - WR - West Texas A&M -> Texas Tech
-Few guys can manage the transfer UP, but Williams seems to have a chance to go from D2 stud to Big 12 starter. He'll need to battle for a consistent gig, but his ability at West Texas A&M had him on NFL radars, and teams may be hoping he gets a chance to thrive at the high powered Texas Tech offense.

9 . Nate Montana - QB - Montana -> West Virginia Wesleyan
-The son of the Hall of Fame quarterback, Nate is on his fourth school in four years, moving from Notre Dame to community college back to Notre Dame, then to Montana (fitting spot), and now to Division II power West Virginia Wesleyan. We haven't seen much of Nate yet, but he's worth some sort of look, if only for the bloodlines.

10 . Michael Cox - RB - Michigan -> Massachusetts
-The former Michigan rotation back with great size, Cox is the second of three notable transfers headed to the new FBS program in Massachusetts. Slated to be the feature running back, Cox has the size to be a solid interior runner with even a bit of a fullback dynamic for his pro potential.


Other Top Senior Transfers
X - Name - Position - Old Team - New Team
11 . Quinn Evans - CB - Stanford -> Northwestern
12 . Brandon Newman - DT - Notre Dame -> Ball State
15 . RJ Brown - OG - Southern Miss -> SE Louisiana
16 . Alex King - P - Duke -> Texas
17 . Ben Durbin - DT - Wyoming -> Iowa State
18 . Dominick LeGrande - S - Boston College -> Marshall
19 . Robert Steeples - CB - Missouri - Memphis
20 . Mike Ragone - TE - Notre Dame - Kansas
21 . Andre Martin - CB - Northern Iowa - North Dakota State
22 . Eric Baker - RB - South Carolina - Appalachian State
23 . Hafis Williams - DT - Notre Dame - Massachusetts
24 . Demetri Goodson - CB - Gonzaga - Baylor
25 . Austin Fuller - WR - Virginia Tech - SMU
26 . Jay Fullam - S - Vanderbilt - Air Force
27 . Patrick Nicely - QB - Akron - Lake Erie
28 . Donald Coleman - S - NC State - Unknown
29 . CJ Holton - FB - Miami (FL) - Unknown



Top Junior Eligible Transfers
1 . Danny O'Brien - QB -Maryland -> Wisconsin
-The former Maryland standout pulled a Russell Wilson, moving to a stable Wisconsin offense that can adapt to any quarterback while also being a worthwhile adjustment for quarterbacks thanks to the more pro-style fit. O'Brien has loads of talent both in his arm and feet, and don't be shocked if he declares for the draft early, especially if he has a Russell Wilson-type season.

2 . Drayton Calhoun - RB - LSU -> Middle Tenn State
-A former top recruit who just couldn't get out from under the tremendously deep LSU backfield, Calhoun will have a chance to thrive on a Middle Tennessee State team that has had some intriguing talents before but none of Calhoun's level. Certainly a non-BCS runner to watch this year.

3 . Marcus Coker - RB - Iowa -> Stony Brook
-The feature weapon for the Hawkeyes last year and was expected to be the next great running back in the Iowa pipeline, he's unfortuntaly continued another Iowa running back tradition: leaving the team. Coker will finish his career at Stony Brook, a solid program that has some other fringe NFL prospects already.

4 . Josh Gordon - WR - Baylor -> Utah
-He was supposed to be a coveted weapon at Baylor, but due to off-the-field issues, he was facing suspensions there. Now in Utah, Gordon will have a chance to become the Utes feature weapon on an offense that has the potential to truly challenge in the Pac-12, especially if the 6'4 talent can step up.

5 . Garrett Gilbert - QB - Texas -> SMU
-The former Texas starter who since lost his job, Gilbert comes to an SMU offense that has put up big numbers with June Jones and will have it's best arm talent yet. More information on Gilbert in my MiamiDolphinsDraft.com post here.

6 . Cody Green - QB - Nebraska -> Tulsa
-Just barely lost the quarterback battle in Nebraska to current quarterback (running back passer more like it) Taylor Martinez, Green has the 6'4 size and the athleticism to be maybe a better version of GJ Kinne was the past two years. More information on Green in my MiamiDolphinsDraft.com post here.

7 . Kyle Padron - QB - SMU -> Eastern Washington
-With Gilbert in, Padron is gone, opting to end his career at Eastern Washington, another new favorite landing spot for transfer quarterbacks. Last year's EW starter, Bo Levi Mitchell, was also an SMU grad. Padron has more talent and a more experienced receiver group to thrive with.

8 . Tyler Gabbert - QB - Missouri -> UCF
-Losing the battle in Missouri (where his brother became an NFL first rounder), Gabbert now takes over a UCF team that is one of the few non-BCS that has a real chance of being in the Top 25 polls by mid-season. Reportedly not quite the talent of his brother, he'll have a chance to build his own name at UCF.

9 . Phil Smith - OT - Georgia Tech -> UCF
-Very talented, smooth moving, and well-built (6'5, 292 listed) tackle, he has all the makings of an NFL right tackle. He was suspended a season ago at Georgia Tech, the main reason he left, but he'll have a chance to start fresh at UCF on an offensive line that already has leadership at center in Jordan Rae.

10 . Je'Ron Stokes - WR - Michigan -> Bowling Green
-Didn't get a chance to thrive at Michigan, Stokes has loads of talent and was projected to be an impact player for the Wolverines when he was recruited. He'll likely be the most talented weapon for the under-rated junior passer Matt Schilz. The two could become NFL prospects by the time the next two years are through.


OTHER TOP JUNIOR TRANSFERS
X - Name - Position - Old Team - New Team
11 . Toney Williams - RB - Tennessee - Ball State
12 . Darius Barksdale - CB - Jacksonville State - Lafayette
13 . Brock DeCicco - TE - Pittsburgh - Wisconsin
14 . Vlad Emilien - S - Michigan - Toledo
15 . Jonathan Newsome - DE - Ohio State - Ball State
16 . Austyn Carta-Samuels - QB - Wyoming - Vanderbilt
17 . Austin White - RB - Michigan - Central Michigan
18 . Ross Metheny - QB - Virginia - South Alabama
19 . Daquan Hargrett - RB - West Virginia - FIU
20 . Shaniel Gary - CB - Wyoming - Oklahoma State
21 . Eddie Sullivan - QB - Marshall - West Carolina



UNRANKED ELIGIBLE JUNIOR TRANSFERS
Name - Position - Old Team - New Team
Jacob Karam - QB - Texas Tech - Memphis
Terrence Broadway - QB - Houston - Lafayette
DJ Adams - RB - Maryland - Portland State
Jeremiah Bryson - RB - Pittsburgh - Middle Tenn State
Hunter Furr - RB - North Carolina - East Carolina
Jonathon Miller - RB - Oklahoma - Illinois State
DJ Banks - WR - Tulane - Louisiana Tech
Neal Barlow - WR - Arkansas - Kansas
Bradley Brown - WR - Northwestern St - Lafayette
Sam Longo - OG - Ohio State - Cincinnati
James Kittredge - DT - Vanderbilt - Michigan State
Forrest West - DE - Colorado - NC State
Ryan Donahue - OLB - Maryland - Connecticut
Uani Unga - OLB - Oregon State - BYU
Jajuan Harley - CB - Florida State - Middle Tenn State
Lazarri Middleton - CB - Nebraska - SMU
Robert Nelson - CB - UL Monroe - Arizona State
Marcus Trice - CB - Oklahoma - North Texas
Jordan Love - CB - Georgia - Towson
Kolby Gray - S - Pittsburgh - Baylor
Darrell Givens - S - Rutgers - Towson
Ezra Thompson - S - Colorado State - Illinois State


ELIGIBLE SOPHOMORE TRANSFERS
Name - Position - Old Team - New Team
Ronnie Bell - QB - Ohio - Georgia State
Ryan Williams - QB - Memphis - Miami (FL)
Connor Wood - QB - Texas - Colorado
Jeremy Higgins - QB - Utah State - Hawaii
Trent Hurley - QB - Bowling Green - Delaware
Lache Seastrunk - RB - Oregon - Baylor
Jeremiah Wilson - RB - Maryland - James Madison
Taylor Walstad - RB - Arizona State - UNLV
Mike Blakely - RB - Florida - Auburn
Storm Johnson - RB - Miami (FL) - UCF
Corey Grant - RB - Alabama - Auburn
Mister Jones - RB - Texas A&M - Colorado State
Mika'il McCall - RB - Iowa - Southern Illinois
DeAnthony Arnett - WR - Tennessee - Michigan State
Shakim Phillips - WR - Boston College - Connecticut
Kevan Walker - WR - Oregon State - Southern Illinois
Chris Dunkley - WR - Florida - South Florida
Javares McRoy - WR - Florida - Texas Tech
Brandon Felder - WR - North Carolina - Pittsburgh
Devin Figaro - WR - Tulane - Lafayette
De'Ron Flood - TE - Purdue - Southern Illinois
Michael McFarland - TE - Florida - South Florida
Cam Feldt - OT - Arkansas - North Texas
Jordan Prestwood - OT - Florida State - Notre Dame
Tom Rickets - OT - Penn State - Pittsburgh
Tucker Blanton - OG - Florida - Southern Illinois
Tayo Fabuluke - OG - BYU - TCU
Alex Mateas - OG - Penn State - Connecticut
Brent Benedict - OG - Georgia - Virginia Tech
Cameron Fordham - OC - LSU - NC State
Derrick Bryant - DT - UCLA - West Virginia
Gerrand Johnson - DT - Missouri - UL Monroe
Brandon Willis - DE - North Carolina - UCLA
Leilon Willingham - OLB - UCF - Northern Colorado
Lyden Trail - OLB - Florida - Norfolk State
Ryan Paxson - OLB - Cincinnati - Buffalo
Jonathan Dowling - CB - Florida - Western Kentucky
EJ Banks - CB - Notre Dame - Pittsburgh
Cullen Christian - CB - Michigan - Pittsburgh
Jordan Haden - CB - Florida - Toledo
Tyrone Bouie - CB - Minnesota - Bethune-Cookman
Ray Vinopal - S - Michigan - Pittsburgh