Diamond in the Rough: Ryan Steed, CB, Furman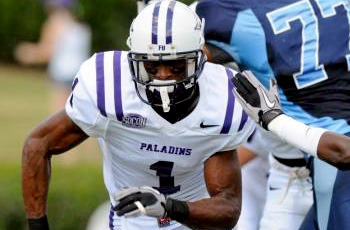 In 2008, Pinewood Prep School in Summerville, South Carolina had one of the best shooting guards on their team. He wanted his chance to play in the NBA. He was a stud athlete for the Prep basketball team who helped them win 2 SCISA State Championships while being named all-region and all-state as well, while playing basketball for Pinewood. Averaging 19.4 points a game and named MVP after dropping 34 on Porter-Gaud, he anticipated some big time division schools would come call, and he'd reach that NBA dream.

But after not getting those types of offers and the realization that there aren't too many 5'11 shooting guards in the NBA, he began to changed his tune.

Ryan Steed began to set his mind on Football.


After focusing much of his athletic life on basketball, he didn't leave a lot of time to help himself on the football field. Steed's late decision to play football could have been the reason he didn't draw the big schools in Carolina such as Clemson and South Carolina, but he was impressive at Prep in High School. An all-region and all-state quarterback after pacing his team to a 6-5 record his senior year, he rushed for 696 yards and 11 touchdowns and passed for 579 yards and nine TDs and registered four interceptions playing corner. He was named Shrine All-Star Classic Outstanding Defensive Player-of-the-Game.

Being from South Carolina, only three schools made contact with Ryan to play football: Charleston Southern, the Citadel and Furman. Ryan was a quarterback, running back, wide receiver, cornerback and special teams for Pinewood Prep. He had no idea where they'd put him. Steed committed to Furman University and began his journey as a football player first.
"It has a close knit setting to it, and is very family oriented. Basically I liked what I saw up here and just decided to make my decision to play for the Paladins."

After making his decision to Furman he was excited to get on the football field and make a difference for the Paladins.

"They told me at Furman that I would be playing corner on the scholarship, I learned a lot from seniors on the team, and when I had my chance, I wanted to play the best I could out there."

As a true freshman, he jumped right in and began implementing what his teammates had taught him. His first game against Mars Hill he picked off a pass which was the first interception of his career. He would have many more of those to come. In his first year he ended the season with 2 interceptions, 2 blocked punts and 10 tackles. He was a true special teamer and was given the Whitey Kendall Specialist Award.

"I was very excited to win such a prominent award, it meant a lot to me, my family and my teammates ."

In his sophomore year he would continue to make great strides at excellence, as he started 11 games, averaged a pass deflection in every game (11) and led the team with 4 interceptions and had one touchdown. He began to utilize his skills in his sophomore year, as he became a better tackler and was becoming a very good cover corner. When I asked wide receiver Marquel Willis of the Green Bay Blizzard (IFL) who has known Ryan and played against him in basketball, he couldn't say anything but good things about Steed.

"Steed is very competitive player, He has tons of talent and will lay it all out on the line. He never shy's away from a test."


Steed began to use his skills more effectively in his junior season, where his footwork improved, he used his speed more effectively, and overall was able to learn the position better. He became a bit more aggressive when playing corner. He'd line up against the opponents number one receiver and was a menace. Not only was he the team leader again with 4 interceptions, he also had 3 forced fumbles and 65 tackles. He scored twice on long interceptions and once on a fumble recovery for a huge score against Georgia Southern. Steed was starting to develop, and to be noticed, as a shut down corner.

Steed is a very aggressive player, with great speed and burst. His hands are very impressive, and his power is something you don't usually see from cornerbacks. Marquel Willis former WR from Coastal Carolina said that, "when Steed hits you, you know it, I had the pleasure to watch him play this year and he continues to impress me."

"Ryan plays with so much intensity and is truly turning into a shutdown corner." Both Willis and Steed are from Summerville, South Carolina who has also produced Bengals stand-out A.J. Green.

This year Steed had a goal to have more than 60 tackles and 4 interceptions. Although in his senior season he didn't break 60 tackles, he did something more. He showed the Florida Gators how much of a shut-down cornerback he had become He shut down Florida receivers in their, where Furman was down 25-30 at the half and eventually ended up losing. Although they lost, everyone were able to see what Ryan's talent as he shined against the Gators. He finished out his college career with 4 more interceptions; four pass break ups, and a touchdown to go along with his 46 tackles.

Ryan also made the list for The Sports Network as a finalist for the Buck Buchanan Award. Ryan has developed very well, has a tough mentality, and loves competition. He is a gamer, and will not settle for second place. He's a hard hitter, and light up a player. At 5'11, 185 you usually don't see that. He breaks well for the ball, and has great arm length. His hip fluidity is NFL level impressive and he is very rarely beat on double moves. He sticks his man very well, and can play in both zone coverage as well as man to man coverage. He could take a nickel role right now and eventually becoming a man to man cover corner in the NFL.

People might question the level of competition when it comes to Ryan, but when you look at his senior year, he didn't only play against average teams. He played against Brian Quick of Appalachian State, the 6'5 stud wide-out, and allowed only 4 receptions for 60 yards and never saw the end zone. Against Florida, Ryan was giving QB John Brantley no room to throw, causing tons of problems in the secondary for the Gators.

Ryan's biggest weakness? "My level of competition", he said. I too look at level of competition, but when you look at the players he has played against like Brian Quick, who many have rated as a 2nd to 3rd round draft pick, he was able to hold him without a score and only 4 receptions. This is a huge win for #1 of the Paladin defense.

"No [playing in the NFL] was not on my mind when I started. I was going to school and knew I could get free education and using this scholarship as an opportunity to further my education."

Although he hasn't heard from any bowl games as of yet, he is ready to start preparing for one of the biggest jumps of his career.

"I am still resting from the season, I will be training in a few weeks, to prepare for the bigger bowl games." Ryan has a good shot at the combine as well as a variety of other All-Star games, and if he can show the NFL scouts what he has proving on the field, it shouldn't be a very hard decision for the NFL teams come the middle of the draft.

So while the NBA dream may have died in high school, switching sports and developing into a preimer small school cornerback, Steed may have found a new entrance to his life as a professional athlete. That is, if teams feel this Diamond in the Rough is worth polishing up at the NFL level.

Follow me on twitter at @drocksthaparty