2014 Senior Bowl: Official Weigh In Results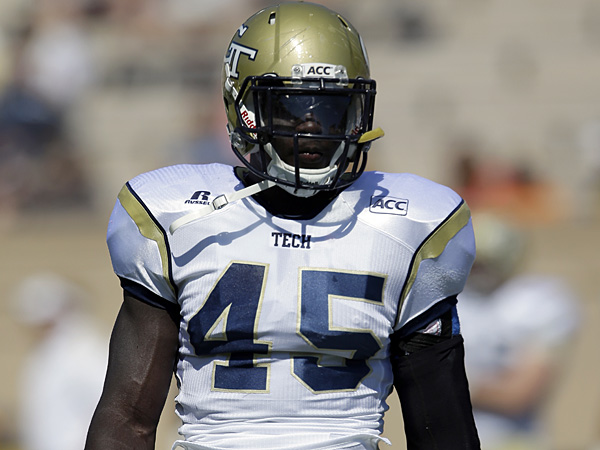 The weigh-ins at the Senior Bowl can seem a bit uncessary, especially for all the fanfare it receives (and is explemplified at hte NFL Combine). However, players grades can be drastically affected the numbers they measure or weigh in at in Mobile, Alabama.

It's important to watch for hand size of quarterbacks and receivers, length for receivers and linemen, weight for defensive linemen and linebackers, and of course, height for a quarterback.

NORTH ROSTER
| First Name | Last Name | Pos | School | Ht | Wt | Hand | Arm | Wing |
| --- | --- | --- | --- | --- | --- | --- | --- | --- |
| Jared | Abbrederis | WR | Wisconsin | 6007 | 189 | 9 5/8 | 30 3/4 | 75 1/8 |
| Chris | Borland | OLB | Wisconsin | 5113 | 245 | 9 3/4 | 28 7/8 | 73 3/8 |
| Chris | Boswell | K | Rice | 6020 | 183 | 8 1/2 | 31 1/2 | 76 |
| Tajh | Boyd | QB | Clemson | 6006 | 222 | 9 3/8 | 30 1/2 | 75 1/2 |
| Jonathan | Brown | OLB | Illinois | 6004 | 224 | 9 1/4 | 32 1/2 | 78 7/8 |
| Deone | Bucannon | SAF | Washington St | 6007 | 216 | 9 1/2 | 31 3/4 | 78 |
| Mike | Campanaro | WR | Wake Forest | 5093 | 191 | 9 3/4 | 28 5/8 | 69 1/2 |
| Will | Clarke | DE | West Virginia | 6061 | 271 | 9 1/2 | 33 3/8 | 79 1/2 |
| Kain | Colter | WR | Northwestern | 5106 | 199 | 10 | 33 3/4 | 73 1/4 |
| Pierre | Desir | CB | Lindenwood | 6011 | 195 | 9 1/4 | 32 3/4 | 77 1/2 |
| Ahmad | Dixon | SAF | Baylor | 5114 | 205 | 9 5/8 | 32 | 76 5/8 |
| Aaron | Donald | DT | Pittsburgh | 6007 | 288 | 9 7/8 | 32 3/4 | 77 3/8 |
| Kadeem | Edwards | OG | Tennessee St | 6041 | 309 | 9 5/8 | 34 1/2 | 83 1/2 |
| Shaquelle | Evans | WR | UCLA | 6006 | 210 | 9 3/8 | 31 7/8 | 76 3/4 |
| C.J. | Fiedorowicz | TE | Iowa | 6055 | 262 | 10 5/8 | 32 1/4 | 79 1/4 |
| David | Fluellen | RB | Toledo | 5112 | 226 | 9 1/4 | 32 1/8 | 78 1/4 |
| James | Gayle | DE | Virginia Tech | 6035 | 255 | 9 5/8 | 32 3/8 | 77 3/4 |
| Ra'Shede | Hageman | DT | Minnesota | 6060 | 318 | 9 5/8 | 33 3/4 | 81 3/4 |
| Seantrel | Henderson | OT | Miami (FL) | 6067 | 331 | 10 3/8 | 34 1/3 | 84 |
| Robert | Herron | WR | Wyoming | 5087 | 193 | 9 5/8 | 29 7/8 | 73 3/8 |
| Ryan | Hewitt | FB | Stanford | 6040 | 246 | 9 1/8 | 30 3/4 | 76 1/4 |
| Gator | Hoskins | TE | Marshall | 6011 | 244 | 9 7/8 | 32 5/8 | 79 3/8 |
| Josh | Huff | WR | Oregon | 5110 | 201 | 9 1/8 | 30 1/2 | 74 1/8 |
| Marqueston | Huff | CB | Wyoming | 5110 | 198 | 8 1/4 | 31 | 74 1/2 |
| Jeff | Janis | WR | Saginaw Valley | 6022 | 212 | 8 7/8 | 32 1/4 | 78 1/8 |
| Stanley | Jean-Baptiste | CB | Nebraska | 6023 | 215 | 8 1/2 | 32 3/8 | 78 3/8 |
| Dontae | Johnson | CB | NC State | 6020 | 199 | 8 7/8 | 31 1/2 | 77 |
| DaQuan | Jones | DT | Penn State | 6034 | 323 | 9 3/8 | 32 3/4 | 78 1/4 |
| Christian | Kirksey | ILB | Iowa | 6016 | 234 | 8 5/8 | 32 3/8 | 78 |
| Tyler | Larsen | OC | Utah State | 6039 | 317 | 9 3/8 | 30 1/2 | 74 1/8 |
| Nevin | Lawson | CB | Utah State | 5097 | 184 | 8 7/8 | 31 3/4 | 75 7/8 |
| Isaiah | Lewis | SAF | Michigan State | 5110 | 205 | 9 7/8 | 30 7/8 | 74 |
| Brandon | Linder | OG | Miami (FL) | 6053 | 316 | 10 1/4 | 33 1/4 | 81 |
| Zach | Martin | OT | Notre Dame | 6041 | 305 | 9/34 | 32 1/4 | 76 7/8 |
| Kareem | Martin | DE | North Carolina | 6057 | 272 | `0 | 33 3/8 | 84 1/4 |
| Jack | Mewhort | OT | Ohio State | 6055 | 306 | 10 1/8 | 33 | 80 1/4 |
| Stephen | Morris | QB | Miami (FL) | 6016 | 208 | 10 1/8 | 32 7/8 | 77 1/2 |
| Trent | Murphy | DE | Stanford | 6053 | 252 | 10 7/8 | 33 1/8 | 80 3/8 |
| Tyler | Ott | LS | Harvard | 6026 | 252 | 9 3/8 | 31 | 76 1/4 |
| Jacob | Pedersen | TE | Wisconsin | 6031 | 242 | 9 1/4 | 31 1/8 | 76 3/4 |
| Cyril | Richardson | OG | Baylor | 6044 | 343 | 9 3/4 | 33 7/8 | 81 1/8 |
| Weston | Richburg | OC | Colorado State | 6034 | 300 | 9 | 31 3/4 | 78 1/4 |
| Michael | Sam | OLB | Missouri | 6015 | 260 | 9 1/8 | 33 1/4 | 80 1/4 |
| Michael | Schofield | OT | Michigan | 6065 | 303 | 9 3/4 | 33 1/2 | 81 3/8 |
| Charles | Sims | RB | West Virginia | 5117 | 214 | 8 1/4 | 30 1/2 | 74 3/4 |
| Marcus | Smith | OLB | Louisville | 6034 | 258 | 9 5/8 | 33 1/4 | 80 1/4 |
| Dez | Southward | SAF | Wisconsin | 6001 | 206 | 10 | 31 5/8 | 77 |
| Shamar | Stephen | DT | Uconn | 6045 | 308 | 9 7/8 | 33 | 80 1/8 |
| Logan | Thomas | QB | Virginia Tech | 6056 | 250 | 10 3/4 | 34 3/8 | 83 1/8 |
| Brandon | Thomas | OT | Clemson | 6034 | 316 | 10 3/4 | 33 | 79 3/8 |
| Kirby | Van Der Kamp | P | Iowa State | 6036 | 202 | 9 3/8 | 31 5/8 | 76 1/4 |
| Jimmie | Ward | SAF | Northern Illinois | 5103 | 191 | 9 1/2 | 31 1/2 | 77 1/8 |
| James | White | RB | Wisconsin | 5090 | 206 | 8 3/8 | 28 5/8 | 69 1/4 |
| Jordan | Zumwalt | OLB | UCLA | 6040 | 231 | 8 1/2 | 31 1/8 | 75 1/8 |
SOUTH ROSTER
| First Name | Last Name | Pos. | School | Ht | Wt | Hand | Arm | Wing |
| --- | --- | --- | --- | --- | --- | --- | --- | --- |
| Walt | Aikens | CB | Liberty | 6005 | 205 | 9 3/8 | 32 1/4 | 79 1/2 |
| Antonio | Andrews | RB | W.Kentucky | 5101 | 225 | 9 1/4 | 30 5/8 | 73 3/8 |
| Jeremiah | Attaochu | OLB | Georgia Tech | 6032 | 252 | 9 3/8 | 32 7/8 | 81 1/4 |
| Lamin | Barrow | OLB | LSU | 6012 | 229 | 9 7/8 | 33 | 79 |
| Joel | Bitonio | OT | Nevada | 6040 | 307 | 9 7/8 | 33 | 83 7/8 |
| Terrence | Brooks | S | Florida St | 5110 | 197 | 8 1/2 | 30 1/4 | 74 3/8 |
| Derek | Carr | QB | Fresno State | 6021 | 215 | 9 1/8 | 31 1/4 | 75 1/8 |
| Deandre | Coleman | DT | California | 6050 | 315 | 10 1/4 | 34 | 81 1/2 |
| Aaron | Colvin | CB | Oklahoma | 5113 | 186 | 9 1/4 | 31 | 75 1/2 |
| Mike | Davis | CB | Texas | 6002 | 193 | 10 1/8 | 32 | 77 1/4 |
| Chris | Davis | CB | Auburn | 5096 | 201 | 9 3/8 | 30 1/2 | 74 |
| Justin | Ellis | DT | Louisiana Tech | 6017 | 342 | 9 7/8 | 32 1/4 | 78 3/4 |
| David | Fales | QB | San Jose State | 6013 | 220 | 9 1/4 | 31 1/8 | 75 1/2 |
| Dee | Ford | DE | Auburn | 6021 | 243 | 10 | 32 3/4 | 71 1/8 |
| Jimmy | Garoppolo | QB | E.Illinois | 6022 | 219 | 9 | 30 1/4 | 75 1/4 |
| Ryan | Grant | WR | Tulane | 6002 | 197 | 9 5/8 | 30 7/8 | 74 1/2 |
| Jon | Halapio | OG | Florida | 6034 | 320 | 10 1/4 | 32 3/4 | 80 1/8 |
| Cody | Hoffman | WR | BYU | 6037 | 218 | 9 7/8 | 33 | 78 1/4 |
| Adrian | Hubbard | OLB | Alabama | 6057 | 255 | 9 1/8 | 33 7/8 | 81 3/8 |
| Gabe | Ikard | OC | Oklahoma | 6032 | 302 | 9 3/4 | 32 3/4 | 79 1/4 |
| Gabe | Jackson | OG | Mississippi St | 6033 | 339 | 9 7/8 | 33 | 82 1/4 |
| Ja'Wuan | James | OT | Tennessee | 6061 | 315 | 9 5/8 | 33 3/8 | 82 1/4 |
| Marcel | Jensen | TE | Fresno State | 6053 | 264 | 10 1/8 | 32 1/4 | 83 7/8 |
| Wesley | Johnson | OG | Vanderbilt | 6052 | 290 | 10 1/8 | 32 1/2 | 79 7/8 |
| Christian | Jones | OLB | Florida St | 6033 | 234 | 9 5/8 | 32 7/8 | 80 3/4 |
| Kenny | Ladler | SAF | Vanderbilt | 6001 | 200 | 9 1/8 | 31 3/8 | 75 3/4 |
| Craig | Loston | SAF | LSU | 6003 | 214 | 10 1/8 | 30 3/4 | 75 1/4 |
| Arthur | Lynch | TE | Georgia | 6044 | 258 | 10 1/8 | 31 | 75 7/8 |
| Cody | Mandell | P | Alabama | 6022 | 216 | 9 7/8 | 30 3/8 | 76 1/8 |
| Jordan | Matthews | WR | Vanderbilt | 6025 | 209 | 10 1/2 | 32 5/8 | 80 1/8 |
| Daniel | McCullers | DT | Tennessee | 6067 | 348 | 10 5/8 | 35 5/8 | 85 1/2 |
| Keith | McGill | CB | Utah | 6030 | 214 | 10 1/4 | 33 | 80 7/8 |
| Jerick | McKinnon | RB | Georgia Southern | 5090 | 209 | 8 3/8 | 29 1/2 | 71 |
| Morgan | Moses | OT | Virginia | 6061 | 325 | 9 3/4 | 34 3/4 | 83 7/8 |
| Aaron | Murray | QB | Georgia | 6003 | 201 | 9 1/8 | 29 3/4 | 72 |
| Kevin | Norwood | WR | Alabama | 6020 | 197 | 10 1/8 | 31 3/8 | 74 1/4 |
| Cody | Parkey | K | Auburn | 6002 | 189 | 9 3/4 | 29 5/8 | 73 1/8 |
| Solomon | Patton | WR | Florida | 5084 | 178 | 9 1/4 | 29 7/8 | 70 3/8 |
| Jay | Prosch | FB | Auburn | 6006 | 256 | 10 | 30 1/8 | 74 1/8 |
| Caraun | Reid | DT | Princeton | 6021 | 301 | 10 1/4 | 32 5/8 | 78 1/8 |
| Jalen | Saunders | WR | Oklahoma | 5086 | 164 | 8 3/4 | 28 7/8 | 70 7/8 |
| Telvin | Smtih | OLB | Florida St | 6027 | 218 | 9 5/8 | 34 1/8 | 82 1/2 |
| Chris | Smtih | DE | Arkansas | 6011 | 266 | 10 1/2 | 32 3/4 | 79 3/8 |
| Ed | Stinson | DE | Alabama | 6031 | 292 | 9 1/4 | 32 7/8 | 78 3/4 |
| Bryan | Stork | OC | Florida St | 6034 | 306 | 10 1/8 | 31 | 77 |
| Will | Sutton | DT | Arizona State | 6006 | 315 | 9 5/8 | 30 5/8 | 76 1/8 |
| Travis | Swanson | OC | Arkansas | 6050 | 310 | 10 | 32 7/8 | 79 1/2 |
| Lorenzo | Taliaferro | RB | Coastal Carolina | 6003 | 231 | 8 1/2 | 31 3/8 | 75 5/8 |
| Jemea | Thomas | SAF | Georgia Tech | 5094 | 190 | 9 7/8 | 30 1/2 | 74 1/4 |
| Jordan | Tripp | OLB | Montana | 6026 | 237 | 9 5/8 | 30 7/8 | 75 1/4 |
| Billy | Turner | OT | North Dakota St | 6050 | 316 | 10 1/4 | 33 1/4 | 81 3/4 |
| Brent | Urban | DT | Virginia | 6066 | 298 | 9 7/8 | 33 5/8 | 80 3/4 |
| Kyle | Van Noy | OLB | BYU | 6032 | 244 | 9 1/2 | 32 | 78 |
| Jaylen | Watkins | CB | Florida | 5113 | 194 | 9 5/8 | 30 5/8 | 75 |
| Lavelle | Westbrooks | CB | Georgia Southern | 5113 | 195 | 9 7/8 | 31 7/8 | 77 1/8 |
| Marcus | Woodside-Heit | LS | Kansas State | 6025 | 252 | 10 1/4 | 30 3/4 | 76 7/8 |