2013 NFL Draft: Week 2 Injury Report for Draft Prospects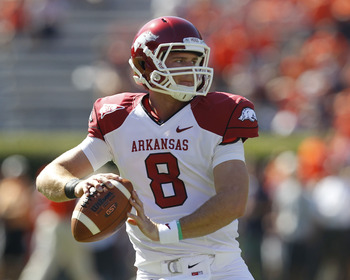 On the field performance is only part (albeit a big part) of the equation of evaluating NFL Draft prospects. It's also very important to note past and current injuries in scouting reports, as they can also have a negative (or positive if clean) impact on a prospects "ceiling".

Here are this week's past injuries, including two possible Top 10 picks and multiple season ending injuries, including Tyler Wilson, Chris Faulk, Khaled Holmes, and John Boyett.

Tyler Wilson, QB, Arkansas
After the initial report that Wilson had an injury "above the shoulders" once he was knocked out of the game vs. Louisiana-Monroe, his injury description was changed to day-to-day with more of a concussion like focus. As long as his injury isn't related to his collar bone or isn't a lingering concern, this shouldn't have a big concern on his future NFL draft prospects.

Jeff Tuel, QB, Washington State
After a great start to his game (20-27, two touchdowns), Tuel suffered a right knee injury that forced him to miss the rest of the game. It's unclear if he'll be out for an extended period of time, but if so, it won't be first major injury Tuel has suffered. He also had broken collar bone last season along with a variety of other injuries. Tuel is in-line for a big season with Mike Leach as the head coach, but another major injury could be a major concern moving forward.

Mike Gillislee, RB, Florida
His 2 touchdown game impressed NFL teams and our scout Alex Brown, but his durability concerns in the past coupled with his most recent, still undisclosed injury is concerning for any running back for his NFL future. It'll be interesting to see what his "undisclosed injury" is, but with the team "very concerned" on his prognosis for the next game.

UPDATE: Andy Staples reported that Gillislee has a groin injury, but likely will be fine for next week's game against Tennessee.


RELATED: Scouting Notebook: Scouting Notes on Texas A&M, Florida, Georgia, and More


Jared Abbrederis, WR, Wisconsin
Abbrederis was crushed across the middle of the field and suffered a chest injury in the team's loss to Oregon State. He eventually taken to the locker room and later the hospital, so obviously his injury is very serious. The team's number one receiver, Abbrederis had a chance to grow with first year Wisconsin starter Danny O'Brien. This injury seems it could be serious and lingering. If so, Abbrederis may have trouble regaining his draft stock.

Chris Faulk, OT, LSU (JR)
An injury suffered before this past weekend's game, Faulk suffered a knee injury that will cause him to miss the remainder of the season. It's unclear how his injury was sustained and if he'll need surgery (though that's likely), but it also means that he likely will be in line to stay for his senior season. As of now, Josh Dworaczyk (fellow senior and former guard) will be stepping in at left tackle.

Khaled Holmes, OC, USC
Being among the top ranked senior offensive line in the country in the pre-season along with being a leader for the offensive line that needs it. Holmes suffered a lower leg injury and left the game in crutches. It's unclear how long he'll be out and no updates have been put out yet, but the fact that was forced to leave with a boot on means it's likely not just a one week injury, and could leave his draft stock and the USC offensive line in limbo for at least a part of this season.

Justin Pugh, OT, Syracuse (JR)
Another injury that was suffered before this week, Pugh has been dealing with a shoulder injury all off-season, and recently went to James Andrews to check on how his surgery was progressing. His still going through rehab but should be back by the end of this month. He's among the best left tackles in the country, but shoulder injuries are worrisome for pass blocking specialist offensive linemen. His return later this month will have substantial barring on his draft stock.

Jelani Jenkins, OLB, Florida
Florida's most athletic defensive player, Jenkins will be a tough loss for this team. After initially being thought of as a thumb injury (according to Will Muschamp), he later was shown with his right arm in a cast and sling. It's unclear what the injury was, but Muschamp made it clear that the team will begin to explore their depth. Also, safety Josh Evans suffered an injury to his left shoulder, but it doesn't look like he'll miss any games.

UPDATE: Andy Staples reported that Jenkins had surgery on his thumb, likely out for the next 4 weeks.


Devon Walker, Saf, Tulane
Certainly the scariest part of this past weekend's action, Walker fractured his spine on the field and was immediately taken to the intensive care center in Tulsa. After a three-hour surgery, he began to be in stable condition, but the final answer to if he's paralyzed and to what extent isn't quite known yet. Similar to the Eric LeGrand injury, this injury has far less to do with football and more of a focus to hoping Walker can recover for the future.

John Boyett, Saf, Oregon
After suffering two knee injuries in the team's practice before this past week, Boyett will have surgery to repair partial tears in both patellar tendons. This injury both requires surgery and for Boyett to miss the remainder of the season, as, according to his doctors, he'll go through a six month rehab. This is a major concern for Boyett, as he made clear in a statement that this has been a lingering injury in past years. It's unclear if he'll apply for a medical redshirt or not, but that may be in his best interest.