2013 NFL Draft: Luke Joeckel Enters Draft As The Top Offensive Tackle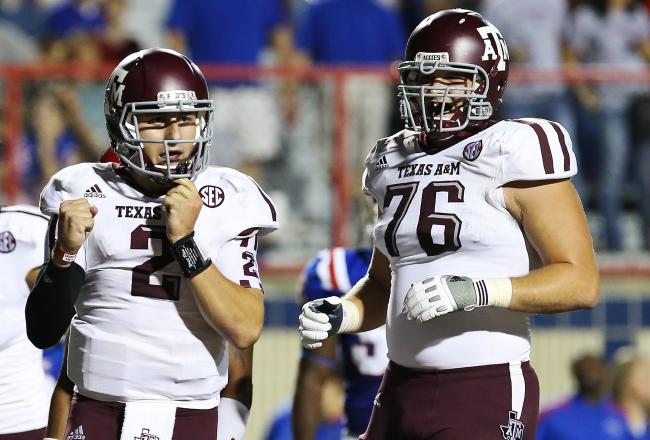 For many, it seemed like a no-brainer. After pass protecting for the Heisman winner Johnny Manziel and being touted as the best offensive tackle in all of college football all season long, Texas A&M's Luke Joeckel was widely considered to be entering the draft and possibly be a Top 5 overall selection.
And, after much internal deliberation in which he seriously considered staying with Manziel and Texas A&M for another season, Luke Joeckel has decided to enter the 2013 NFL Draft, where he figures to be a top 10 pick and potentially the top offensive tackle taken in April.
This announcement comes on the heels of fellow A&M offensive tackle (and future Top 10 pick) Jake Matthews making it known he will stay for his senior season, opening up the questions as to why he would do that if not for Joeckel's departure. That foreshadowing, though possibly unrelated, seemed to come to fruition just a day later.
Joeckel has had a fantastic season, and does every well (especially in pass protection) that you love and need to see for a potential Top 5 pick. Here's Alex Brown's quick scouting notes on Luke Joeckel:


"A franchise left tackle in the mold of Cleveland Browns left tackle Joe Thomas, Joeckel is as polished and NFL-ready as he can possibly be at this point. Measuring a legit 6'6 (or taller) and likely to weigh in the low 300's, Joeckel has "plus" size and "plus" length. More important and impressive than his frame, however, is how light-footed and agile Joeckel is for a 6'6 tackle.

Sliding out to cutoff the best of speed rushers in the SEC, Joeckel consistently protects the arc to the quarterback while having the redirect ability to potentially cover an inside counter move. Footwork and hand placement also earn "plus" grades for Joeckel, who takes great cutoff angles to position himself properly and consistently punches to control the chest plate of his opponent. Joeckel will certainly be in contention for a top five selection now that he has declared himself eligible."
Maybe even more telling to just how talented Joeckel is, we had a write up from earlier this season when Joeckel was asked to take on two likely first round defensive ends in LSU's Sam Montgomery and Barkevious Mingo. Here's the breakdown on Joeckel from that piece (which I highly recommend you check out for all Texas A&M and LSU linemen scouting):


"Joeckel, who combines plus physical traits with polished fundamentals, refused to give an inch to the LSU end by immediately controlling the chest plate off the snap with outstanding hand placement. Sudden and quick to setup in his pass set, Joeckel moves fluidly cut off the speed rush, showed the range to extend and address corner blitz pressure, as well as the redirect ability to react to twist/stunt games from the defensive end and defensive tackle. In staying true to his kick slide technique throughout the pass drop and utilizing his plus length to ride out speed rushers, he continually provided a clear pocket for his quarterback and opened up throwing lanes.

For Joeckel, the only trouble came with oversetting in his pass set, which extended his base too wide for an effective anchor. Very aware of each rush move incorporated in each of the three LSU defensive ends, Joeckel made a concerted effort to prevent the speed rush, seemingly inviting the bull rush. And while he could stand to continue adding muscle and bulk to his lean cut, athletic frame, Joeckel's best attribute may be his ability to lock out his arms, slide his feet and recover after an initial pushback from the defender."

As you can see by reading those reports, he's not a perfect prospect and no "lock" to be the best player (or offensive tackle) in this draft. Every prospect as flaws, including the elite prospects, and most of Joeckel's seem to be fixable through practice and NFL coaching.

If he can stay healthy, Joeckel has shown enough in his career to warrant being a Top 5 overall pick, and each team in that Top 5 will strongly consider adding this impact offensive tackle to their roster.