2012 Shrine Game: Tuesday West Practice Notes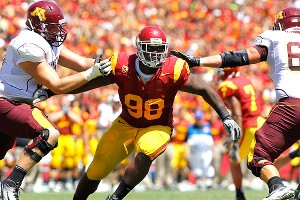 It was day two for the West roster, but still not in FULL pads, which was a bit disappointing. Honestly, didn't get a great look at each position, caught up talking to a few agents and other NFL Draft people, but still got a great look at the offensive and defensive line today especially (thanks to @JoshNorris, @dpbrugler for catching me up when I wasn't watching the practices).

The biggest winners today to me were Brandon Brooks, DaJohn Harris, Kentrell Lockett, and Josh Kaddu, but here's all the positions covered.


Quarterbacks
-I didn't get a great look at the quarterbacks, but from what I saw, none of them looked as crisp as the East squad. Chandler Harnish of Northern Illinois still stood out as the best of the bunch, but was not overly consistent on timing routes and his balls fluttered in inside deep slants. He did look composed in team drills and change vision well, but it wasn't a full pad practice and he wasn't getting a "serious" rush.

-I did like what Dan Persa of Northwestern was doing today, placing the ball on time and accurately short, but he simply lacks the big arm and size to have a legit NFL shot. I'd really like to see he and Chandler Harnish is some scramble situations in the game, as their athletic ability is what flashes for them. Tyler Hansen of Colorado still intrigues me, tight release (reminds of a quicker Christian Ponder release), and still gets the ball out the quickest with best velocity in short routes. As a practice squad/3rd stringer, I think he can make it.


Running Backs
-Only saw a portion of the running back drills today, but the best receiver down the field looked to be Lennon Creer of Louisiana Tech in his routes and even lining up in some slot position, but Marc Tyler of USC was probably the more sure-handed of the two. Tyler is a bigger guy and really lacks the speed and quickness to his top gear to get real excited, but has some versatility.

-Bobby Rainey of Western Kentucky looked patient and hard to find in the hole, but I'm more intrigued on how well he'll break tackles with full pads and how he positions himself in traffic. He's showing some good get-off and quickness in his cuts, but he still needs to show he's more like MJD and Darren Sproles than the host of smaller running backs that don't make the NFL every year.

Wide Receivers
-I didn't get a great look at the receivers (similar to the quarterbacks), but I see that Junior Hemingway of Michigan explodes well to the ball, especially in his comeback routes and inside cuts. He's aggressive to the ball, and I think he could be an outside, move to traffic/middle of the field receiver in the NFL.

-Tyler Shoemaker comes back to the ball well and recovers from poorly thrown passes deep consistently. As Josh Norris (writing for Rotoworld), he needed to be impressive coming back to the ball with the lackluster Kellen Moore arm strength. But his polish in his corner routes and finding the gaps between the defense is also a testament to his play with Kellen Moore. If Shoemaker can test well, he could be a valued possession, heady receiver.

-Dale Moss of South Dakota State seems to have improved his route running a bit, especially deep, positioning his body more effectively and not tangled up. His leg muscles are sculpted (like Devon Wylie as well), and that is a sign of his raw explosiveness. A former basketball player, he really intrigues as a developmental guy.

-Speaking of Fresno State's Devon Wylie, he once again looked like the best receiver here. He, Shoemaker, and Jarius Wright of Arkansas seem to be the most polished and having the best chance to be NFL starting receivers (assuming the slot is a starting position) of this group. Wylie once again had scouts all over him after practice, and he could be a big mover leading up to the draft.


Tight Ends
-Another underwhelming day from the position only Kevin Koger of Michigan stands out as a potential safe draft pick from the West roster. He's a decent athlete, runs well for his size, and has blocking technique to go along with it. He's one of my favorite tight ends (and Rodriguez on the East) in the entire draft, and I think he can develop further at either aspect of his game. David Paulson of Oregon showed some ability from the backfield when he got the chance, but he's not physical enough to get seperation in traffic.

Offensive Linemen
-As I said before, I got a great look at most of these guys despite there not being any lower pads. THe most impressive of the bunch was easily Miami OH OG Brandon Brooks. He's a massive guy at around 335, but he bends better than a guy his size generally does, and he transitions to the second block after doubling low and with fairly light feet. What's most impressive is that his hand placement is far from NFL ready, but he's STILL able to use his brute strength to drive guys or at least hold his ground. Once he improves there, he has a really impressive ceiling as a guard.

-Ryan Miller of Colorado (listed as a OT) and Al Netter of Northwester (listed as a OG) played a bit of both today, and neither really impressed. Miller could hold his ground well, both on the outside and when he did get a chance to play guard, especially against DaJohn Harris of USC. Miller doesn't keep his base wide and hips locked, and gets angled and directed far too easily. Netter has good length, but doesn't use it well, lets guys still get underneath him. Neither impressed today.

-Canadian import Ben Heenan looked far behind in his technique and lacked great burst off the line, both in his hands and initial leg drive. He consistently came off too high and wasn't driving low rushers down well. He did have a strong base though and despite losing hand fighting battles, he didn't give too much ground in just raw one-on-ones, so he has the lower body strength to work with.

-Moe Petrus of UConn had a very up and down day. I really like Moe as kind of the second zone blocking center prospect after David Molk, but he really lacks quickness off the snap and power overall. When he does get off quick enough, his inside hand placement is outstanding, but he doesn't generate great push, and can be beat easily by quicker rushers (by Vaughn Meatoga and DaJohn Harris today).


Defensive Linemen
-Two defensive linemen I had low grades on before here are surprisingly impressive and maybe the most intriguing DT and DE here. USC's DaJohn Harris was outstandingly quick and low off the snap, routinely blowing past the slower interior linemen here. He has some subtle quick hand/duck and regain balance moves that are unique and add some dimension to his rushing ability. Curious to see how he does more in team drills and in the game in run support, but right now, he's performing (just two days keep in mind) as the best defensive tackle.

-The defensvie end that really intrigues me is Ole Miss's Kentrell Lockett. He only weighed in at 242, but his 84 inch wingspan and more importantly, how WELL he uses his that length to drive and direct linemen well. He has explosion and power in his upper half, especially when he lines up a bit off the line from a more 3-4 outside linebacker spot, which I would be very intrigued to see him at.

-Missouri's Dominique Hamilton has really not lived up to my expectations today. He gets off the snap quickly and powerfully, but lacks a counter rush move and really doesn't have many overall initial rush moves. When he just attacks a gap quickly and stays low, he can get pressure and likely demand double teams, but he's more of a quick, fringe 2-gap guy, and not at the level of a 2nd rounder, at least so far this week.

-The two Hawaii defensive linemen aren't close as prospects, as I expected. the nose tackle Kaniela Tuipulatui really lacks any sort of rushing ability, can't disengage from pressure, and really is completely a quick, lower, motor rusher. However, Vaughn Meatoga has begun to live up to some of my hopes, showing that great first step quickness off the snap and his developed swim move technique. He needs to disengage and be more aggressive with his hands and get off blocks more effectively though.

-Tyrone Crawford of Boise State has maybe the best bull rush for a 4-3 defensive end here, lowering his shoulder well and driving with quick feet and decent balance. I'm curious to see if he can play a 5-technique, as he has decent length and good size overall.

-Justin Francis of Rutgers showed why he's maybe the second best athlete on the defensive line (outside of Harris), and showed some fluidity and laterall movement, moving inside out well on his outside rushes. I really want to see if they'll use him on stunts more and have him crash inside more tomorrow, as I think that's maybe his best use of his athletic ability and I think he intrigues as a 5-technique in the NFL.


Linebackers
-Got a chance to see a same college match-up a few times between David Paulson and Josh Kaddu, both of Oregon. Kaddu seemed to be nearly as fluid down the field as Paulson (surprising for a LB vs a TE), and was very physical without being over-aggressive. I didn't get a great look at how Kaddu looked in zone drills or in form tackling, but I'll be watching him closer to see how complete he is as a linebacker tomorrow.

-Tank Carder of TCU did not handle the running back well out of the backfield the two times I saw him, and he really struggles in coverage overall when he's not in zone or doesn't have over the top help. He did slide well with receivers from the slot over the middle and showed his vision and insticts in anticipating the routes, but he's underwhelming as a whole this week.


Defensive Backs
-To be honest, I really got very little look at the defensive backs today, but I did note that Duke Ihenacho of San Jose State didn't look comfortable in most drills I saw, and showed why some teams may stay away. He's an instict-based guy, and a great athlete, but he doesn't do anything well right now, and a definite project player, but a likely special teams ace. Also, I think Keith Tandy of West Virginia and Shaun Prater of Iowa are the only safe draft picks of the cornerbacks.