2012 Shrine Game Preview: West Offense
While the East Roster has the much better quarterback prospects and maybe more talent at running back, the West dominates the receiver, tight end, and offenisve line positions.

Not as many top small school prospects (only 3 non-FBS prospects) on the West Roster, they do feature some more notable and likely higher drafted prospects, such as Jarius Wright of Arkansas, Marc Tyler of USC, and Ryan Miller of Colorado.

Quarterbacks
1. Chandler Harnish, Northern Illinois
The leader in a mediocre quarterback group for the West Roster, Harnish was one of the more impressive dual threat quarterbacks in the 2011 college football season, being overlooked in that capacity by more notable runners Denard Robinson and Robert Griffin. His deep ball floats at times, he lacks the big time arm strength, and doesn't consistently beat teams from the pocket, but his ability on the move and quickness at the quarterback position could impress in a week of practice.

2. Dan Persa, Northwestern
A late addition thanks to Ryan Lindley defecting to the Senior Bowl the week after, Persa will have a chance to continue his comeback on a season that didn't go as planned from the pre-season. Persa, who was hurt the beginning portion of the year and didn't get a chance to feel comfortable once he returned, Persa will be able to show scouts he's back to full strength and showcase some of that accuracy, athleticism, and poise as a quarterback as he did when he was a junior.

3. Tyler Hansen, Colorado
While he hasn't been able to produce consistent success for his team, he did beat out Cody Hawkins a few years ago and he flashes some impressive anticipation and ball placement in the short area. Doesn't wow in any aspect of his game, he'll need to show that he can consistently place the ball well in across the field in the short area and be more of a game manager, and he could get some late round looks.



Running Backs
The Top Running Back: Marc Tyler, USC
One of two true running backs on the West roster, Tyler has really flashed on a relatively deep USC running back roster the past two seasons, being the general feature back. A powerful, shoulder lowering back, he drives through traffic well and has a decent burst through contact. Again, being the clear-cut top running back coming into the event, he'll have a great chance to emerge and dominate as a running back prospect throughout the week.

Running Back To Watch Out For: Lennon Creer, Louisiana Tech
Former Tennessee transfer (former teammate of East quarterback BJ Coleman), Creer is well built and has the size to impress, especially in the weigh-ins if he's in the top shape I expect. He shows some explosion to the outside and angles his body well in traffic, but doesn't break enough tackles without great openings well enough to be drafted as of now. But, if he measures in at 6'1, 215, he'll get some zone running back comparisons and could get considered in that system.

Other Running Backs: Cody Johnson (Texas)



Tight Ends
The Top Tight End: George Bryan, NC State
At 6'5, 265 (listed measurements), he could intrigue teams in a lot of ways. If he can measure out at 6'5 and show anchoring ability, Bleacher Report's Matt Miller made the great point that teams could consider him as a developmental left tackle prospect (a al Jason Peters). However, that may be a stretch, and in the short term, he'll be the top athlete at tight end in this game.

Tight End To Watch Out For: Kevin Koger, Michigan
A great athlete who wasn't utilized all that much at Michigan (only 24 receptions as a senior), Koger has the athletic ability to fit into the mold of a versatile tight end at the next level, but has the blocking capabilities to be an in-line blocker as well. A potential utility, #2 tight end in the NFL, he doesn't do anything great but does a lot of things well, which could add value on draft day.

Other Tight Ends: Cory Harkey (UCLA), David Paulson (Oregon)


Wide Receivers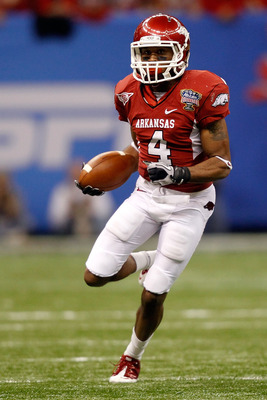 1. Jarius Wright, Arkansas
By far the best receiver on the West roster (maybe one of the best prospects on the West roster in general), Wright doesn't seem to be joining his fellow NFL slot receiver teammate Joe Adams to the Senior Bowl. Wright is an ideal NFL slot receiver who is a quick-twitch short area runner that finds gaps in defenses very well and can flip his body and run after the catch well. His value as an NFL ready slot receiver could really boost his stock if he can showcase that short-intermediate route running in practices.

2. Junior Hemingway, Michigan
Ending his career on a high note with two big touchdown catches in the Michigan bowl game, Hemingway could really impress at the practices with few other receivers at the entire event having his big play ability combined with decent size to shield from defenders and make plays in traffic. Still not much more than a deep route runner, doesn't gain consistent seperation, but can be an outside receiver in 3-and-4 wide sets.

3. Gerrell Robinson, Arizona State
Robinson possesses some of the raw talent at receiver that NFL teams will consider, and at around 6'4, 220, he'll get looks as an outside receiver, especially in the redzone. Had a productive and fairly consistent year, but doesn't get his own separation all that consistently and isn't a dynamic route runner. He'll need to show both during the week to be a safe draft pick.

Receiver to Watch Out For: Tyler Shoemaker, Boise State
Reportedly a fantastic athlete, Shoemaker didn't always get a chance to show his dynamic ability thanks to the directing of Kellen Moore. Still, Shoemaker did seize his opportunity this year with no Pettis or Young in the receiving corps, and this will be his last big test to prove he's out of the Boise State shadow and is a dynamic enough athlete and overall receiver to be a starter at the next level.

Other Receivers: Greg Childs (Arkansas), Dale Moss (South Dakota State), Devon Wylie (Fresno State)


Offensive Linemen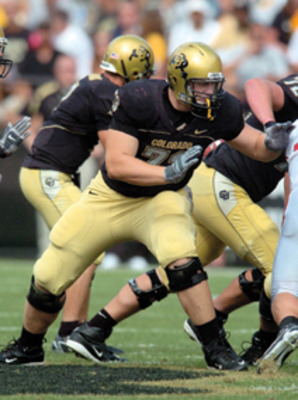 The Top Center: Moe Petrus, Connecticut
A favorite prospect of mine since his junior year, Petrus has been the most consistent offensive lineman (and directing the efforts) since his sophomore year for a generally consistent running game on an offense that featured some impressive offensive linemen. Petrus has great power off the snap, shoots his hands well initially.

Top Offensive Guard: Markus Zusevics, Iowa
A right tackle that played opposite Riley Reiff at Iowa this year, but thanks to being around 6'4, he'll need to kick inside to guard for the NFL most likely. He has good power in the game, can extend and drive and has shown good hand placement and engage/pivoting down the field. Not a great athlete, needs to get by on power and footwork, but seems to be able to have both to get a lot of NFL looks in the mid to later rounds.

Top Offensive Tackle: Ryan Miller, Colorado
Played right guard in college (like thanks to Nate Solder out at left tackle the past two years), Miller has the length at 6'6, likely around 290, to kick out to offensive tackle. He has shown ability to kick slide and set up well in pass protection, but that was in the short area and doesn't have experience in getting low and taking on speed rushers. If he can kick outside at tackle, he'll go from a mid-late round oversized guard to a 2nd-3rd round tackle/guard versatile tackle.

The Top Offensive Lineman to Watch Out For: Tom Compton, South Dakota
Arguably the West Roster's best offensive linemen (just behind Ryan Miller in talent), Compton has been a highly thought-of small school tackle prospect since his junior year, and didn't dissapoint this year. He's likely more of an NFL right tackle, but could be a very good one thanks to his power, balance, and anchor ability on in-line blocks in the run game after in positon.

Other Offensive Linemen: Davis Snow (Texas), Brandon Brooks (Miami OH), Ben Heenan (Saskatchewan), Josh LeRibeus (SMU), Al Netter (Northwestern), Matt Reynolds (BYU), Marcel Jones (Nebraska)