2012 Shrine Game Preview: East Offense
The Shrine Game is fastly approaching, and OptimumScouting.com has you covered. The East Roster offense doesn't feature a whole lot of depth and talent at running back or receiver, but have three very intriguing quarterbacks, some unique offensive tackles, and some versatile position players that can showcase that skill in practices this week.
Also, the depth of small school prospects on this offenses is exciting for me, scouting the small school as well as any draft website out there, as the best quarterback, receiver, offensive guard, and offensive tackles is from the FCS or Division II ranks.

Quarterbacks
1. BJ Coleman, Tennessee-Chattanooga
A former Tennessee transfer down, BJ Coleman has the size (should measure in around 6'5, 220), and the arm strength to intrigue scouts on film. But after getting to know more about his ability above the shoulders, he's mentally ready, showing poise and play reading in the pocket and being a film junkie and motivated off the field. He's a guy scouts could fall in love with at the event.

2. Austin Davis, Southern Miss
Not as physically gifted in terms of arm strength or even consistent accuracy, Davis has matured as a prospect over the past few years and has showcased mobility, the ability to make plays with his arm on the move, and touch at the different levels of a defense. A fringe draftable prospect now, he should impress scouts, proving he may be worth having as a backup in the NFL.

3. John Brantley, Florida
The "heir to Tebow" at Florida never really clicked in the three different playcallers he has during his time, and he still seems hesitate with the ball, lacking pocket presence and feel of the defense, and overall doesn't always show great play reading ability. But his footwork, attention to detail fundamentally, and ability on timing routes makes him a likely 3rd stringer in the NFL, and if he can show some big time throws, some teams may be enamoured with his arm, technique, NFL system combination.
Running Backs
The Top Running Back: Tauren Poole, Tennessee
A runner who doesn't everything well but nothing great, Poole is the featured back in an entire Shrine game that doesn't feature many intriguing Top 5 rounders. His ability out of the backfield will be tested this week, but if he can show his versatility in a draft that lacks it at the running back position, he could secure himself a draft selection.

Running Back To Watch Out For: Alfred Morris, Florida Atlantic
The well-built, powerful back, Morris will likely weigh-in at around 5'10, 230. For a bigger back like him, the most important aspect of his all-star week may be the very first day: weigh-ins. If he can come in looking well-built, thick but not sloppy, and in great physical shape, teams could easily view him as a power-back to consider in the draft in a rotational scheme in the NFL.

Other Running Backs: Davin Meggett (Maryland), Bruce Figgins (FB, Georgia)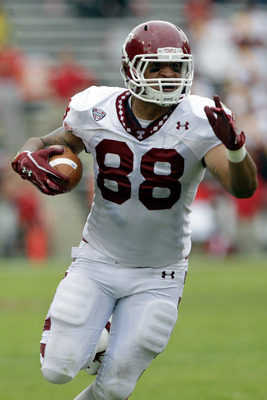 Tight Ends
The Top Tight End: Evan Rodriguez, Temple
The clear-cut top tight end on the East roster and maybe in the entire game, and his combination of decent size (likely around 6'3) and versatility he showed at Temple, this year especially, allows him to be able to show skills as an in-line tight end, slot receiver, and fullback, as he's lined up in each spot in college. A good athlete who's developed in blocking, he could shoot up boards if he can show he's athletic enough to be a feature tight end and not a utility guy.

Tight End To Watch Out For: Emil Igwenagu, Massachusetts
Similar to Rodriguez in the sense that he's likely being targeted as a utility tight end, Igwenagu is still raw in most aspects of his game. He doesn't have developed routes as a receiver, not a great blocker, and he's closer to around 6'1. But he's a great athlete, good leaping ability, and should impress as an H-Back especially in the practices. He needs to show a willingness and improvement in blocking.

Other Tight Ends: Chase Ford (Miami)
Wide Receivers
The Top Wide Receivers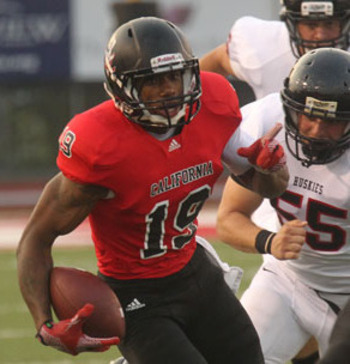 1. Thomas Mayo, California PA
He may not be a household name in the draft community now, but all he's done is dominate at two different schools as the Division II level, including this year being his first and only year at California PA. He's got good length (likely measuring in at 6'1 though), great in-air ball skills, natural separation skills, and has improved drastically in his routes and overall receiver nuances this year with more coaching detail. He's still a bit raw as a receiver, but he has all the potential to dominate in this game and emerge as a Top 5 rounder easily.

2. BJ Cunningham, Michigan State
Half of the dynamically productive combination with quarterback Kirk Cousins (at the Senior Bowl), Cunningham is ideally a longer, more physical inside receiver in the NFL, as he works better in shorter routes, across the middle, and in timing routes. If he can show a developed set of routes and catching the ball away from his body, he could be viewed as a safer reicever and emege in a receiver class that is as deep as any in the past 5 years.

3. Danny Coale, Virginia Tech
A smaller, physical, willing in traffic receiver, Coale isn't as quick or sudden in open field as other receivers he'll be compared to (don't say Wes Welker). He's no lock to be drafted, but with teams utilizing 4-wide sets more than in the past now, he's an ideal 3rd/4th receiver in a formation and could fill a similar role to Jeff Maehl/Dane Sanzenbacher in the NFL.
Wide Receiver to Watch Out For: TJ Graham, NC State
A speedy, deep play receiver, odds are Graham tests very well (especially in the 40) at the NFL Combine in February, which will give him that boost leading up to the draft. Still, he'll need to show that he has the route running down the field and the separation skills to use that speed, and he'll need to prove that against some rather impressive small school East Roster defensive backs.

Other Receivers: Tim Benford (Ten. Tech), LaRon Byrd (Miami FL), Kevin Hardy (Citadel), Lance Lewis (East Carolina)
Offensive Linemen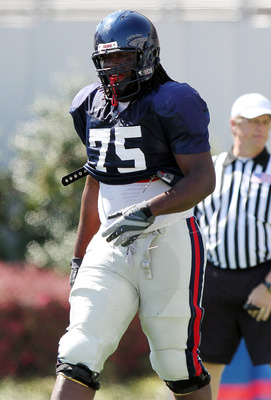 The Top Center: Quentin Saulsberry, Mississippi State
Not a whole lot of competition for Saulsberry, as I don't think fellow center invite on the East Roster (Tyler Horn) as a draftable at all. He has experience at guard as well (taking over for JC Brignone this year), and is powerful in his upper half, driving well initally off the snap. Not a guy who's a lock to be drafted, a fringe Top 6 draftable center, but a big week and his versatility could get him drafted.

The Top Offensive Guard: Rishaw Johnson, California PA
Along with teammate Thomas Mayo (the top receiver on the East Roster), Johnson may not be in the media spotlight as a top prospect in this game. But the Ole Miss transfer is a very good athlete for a guard, sets up smoothly and bends well in pass protection. He'll need to show me a bit more physicality in the run game and better shooting of his hands initially, but he has the athleticism and feet to be a Top 4 rounder as a guard prospect now.

The Top Offensive Tackle: Jeff Adams, Columbia
A long, experienced tackle who has better feet than you expect for non-FBS tackles, Adams is still raw in some hand-technique and protecting his inside leverage. He's not the clear-cut tackle to dominate this game and very well could fall out of the draft with a poor showing, especially in the kick sliding drills, but he has the potential to also be a Top 5 rounder and build momentum leading up to the Combine.

Offensive Lineman to Watch Out For: Joe Long, Wayne State
The name should sound familiar based on his position. Joe, the Gene Upshaw winner for the top Division II linemen, is the brother of Dolphins left tackle Jake Long. He's not nearly as physically and athletically gifted and doesn't have a Top 3 round ceiling like his brother. But he does have the size, adequate feet to be considered as a right tackle. Thanks to being an automatic invite for winning the Upshaw award, he'll have a shot to really thrive in this game, but he's no lock to be drafted.

Other Offensive Linemen: Tyler Horn (Miami FL), Derek Dennis (Temple), Jeremiah Warren (South Florida), Desmond Wynn (Rutgers), Lamar Holmes (Southern Miss), Bradley Sowell (Mississippi)