2012 Shrine Game Prevew: East Defense
After posting the offense side of the East Roster earlier, we'll take a look at a defense that, like the offense, is loaded with the top tier small school talent in the entire draft. The defensive line doesn't feature a whole lot of NFL mid round draft prospects.
But at linebacker, we see a position changing athlete and a top small schooler, and at defensive back, three small schoolers could very well end up being at the top of their position by weeks end.
Defensive Linemen
Top Defensive End: Julian Miller, West Virginia
In a system in college that really didn't highlight his strengths all the time, it'll be interesting to see Julian Miller back at a 4-3 defensive end where he'll likely feel much more comfortable as an outside rusher. Great length and some raw rushing ability, Miller lacks great explosivenss initially and doesn't have the speed or flexibility to be a dominate rusher at the NFL level. Still, if he can show some room for development, with his versatility, he could be intriguing, especialy for a team using multiple sets.

Defensive End to Watch Out For: Matt Conrath, Virginia
Coming from one of the few true 3-4 defenses in college for most of this season, Conrath showed great potential thanks to his size and lower body strength as a junior to really intrigue long term. In those 3-4 defensive ends he didn't really stand ou, but he'll have a chance to show that, like Miller, he has some versatility in his game. If he can play with leverage well and stay low in his rushes, he could be a draft riser for 3-4 teams.

Top Defensive Tackle: Travian Roberson, South Carolina
A bit of an unheralded reason for the South Carolina defensive success since they featured the top senior and freshman defensive end in the SEC in Melvin Ingram and Jadeveon Clowney, Robinson himself clogged up the middle and allow for those rushers to consistently get one on ones. Not a dynamic pass rusher and didn't fill the stat sheet up in college, he'll get a chance as likely the premier defensive linemen in this group.

Defensive Tackle to Watch Out For: Akiem Hicks, Regina
The former LSU Tiger after Junior College, Hicks was forced to go up North (Canada) to play. At 6'6, 305, he'll surely impress in workouts and at the weigh-in. I haven't seen a second of film on Hicks, but Matthew Elder of BuffaloBillsDraft.com has some great coverage on he and other Canadian prospects. These three canadian prospects are the only three I haven't seen, so I'll surely be watching to see if they belong.

Other Defensive Linemen: Jabaree Tuani (Navy), Kyle Wilber (Wake Forest), Nick Jean-Baptiste (Baylor), Micanor Regis (Miami FL)


Linebackers

Top Outside Linebacker: Brandon Lindsey, Pittsburgh
Former college defensive end, Lindsey was stuck playing more of a 3-4 defensive end role, one that did not fit him all that well because of his size and rushing ability. Still, he got the most out of this season and actually developed more of a bull-rush and rip move over the season because of his position. Now that he'll be standing up, he'll be able to better showcase his athleticism. The best prospect at the entire game by far, if Lindsey can look smooth as a stand-up linebacker, he could go early 2nd round.

Top Inside Linebacker: Shawn Loiseau, Merrimack
The lone Division II non-kicker at the event, Loiseau should not be overlooked as a linebacker at this event: He's the clear leader in my eyes. He's an instictive, physical inside blitzer, takes on blockers and drives back downhill in a hurry, and stays low in tackles and in his scrapes across the line. He can be a bit overaggressive at times and doesn't have much pass coverage fluidity, but he certainly belongs here.

Linebacker to Watch Out For: Najee Goode, West Virginia
The leader of a West Virginia defense that has had 5-6 NFL prospects this year and last, Goode has been a do-it-all linebacker for the Mountaineers. He can fill holes decently well for his size, makes tackles in space well, and seems fluid and comfortable in coverage. He doesn't shed blocks as well as I'd like and will need to show he can do that, but as a 4-3 linebacker in more of a zone/coverage defense, he could really thrive.

Other Linebackers: Steve Erzinger (Army), Max Gruder (Pittsburgh), Joshua Linam (UCF), Nick Sukay (Penn State)


Defensive Backs

Top Cornerback: Micah Pellerin, Hampton
A former Southern Miss transfer, Pellerin has the size, physicality, and tackling ability that will certainly intrigue NFL teams. He's a little thin overall, especially in his lower half, and will need to get stronger overall if he hopes to last in the NFL. I'm curious to see how well he can flip, turn and run with some of the faster receivers on the East roster, because that may limit him in the draft process. Still, he has the ability to potentially be a starting cornerback in the NFL as of now and a mid-round selection.
Cornerback to Watch Out For: Charles Brown, North Carolina
Suspended last year for the early part of the year and somewhat forgotten about as more of a mediocre talent on a loaded North Carolina defense, Brown was one of the more consistent on that side of the ball. He has decent size and can wrap-up well on the outside, this will be his big chance to seperate himself from the talent around him and show he can be a capable NFL cornerback, likely a nickel corner.

Top Safety: Matt Daniels, Duke
A guy who I hadn't considered much of a prospect until I prepped for this game, Daniels has all the talent as a 10-20 yard coverage guy and a force in run support to be a solid draftable guy, likely in the mid rounds now. I'm jumping on his bandwagon now, a little later than I usually would, but I think he'll really showcase the necessary zone skills as well as the aggresive nature in run support to really wow in practices.

Safety to Watch Out For: Justin Bethel, Presbyterian
Listed as a cornerback on the roster, I think his time as a safety is more intriguing to me, as I think that role suits him better for the NFL long term. He tracks the ball well from the safety spot, is a sound tackler who closes quickly and form tackles well, has great speed, and can slide into the nickel corner spot. He could be viewed as one of, if not thee, best safety/nickel cornerback prospect in the draft, and a good week could make him a solid Top 5 rounder.

Other Defensive Backs: Emanuel Davis (East Carolina), Gary Gray (Notre Dame), RJ Blanton (Notre Dame), Josh Norman (Coastal Carolina)

Special Teams
T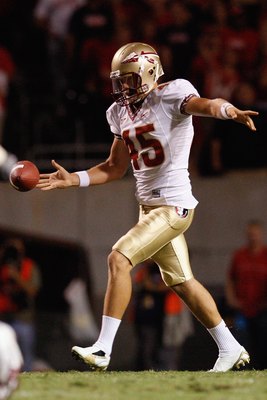 HE Kicker: Blair Walsh, Georgia
A four-year starter for Georgia who had 95 points or more in each season, Walsh has the experience kicking to intrigue NFL teams looking for a long-term kicker. He did finish his career with making just 21 of 35 field goals this year, missing at least one kick in every game in which he attempted 2 or more field goals. Still, his longjevity as a starter will intrigue, but as usual with kickers at All-Star events, it's about how well he can hit from 48-50 plus yards.

THE Punter: Shawn Powell, Florida State
College Football's top senior punter statiscally by a whole 3 yards per punt, Powell is a major coup for the Shrine Game and should be able to show off his big leg to NFL scouts. I don't think he has a great chance of getting drafted (none of this draft has anyone that likely will be), but all it takes is a week of consistent 40+ yards and a few nice coffin-corners, and he could get himself looked at as a late round possibility.