2012 Senior Bowl: Monday South Practice Notes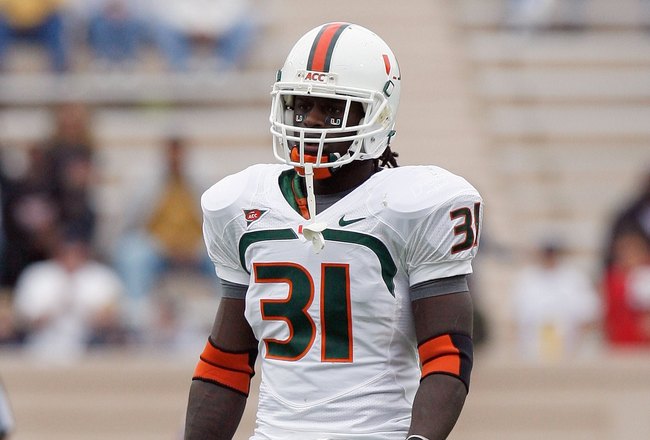 I was only at the South practice today (both at the same time), and in a non-full padded practice, I really only focused on the quarterbacks-receivers-defensive backs drills, but got some good notes on defensive linemen in team drills and linebackers in individual drills especially.
The big winners today were Brandon Weeden, Dwight Jones, Jeff Fuller, Ben Jones, Quinton Coples, and Sean Spence.
Quarterbacks

-Of the three quarterbacks at the South practice
, Brandon Weeden
was the clear cut top passer. He did have a bit longer, more elongated (but still tight to his body) release than he showed on film as much, but still got the ball out fairly quick. He threw a consistently pretty ball, tight spiral across the field, and showed some outstanding touch and timing deep and to the outside. He did seem to be "placing" the ball and not firing it as well as I'd like at times today, something to watch the rest of the week.
-Ryan Lindley
had the quickest release of the quarterback, but consistently threw the ball in the dirt short of the receiver on slanting deep routes. Not sure if that's a timing/chemistry thing (doubt it) or what, but it's something he must improve on this week or those lingering accuracy issues will persist on his scouting report.
-
Running Back

-I didn't get a great look at the running backs today, but I did note that
Vick Ballard
showed some natural receiving skills breaking out of the line of scrimmage, but was rounding his routes a little and needs to shore up that part of his game. Also
, Cyrus Gray of
Texas A&M was out with injury today, still haven't found out what that is quite yet.
Wide Receiver

-I've talked up a big game about him before this week, but through one practice,
Dwight Jones
did not underwhelm. He was best receiver on the South roster when getting off press, showed some very strong hands, and looked smooth getting down the field. As I said before, he MAY be the best receiver in this class, basically tied for #1 as of now.
-
Juron Criner
and
Jeff Fuller
both caught the ball away from their body well today and impressed more than I thought. Criner struggled to get down field and off press blocks when getting vertical a few times this week, and coming from a West Coast offense, he'll need to show that won't be a problem at the next level.
-Coming off some gruesome injuries in his career,
Patrick Edwards
of Houston actually somewhat impressed today with his suddenness in his cuts, eating up interior cushion leverage and exploding to the middle of the field. He measured in awfully small and doesn't look the part, but as an undersized slot receiver, he could be a solid UDFA.
-
Joe Adams
of Arkansas was the best NFL talent almost on that Arkansas talented WR corps, and today he impressed. He caught the ball away from his body and showed some great explosion.
Tight End

-Mostly of note,
Brad Smelley
showed a quick first step off the line and some natural receiving skills. He's undersized for a tight end so likely an H-Back in the NFL, but some impressive receiving skill really intriguing.
-
LaDarius Green
didn't look like THAT outstanding of an athlete in his transitions and off the line as I had expected, and didn't use his body overly well to gain inside leverage on passes. Still, he's among the best tight ends at the game.
Offensive Linemen

-
Cordy Glenn
of Georgia played left tackle all day today, and at times really held his own. He's a bit too stiff and reaches for blocks at times, but he can drive down speed rushers well at times, including driving Courtney Upshaw to the ground on one inside rush. Interesting to see if his size and length can translate to an outside tackle spot against NFL rushers.
-Staying on the Georgia offensive line,
Ben Jones
played all of today at left guard and came off the line very quickly and with some good initial balance and hand placement. He still could get over powered by power rushers, something we'll see if he can handle tomorrow in full pads.
-Zebrie Sanders of Florida State was on the right side at tackle, but was giving up way to much ground in his pass protection and was swallowed up and driven back by numerous rushing linemen today. He'll need to show more aggression and physicality if he hopes to play well against top tier power rushers.
Defensive Linemen

-
Courtney Upshaw
played all practice at defensive end (at times in a 2-point stance though) and came off strong and very sudden, as expected, as a pass rusher. He showed some great flexibility and versatility in his rushes, sudden, and consistently getting some pressure.
-I thought
Brandon Thompson
of Clemson showed a big reason for his pre-season intrigue this year: quick off the snap, decisive in his moves today. He needs to have a big week to get back in the Top 20 mix like he has the potential to/was at in the pre-season.
-The most impressive and consistent pass rusher here almost by far was
Quinton Coples
. He needs a big, consistent week to be a lock for a Top 20 selection. He showed both quick and powerful rushes, winning inside leverage battles, and fluidity in space tracking the ball. He's passed the eye test in day one for sure.
Linebackers

-I was pretty blown away for day one
Sean Spence
as far as being a talented athlete and complete linebacker. He didn't measure in overly tall, but he was by far the quickest linebacker in drills today, fluid in transitions, looked comfortable in space, and caught the ball extremely well for a linebacker. He was VERY impressive today
-
Jack Bequette
of Arkansas is lining up at outside linebacker (former defensive end in college) and has looked awfully stiff, but seems to have worked on the transition pretty well and had some solid technique in the drop backs.
-
Nigel Bradham
of Florida State is built very well, transitioning well to coverage, and has the length to dip back well and disrupt throwing lanes. But he didn't show great foot quickness in drills, something to watch in natural linebacker transitions.
Defensive Backs

-
Janoris Jenkins
of North Alabama tried his best to show his physicality as a cornerback, pressing and disrupting Jeff Fuller on one play in particular and driving him to the ground. He played off deep in coverage and tried to time hits in deeper coverage (despite being a non-full pad practice) but overall flashed some ability and could be on pace to rise up boards once again.
-
Brandon Boykin
of Georgia moved and transition well, especially in the 10-20 yard range after press coverage. His length will limit how much he can drive receivers on the outside and how well he can hang with deep receivers (beaten by Dwight Jones on one vertical route).
-
Ryan Steed
of Furman had great length and used it well at the line, but as I saw on film, once he gets past the press and a better receiver shakes him, he struggles to get to great depth deep and turn and run well down the field. Something to watch this week.
-