2012 NFL Draft Player Spotlight: Bryce Brown, RB, Kansas State
As a high school standout, Bryce Brown rushed for nearly 8,000 career yards. His prolific rushing stats led to his being regarded as the number one recruiting prospect of the 2009 class. That ranking put him above even players like Trent Richardson and Matt Barkley, who are locks to be first round picks in their respective drafts. Brown however, who only saw action in three games this season, is considered by most to be a late round pick at the very best.

What's happened to cause such a drop in his stock? Is it still possible for Brown to have a successful NFL career?


Brown has been surrounded by drama from the start. As the top recruit in the 2009 class, his recruitment process was a tumultuous one. Eventually he decided to commit to the Lane Kiffin and the Tennessee Volunteers. Later on, Brown would be implicated in the "Hostess-gate" scandal that accused Kiffin's staff of committing numerous NCAA recruiting violations.

His freshman season at Tennessee came with far fewer fireworks than his recruitment did, and he ended the year with only 460 yards and three touchdowns. While it wasn't a huge first season, it did show some promise for his future. However, Brown only would have 16 more yards to gain in his entire college career.

When Brown made the decision to go to Tennessee, he was committing more to playing for Lane Kiffin than he was playing for Tennessee. So when Kiffin left for his dream job at Southern California, Brown wasn't thrilled about the prospects of staying in Tennessee. He wanted to play with his brother (who was transferring from Miami) at Kansas State, but new Tennessee head coach Derek Dooley wasn't eager to free him from his scholarship. The result was that Brown ended up sitting out the 2010 season before finally being cleared to play for Kansas State in 2011.

Most everyone assumed that Brown would easily earn the starting running back spot early in preseason camp. However, Brown couldn't even get and higher than third string on the depth chart. In the first three games on the season, Brown carried the ball three times for 16 yards. Following that third game, Brown elected to part ways with the Kansas State football program and return to Tennessee. While there were several rumors in regards to why Brown returned to Tennessee, nothing was ever confirmed. What was clear was this – Brown's indecision off the field and lack luster play on it had likely worn out the patience of most FBS coaching staffs. If Brown wanted to attempt to rebuild his reputation, it'd have to be at the FCS level.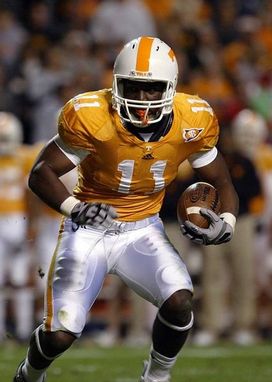 But, as has been the case throughout the Bryce Brown saga, Brown surprised everyone when he decided to pass on the rest of his eligibility and declare for the NFL Draft. While he clearly has talent the move was unexpected because for the most part, Brown hasn't shown that talent for several years. The first step in Brown's return to relevance would be to show his athleticism at a private pro-day workout.

By most accounts, Brown's workout was far more impressive than anyone expect: Brown ran a 4.3-4.4 forty yard dash, put up 22 reps on the bench press, and recorded a 34 inch vertical. That work out rekindled interest in Brown's status as an NFL runner. Does he have what it take to play at the next level?

In his short time at Tennessee, Brown displayed good vision, instincts, and overall looked very comfortable carrying the ball in Tennessee's zone blocking scheme they employed under Kiffin. He has a tendency to get too upright at times, but it was clear that he had the physical tools needed to be successful.

He showed again at his pro-day that he's still got those tools. Because of his odd career in college, he's had very few carries, leaving him with many more carries left in the tank, a valuable asset that few other prospects have. The concerns around his character, primarily his commitment to his team, are going to be huge. But he just might be worth a shot – he won't even turn 21 until after the draft, and perhaps he's done some growing up over the last year. If he has, he could be worth a team's late round gamble in April.