2012 NFL Draft: Best Prospects Available After Day One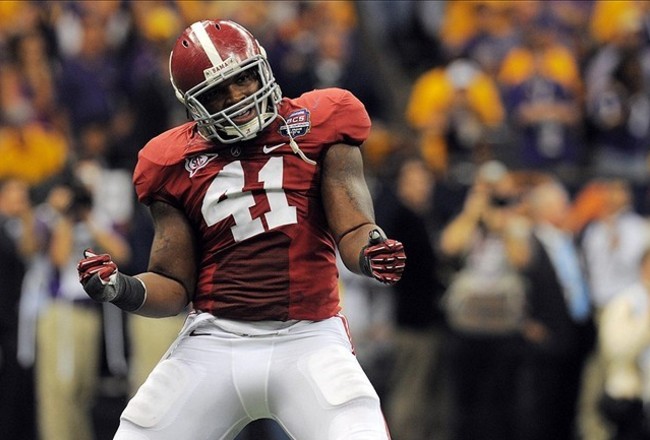 After an exciting first day of the draft, many first round talents as well as solid second rounders remain for Day Two. While it gets thrown around a lot each year, don't be surprised if this top-weak draft and deep 2nd-3rd round talent area surprise for the future, as we could have more starters from 33-63 than from picks 1-32.

Here are the best prospects remaining after day one.


Rank - Player - Pos - College
1 - Courtney Upshaw - OLB - Alabama
2 - Devon Still - DT - Penn State
3 - Jonathan Martin - OT - Stanford
4 - Cordy Glenn - OT - Georgia
5 - Jayron Hosley - CB - Virginia Tech
6 - Janoris Jenkins - CB - North Alabama
7 - Brian Quick - WR - Appalachian State
8 - Coby Fleener - TE - Stanford
9 - Peter Konz - OC - Wisconsin
10 - Brandon Thompson - DT - Clemson
11 - Chris Polk - RB - Washington
12 - Joe Adams - WR - Arkansas
13 - Mike Adams - OT - Ohio State
14 - Vinny Curry - DE/OLB - Marshall
15 - Alshon Jeffery - WR - South Carolina
16 - Cam Johnson - DE/OLB - Virginia
17 - Zach Brown - OLB - North Carolina
18 - Rueben Randle - WR - LSU
19 - Andre Branch - DE/OLB - Clemson
20 - Brandon Boykin - CB - Georgia
21 - Sean Spence - OLB - Miami (FL)
22 - Jared Crick - DT - Nebraska
23 - Lavonte David - OLB - Nebraska
24 - Bernard Pierce - RB - Temple
25 - Mike Martin - DT - Michigan
26 - Keenan Robinson - OLB - Texas
27 - Mitchell Schwartz - OT/OG - California
28 - Casey Hayward - CB - Vanderbilt
29 - Lamar Miller - RB - Miami (FL)
30 - Amini Silatolu - OG - Midwestern State
31 - Jamell Fleming - CB - Oklahoma
32 - Nigel Bradham - OLB - Florida State
33 - Matt McCants - OT - UAB
34 - Kelechi Osemele - OT/OG - Iowa State
35 - Alameda Ta'Amu - DT - Washington
36 - George Iloka - S - Boise State
37 - Marvin Jones - WR - California
38 - Dwayne Allen - TE - Clemson
39 - Jerel Worthy - DT - Michigan State
40 - Dwight Jones - WR - North Carolina
41 - Ryan Steed - CB - Furman
42 - Rishard Matthews - WR - Nevada
43 - Orson Charles - TE - Georgia
44 - Derek Wolfe - DT - Cincinnati
45 - Brandon Brooks - OG - Miami (OH)
46 - Chase Minnifield - CB - Virginia
47 - Juron Criner - WR - Arizona
48 - Devon Wylie - WR - Fresno State
49 - Markelle Martin - S - Oklahoma State
50 - Malik Jackson - DE - Tennessee
51 - Mohammed Sanu - WR - Rutgers
52 - TY Hilton - WR - Florida International
53 - Dominique Hamilton - DT - Missouri
54 - Isaiah Pead - RB - Cincinnati
55 - Micah Pellerin - CB - Hampton
56 - Bobby Massie - OT - Ole Miss
57 - James Michael-Johnson - ILB - Nevada
58 - Jeff Allen - OG - Illinois
59 - David Molk - OC - Michigan
60 - Josh Robinson - CB - Central Florida
61 - Leonard Johnson - CB - Iowa State
62 - Stephen Hill - WR - Georgia Tech
63 - LaMichael James - RB - Oregon
64 - Ladarius Green - TE - Louisiana Lafayette
65 - Tauren Poole - RB - Tennessee
66 - Mychal Kendricks - ILB - California
67 - Josh Chapman - DT - Alabama
68 - Terrence Gannaway - RB - Baylor
69 - Marvin McNutt - WR - Iowa
70 - Lucas Nix - OG - Pittsburgh
71 - Josh Kaddu - OLB - Oregon
72 - Jonathan Massaquoi - DE/OLB - Troy
73 - Bobby Wagner - ILB - Utah State
74 - Ben Jones - OC - Georgia
75 - Thomas Mayo - WR - California PA
76 - RJ Blanton - CB - Notre Dame
77 - Ryan Broyles - WR - Oklahoma
78 - Jarius Wright - WR - Arkansas
79 - Zebrie Sanders - OT - Florida State
80 - James Brown - OG - Troy
81 - Ronnell Lewis - OLB - Oklahoma
82 - Josh Norman - CB - Coastal Carolina
83 - Trumaine Johnson - CB/S - Montana
84 - Travis Lewis - OLB - Oklahoma
85 - Kendall Reyes - DT - Uconn
86 - Dwight Bentley - CB - Louisiana Lafayette
87 - Brandon Washington - OG - Miami (FL)
88 - Ronnie Hillman - RB - San Diego State
89 - Phillip Blake - OC - Baylor
90 - DeQuan Menzie - CB - Alabama
91 - Trenton Robertson - S - Michigan State
92 - Jarrett Boykin - WR - Virginia Tech
93 - Chris Rainey - RB - Florida
94 - Kevin Koger - TE - Michigan
95 - Brandon Taylor - S - LSU
96 - LaVon Brazill - WR - Ohio
97 - Michael Egnew - TE - Missouri
98 - Andrew Datko - OT - Florida State
99 - Chris Givens - WR - Wake Forest
100 - Evan Rodriguez - TE/FB - Temple
101 - Nick Toon - WR - Wisconsin
102 - Aaron Henry - S - Wisconsin
103 - Asa Jackson - CB - Cal Poly
104 - Jaye Howard - DT - Florida
105 - Brandon Lindsey - DE/OLB - Pittsburgh
106 - Eric Page - WR - Toledo
107 - Kyle Wilbur - DE/OLB - Wake Forest
108 - Adrian Hamilton - DE/OLB - Praire View A&M
109 - Alfonzo Dennard - CB - Nebraska
110 - DaJohn Harris - DT - USC
111 - Desmond Wynn - OG - Rutgers
112 - Jordan White - WR - Western Michigan
113 - Antonio McClain - OG - Clemson
114 - Robert Turbin - RB - Utah State
115 - Shawn Loiseau - ILB - Merrimack
116 - Lance Lewis - WR - East Carolina
117 - Daniel Herron - RB - Ohio State
118 - Ryan Davis - DE/OLB - Bethune Cookman
119 - Tyrone Crawford - DE - Boise State
120 - Daryl Richardsoon - RB - Abilene Christian
121 - Junior Hemingway - WR - Michigan
122 - Dale Moss - WR - South Dakota State
123 - Brett Roy - DE - Nevada
124 - Quentin Saulsberry - OC - Mississippi State
125 - Jake Bequette - DE/OLB - Arkansas
126 - Coryell Judie - CB - Texas A&M
127 - Terrence Frederick - CB - Texas A&M
128 - Akiem Hicks - DT - Regina
129 - Duke Ihenacho - S - San Jose State
130 - Keshawn Martin - WR - Michigan State
131 - Cyrus Gray - RB - Texas A&M
132 - Billy Winn - DT - Boise State
133 - Justin Bethel - S/CB - Presbyterian
134 - Tank Carder - ILB - TCU
135 - Rico Wallace - WR - Shenedoah
136 - Winston Guy - S - Kentucky
137 - Vontaze Burfict - ILB - Arizona State
138 - Antonio Allen - S - South Carolina
139 - Greg Childs - WR - Arkansas
140 - Brandon Marshall - OLB - Nevada
141 - Vick Ballard - RB - Mississippi State
142 - Michael Smith - RB - Utah State
143 - Demario Davis - OLB - Arkansas State
144 - Edwin Baker - RB - Michgian State
145 - Senio Kelemete - OG - Washington
146 - Janzen Jackson - S - McNeese State
147 - Jeff Fuller - WR - Texas A&M
148 - Emil Igwenagu - TE - Umass
149 - Jeff Adams - OT - Columbia
150 - Hebron Fangupo - DT - BYU
151 - Trevor Guyton - DE - California
152 - Donnie Fletcher - CB - Boston College
153 - Matt Daniels - S - Duke
154 - Chris Owusu - WR - Stanford
155 - David Paulson - TE - Oregon
156 - Lamar Holmes - OT - Southern Miss
157 - Taylor Thompson - TE - SMU
158 - TJ Graham - WR - NC State
159 - Shaun Prater - CB - Iowa
160 - Terrell Manning - OLB - NC State
161 - James Hanna - TE - Oklahoma
162 - Tom Compton - OT - South Dakota
163 - Mike Brewster - OC - Ohio State
164 - Coty Sensabaugh - CB - Clemson
165 - Phillip Thomas - S - Syracuse
166 - Travian Robertson - DT - South Carolina
167 - Tim Benford - WR - Tennessee Tech
168 - Audie Cole - OLB - NC State
169 - Lennon Creer - RB - Louisiana Tech
170 - DeVier Posey - WR - Ohio State
171 - Brandon Mosley - OT - Auburn
172 - Ronnie Cameron - DT - Old Dominion
173 - Frank Alexander - DE - Oklahoma
174 - Ryan Miller - OT - Colorado
175 - BJ Cunningham - WR - Michigan State
176 - Justin Francis - DE/DT - Rutgers
177 - Keith Tandy - CB - West Virginia
178 - Aston Whiteside - DE/OLB - Abilene Christian
179 - Micanor Regis - DT - Miami (FL)
180 - Tommy Streeter - WR - Miami (FL)
181 - Nate Potter - OG - Boise State
182 - Tyler Shoemaker - WR - Boise State
183 - Tony Bergstrom - OG - Utah
184 - Levy Adcock - OT - Oklahoma State
185 - Derrius Brooks - CB - Western Kentucky
186 - DeAngelo Peterson - TE - LSU
187 - Bobby Rainey - RB - Western Kentucky
188 - Jack Crawford - DE - Penn State
189 - Noah Keller - ILB - Ohio
190 - Trevin Wade - CB - Arizona
191 - Brandon Harvey - ILB - Delaware State
192 - Jerron McMillon - S - Maine
193 - Markus Zusevics - OG - Iowa
194 - George Bryan - TE - NC State
195 - Julian Talley - WR - Umass
196 - Matt Reynolds - OG - BYU
197 - Jamie Blatnik - DE - Oklahoma State
198 - Jacquies Smith - DE - Missouri
199 - Joe Looney - OC - Wake Forest
200 - Jeremiah Warren - OG - South Florida
201 - Tim Fugger - DE/OLB - Vanderbilt
202 - Jonathan Grimes - RB - William & Mary
203 - Cliff Harris - CB - Oregon
204 - Emmanual Acho - ILB - Texas
205 - Logan Harrell - DT - Fresno State
206 - Josh Linam - OLB - Central Florida
207 - Adrian Cole - ILB - Louisiana Tech
208 - Steven Peyton - S - Brown
209 - Brandon Hardin - CB/S - Oregon State
210 - Jake Trantin - ILB - William & Mary
211 - Jeremy Lane - CB - Northwestern State
212 - DeShawn Shead - S - Portland State
213 - Gino Gradkowski - OG - Delaware
214 - Alex Tounkara - WR - Brown
215 - Darius Reynolds - WR - Iowa State
216 - Vaughn Meatoga - DT - Hawaii
217 - Christian Thompson - S - South Carolin State
218 - Reggie Sandilands - ILB - Bethune Cookman
219 - Alfred Morris - RB - Florida Atlantic
220 - Marcus Forston - DT - Miami (FL)
221 - Kashif Moore - WR - UConn
222 - Donald Stephenson - OT - Oklahoma
223 Kheeston Randle - DT - Texas
224 Jaymes Brooks - OG - Virginia Tech
225 Darrell Scott - RB - South Florida
226 Gerrell Robinson - WR - Arizona State
227 Robert De La Rosa - DT - Bucknell
228 Dezmon Moses - DE - Tulane
229 Kyle Fiedorwicz - TE - North Carolina Central
230 Kelcie McGray - S - Arkansas State
231 Tahir Whitehead - OLB - Temple
232 Damon Harrison - DT - William Penn
233 Tony Jerod-Eddie - DE - Texas A&M
234 Travis Benjamin - WR - Miami (FL)
235 Johnnie Troutman - OG - Penn State
236 Ronnie Thornton - OLB - Southern Miss
237 Patrick Edwards - WR - Houston
238 Derek Dennis - OG - Temple
239 Danny Coale - WR - Virginia Tech
240 Miles Burris - OLB - San Diego State
241 Julian Miller - DE/OLB - West Virginia
242 Mark Asper - OG - Oregon
243 Josh Oglesby - OT - Wisconsin
244 Brian Lithicum - TE - Michigan State
245 DJ Bryant - DE/OLB - James Madison
246 Larry Parker - CB - San Diego State
247 Lance Mitchell - S - Oregon State
248 Matt Broha - DE - Louisiana Tech
249 Buddy Jackson - S/CB - Pittsburgh
250 Mike VanderMeulen - OT - Toledo
251 Rishaw Johnson - OG - California PA
252 Josue Ortiz - DE/DT - Harvard
253 Dexter Heyman - ILB - Louisville
254 Cordarro Law - DE - Southern Miss
255 Adam Gettis - OG - Iowa
256 Brandon Joiner - DE - Arkansas State
257 James Carmon - OT - Mississippi State
258 Derrick Coleman - RB - UCLA
259 Bradley Sowell - OT - Ole Miss
260 Jermaine Kearse - WR - Washington
261 Marcus Rivers - WR - Buffalo
262 Brandon Bolden - RB - Ole Miss
263 Broderick Binns - DT/DE - Iowa
264 Nick Jean-Baptiste - DT - Baylor
265 Dwayne Frampton - WR - Arkansas State
266 Al Netter - OG - Northwestern
267 Marc Tyler - RB - USC
268 Laron Byrd - WR - Miami (FL)
269 Drake Dunsmore - TE - Northwestern
270 Davin Meggett - RB - Maryland
271 Donovan Robinson - DE/OLB - Jackson State
272 Bryce Brown - RB - Kansas State