2012 NBA Draft: What If They Were NFL Prospects...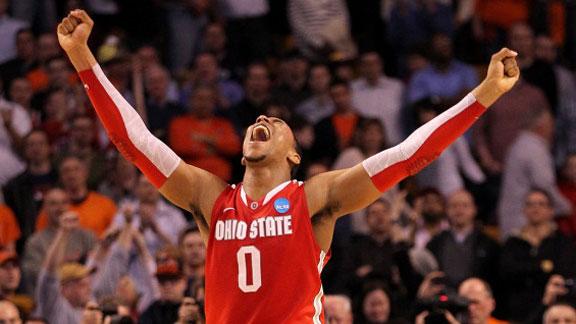 BREAKING NEWS: The NBA Draft will not be going on this year. Or for the foreseeable future. David Stern has vetoed the whole thing in favor of further aggravating Dan Gilbert and to see how this LeBron vs. Durant saga continues to progress.

But, there's good news for these NBA Draft prospects: The NFL is waiting with open arms. While these talents may not have much (if any) of a football background, I've done by best to mesh the scouting of basketball with the projection of football. And enjoy this Kentucky fans. This will be the ONLY time EVER you have four players ranked this high.


1 . Jared Sullinger, OT, Ohio State
-With his size (6'8, 260ish), and ability to be both finesse and explosive, he has the makings to become an elite left tackle in the NFL. Think Jason Peters with more athletic ability.

2 . Michael Kidd-Gilchrist, WR, Kentucky
-Ask most receivers what the biggest determining factor of success is at the position, and they'll tell you body control. MKG is an elite finisher at the basket because of his balance, body control, and vision through traffic. Sounds like an elite downfield receiver to me, plus he has the 6'6 size to go with it.

3 . Thomas Robinson, DE, Kansas
-Robinson's versatility and size (6'9, 240+) allows him to be a feared rusher off the edge who can smoothly drop back in coverage and make a play on the ball. He'll need to get more physical and be a more efficient inside power rusher, but his understanding and ability to win battles against all types of defenders in the paint should translate well to the NFL game.

4 . Anthony Davis, TE, Kentucky
-While he may be the top player in the NBA Draft, it's tough to peg where Davis can fit at the next level in the NFL without ample development. His ability to block shots, get vertical, and track the ball should make for a fantastic tight end, but he'll need to bulk up and stay balanced in the short area. Like his offensive game needs work, his NFL offensive development needs to come from better vision with the ball after the catch and more decisive routes.

5 . Kendall Marshall, QB, North Carolina
-The premier quarterback of the group, Marshall combines elite passing accuracy and timing along with ideal size and vision for every pass. Now, he hasn't been asked to make multiple reads or deal with tackling bodies yet, but he has the innate passing ability to at least have a chance to develop.

6 . Draymond Green, DE/OLB, Michigan State
-A physical, out of place big man by NBA Draft standards, Green could smoothly fit into a Terrell Suggs type role as a 3-4 pass rusher. He can use his size and athleticism to get low and drive blockers outside, with also the size and width to not be a total liability in run support.

7 . Dion Waiters, RB, Syracuse
-A fiesty, well-built athlete, Waiters slashing ability and explosion would be a perfect fit in a zone blocking scheme, where he can use his timing of explosion and balance in traffic to pick up huge chunks of yards.

8 . Harrison Barnes, WR, North Carolina
-Not as physical or dominating with his athleticism as I expected, Barnes has a finesse attribute to his basketball game that both translates well to jump ball settings and worries a bit in terms of staying physical downfield. He'll need to show more aggression before teams crown him as a feature receiver.

9 . Terrence Jones, TE, Kentucky
-The second best tight end on his own team, Jones is a bit more NFL ready with a better built, bulkier body and some more physicality in traffic to his game already. He may be able to do some inline work right off the bat if he can add 20-30 pounds in the off-season.

10 . Doron Lamb, CB, Kentucky
-Funny how Kentucky dominating THIS football big board, huh? Lamb is an undersized yet quick twitch athlete who's ability to bring a spark to an offense translates well to being an off-cornerback in the NFL. Speed, balance, and big ability.

11 . Bradley Beal, S/CB, Florida
-Very much out of position in the NFL, Beal is tough to peg. Ideally, he'd be a nickel cornerback to start because of his ability to stay balanced in the short area (see his quick ability to set for a shot in traffic), but he has a high ceiling to his game. Developing into a rover-safety or a long cornerback with physical size are both options.

12 . Andre Drummond, OT, UConn
-Where can a seven-footer play in the NBA? I'm not quite sure, but he's far too athletic for his size to be left off the Big Board. I'd say plug him at left tackle, but he doesn't quite have the physicality. Same goes for defensive end. He's an athlete for now. I will say that Army had a 6'11 left tackle who was pretty solid a few years back. So there's that.

13 . Austin Rivers, OLB, North Carolina
-Coming into college, he was supposed to be an elite player, but failed to consistently dominate with athleticism. However, place him on the defensive side of the ball, where his aggressive and desire to win mentality can be used forcefully,and Rivers could be an awesome weakside linebacker, utilized n space.

14 . Jeremy Lamb, CB, Uconn
-Such a fragile frame, it's tough to put him anywhere besides the secondary. Lamb's length (around 6'6) would make him the longest corner in the league. However, if he can stay balanced in transitions and not give up short area catches, he has a chance to be a unique, one of a kind playmaker with receiver-like ball skills.

15 . Tony Wroten, OLB, Washington State
-Certainly over-sized to be a running back, Wroten's aggressive and me-first athletic style could be ideal on the defensive side of the ball. He could play a similar position and have similar success to another long outside linebacker, KJ Wright of Seattle.

16 . Perry Jones, DE, Baylor
-Jones is a wild-card in the NBA Draft, and the same goes for his NFL prospects. At 6'11 and a fragile build for the NFL, where could he play? With his explosive athleticism, using him as a situational speed rusher as a defensive end should be a good start, and we'll find out more from there.

17 . Royce White, DE/DT, Iowa State
-Undersized for the NFL in terms of girth, White is a do-it-all athlete with a high motor and work ethic on the court that I'd love for my defensive line. White is active with every part of his body on the court, and if he can fill a Pernell McPhee with the Ravens type role, he could be a great value in the NFL Draft.

18 . Marquis Teague, RB, Kentucky
-Quick, explosive, and has athleticism for his size, Teague could be a 3rd down back with a ceiling to maybe split out as a slot receiver in the future. Tough to give him a set position now, but the versatility is there.

19 . Arnett Moultrie, DE, Mississippi State
-A rebounder extraordinaire in college, that physicality in traffic combined with vision in turmoil should make him be able to explode his hands forward and beat blockers in the pass rush. He'll need to get stronger and he's so long that he may get beat with hand placement, his rebouding-to-pass rush potential could make him a worthy project.

20 . Tyler Zeller, OT, North Carolina
-Bit of a soft build and a finese athlete in basketball, I don't want to count out Zeller's athleticism and adaptability for him to not make the list. He may need to bulk up quite a bit and develop a mean streak, but I don't want to count him out as a possible Nate Solder.