2012 NBA Draft: Final Mock Draft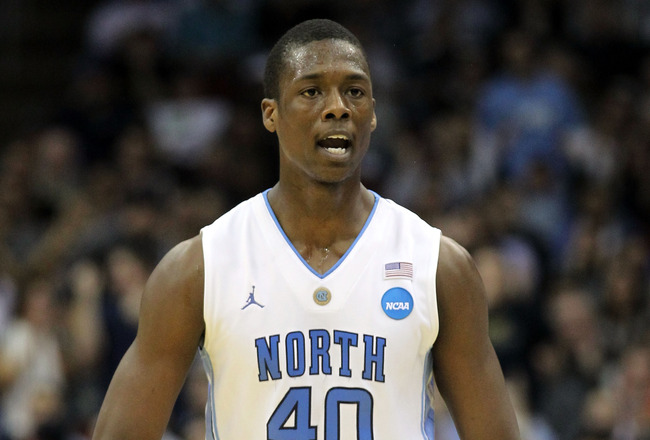 Rumors are flying. Players are up for grabs. Dwight Howard, Andre Drummond, and Thomas Robinson are the players to watch for right now.

This final mock, based on rumors from the NBA and my own gut feeling, is the last chance to meet your team's potential new piece to the future championship puzzle.


1. New Orleans Hornets - Anthony Davis, PF/C, Kentucky - 6'10" 222lbs
Best Case: Kevin Garnett - Worst Case: Tyson Chandler
No change at the top. Davis will join Eric Gordon (hopefully) to begin a new reign in New Orleans, following the depature of Chris Paul.

2. Charlotte Bobcats - Harrison Barnes, SF, North Carolina - 6'8" 228lbs
Best Case: Danny Granger - Worst Case: Wilson Chandler
Rumors are that Charlotte maybe be willing to trade down with either Washington or Cleveland. If that's the case, Barnes may still the pick. arnes still makes the most sense for a team that needs a fresh face. With him being the hometown kid, playing at Chapel Hill the past two seasons, the city should embrace the pick. The recent Ben Gordon-Corey Maggette swap with Detroit should only indicate that Charlotte no longer has in interest in Bradley Beal.

3. Washington Wizards - Bradley Beal, SG, Florida - 6'5" 202lbs
Best Case: Eric Gordon - Worst Case: Willie Green
Barring someone making a move with Charlotte to select Beal it two, he's their pick. He's an ideal backcourt mate to pair with John Wall. With fours starters (Wall, Ariza, Nene, and Okafor) being below average shooters, no team may have a higher need for Beal than Washington.

4. Cleveland Cavailers - Michael Kidd-Gilchrist, SF, Kentucky - 6'7" 233lbs
Best Case: Andre Iguodala - Worst Case: Jeff Green
There's no question Cleveland would prefer to acquire a more polished scorer in the draft like Barnes or Beal. But settling on MKG couldn't be a better plan B. He should strive as an NBA wing, playing with an elite talent at point guard like Kyrie Irving.

5. Sacramento Kings - Thomas Robinson, F, Kansas - 6'8" 244lbs
Best Case: David West - Worst Case: Brandon Bass
The case for Drummond drafted here could be made. Yet, coupling him with Cousins seems repetitive in the sense that their games are so similar. . Robinson on the other hand, makes much more sense next the third year center.

6. Portland Trailblazers - Andre Drummond, PF/C, UConn - 7'0" 279lbs
Best Case: Amar'e Stoudemire - Worst Case: Andray Blatche
Portland needs help at both point guard and center entering this year's draft. With the departures of Oden and Roy, the team is in a semi-rebuilding mode. Although he may be a project, selecting Drummond to pair next to Aldridge could work. He's a big that can both block shots and defend the pick-n-roll, neither Aldridge does especially well. Damian Lillard could be in play here but our guess is they'll wait out their backcourt needs till they select again at eleven.

7. Golden State Warriors - Dion Waiters, PG/SG, Syracuse - 6'4" 221lbs
Best Case: Evan Turner - Worst Case: Wes Mathews
He's an ideal combo guard to play with Curry and Thompson in the backcourt. His ability to handle the ball at point and still have the size to guard shooting guards will pay huge dividends for Curry. Neither he or Curry are true point guards yet they are different threats on offense. Waiters will look to get to the basket and finish at the hoop while Curry can play sets off the ball, coming off screens to knock down shots.

8. Toronto Raptors - Austin Rivers, G, Duke - 6'5" 203lbs
Best Case: Manu Ginobli - Worst Case: OJ Mayo
IF Toronto decides to keep this pick, it will be most likely to address their backcourt. Rivers, Lamb, and Lillard are on in play. Rivers seems the most logically because of his unique skill set. He's an excellent one-on-one player, with the ability to create his own shot from anywhere on the court, a skill no one on the Raptors roster has. That being said, the pick has a high probability of getting traded to a team looking to get into the top ten, possibly to nab Rivers.

9. Detroit Pistons - John Henson, North Carolina, PF, North Carolina - 6'11" 216lbs
Best Case: Marcus Camby - Worst Case: Samuel Dalembert
Ideally, the Pistons would like to see Drummond fall here. They'll be stuck to pick between Henson, Zeller, or Leonard to pair with Monroe in the front court. Henson has a leg up on the other two mainly because of the other's two flaws. Zeller's ceiling has a player is not as high as Henson while Leonard is so underdeveloped for a big man that he may be too risky for the Pistons.

10. New Orleans Hornets - Kendall Marshall, PG, North Carolina - 6'4" 198lbs
Best Case: Andre Miller - Worst Case: Jamaal Tinsley
There is no one in the draft that can help Davis in his rookie season more than Marshall. Conversely, no one could help Marshall more than Davis. Offensively, Marshall's elite passing skills give Davis the opportunity for easy buckets at the hoop. Defensively, Marshall is sure to struggle guarding some of the league best point guards. Lucky for him, he'll have Davis behind him to protect the rim.

11. Portland Trailblazers - Damian Lillard, PG, Weber State - 6'3" 189lbs
Best Case: Mo Williams - Worst Case: Randy Foye
With Felton hitting free agency and the inevitable trade/opt out ofJamal Crawford, the Blazers find themselves in need a point guard. He's a score first guard with a great stroke from three. If all goes according to plan, drafting Lillard after Drummond will surely be an "A" rating on the Blazers report card following the draft.

12. Houston Rockets (via Milwaukee) - Tyler Zeller, C, North Carolina - 7'0" 247lbs
Best Case: Marcin Gortat - Worst Case: Joel Pryzbilla
It near impossible to gauge what Houston is doing with all their recent trades. Whether they decide to keep this pick or end up picking for another team, a big looks to be the choice and Zeller is the best on the board. He's still a little thin to bang with big bodied centers but his excellent footwork and his improved jump shot make him one of the few "sure thing pros" in the draft.

13. Phoenix Suns - Jeremy Lamb, SG, UConn - 6'5" 179lbs
Best Case: Kevin Martin - Worst Case: Anthony Parker
With Steve Nash entering free agency and Grant Hill turning 40 this October, Phoenix will surely address their backcourt in this year's draft. Ideally, Phoenix would have loved to see Rivers, Marshall, or Waiters fall here. Lamb is the best guard on the board but don't be surprised to see Phoneix trade down to select Marquis Teague or Tony Wroten while picking up some assets in the process.

14. Milwaukee Bucks (via Houston) - Terrance Ross, SF, Washington
Best Case: Stephen Jackson - Worst Case: Martell Webster
Trading down to spots with Houston and picking up Dalembert in the process gives them more flexibility in this years draft. With a front court of young talents like Udoh, Mbah a Moute, and possibly Illyasova (free agent), the Bucks will look to go wing, hence the Terrance Ross selection. He's a knock down shooter that will spread the court for guards Jennings and Ellis to penetrate in the lane.

15. Philadelphia 76ers - Moe Harkless, SF, St. Johns
Best Case: Richard Jefferson Worst Case: Renaldo Balkman
Harkless fits the up-tempo-force turnovers-defense first play that coach Doug Collins teaches his players. While Andre Igudala sees most of the time at small forward. Harkless is to much of a talent to pass up. He's a great rebounder for his position and can take a lot of bigger forwards off the dribble and get to the basket. He'll definitely need to improve his jump shot. The drafting of Harkless could mean Iguodala might be traded.

16. Houston Rockets - Marques Teague, PG, Kentucky
Best Case: Kyle Lowry - Worst Case: John Lucas
Again, barring any recent trades leading up to this pick., Teague fills a potential hole for the Rockets. It seems the Rockets will separating themselves from either Lowry (via trade) or Dragic (via free agency) leaving a reserve role open at point guard. Teague is a work in progress but has a lot of potential and poise, exhibited in his title run last season.

17. Dallas Mavericks- Meyers Leonard, C, Illinois - 7'1" 250lbs (Soph)
Best Case: Chris Kaman - Worst Case: Jason Smith
Brendon Haywood, Brandon Wright, and Ian Mahimni are three reasons why the Mavericks should address their front court in the draft. Leonard is great value here at 17. He's underdeveloped as far as footwork and back-to-the-basket game but he's an unbelievable athlete for his size and physical enough to bang with most of the league's centers.

18. Houston Rockets (via Minnesota) - Terrance Jones, F, Kentucky
Best Case: Lamar Odom - Worst Case: Al Harrington
hypothetically, if Houston keeps all three of there picks, they're looking at an excellent group of players to rebuild their franchise with. Jones would see most of his time at the four when the team moves Scola to center.

19. Orlando Magic - Perry Jones III, F, Baylor
Best Case: Rashard Lewis - Worst Case: Earl Clark
Whether Dwight stays or goes, Jones is a nice fit for the Magic. He's an extremely long and gifted forward that can play almost as a stretch four. Although Jones's game seems like he has the potential to be a star in this league, his attitude and mindset on the court shows he'll only amount to role players. Nevertheless, his ability to knock down threes at his size makes Dwight's life easier in the post.

20. Denver Nuggets – Tony Wroten, PG, Washington
Best Case: Rajon Rondo - Worst Case: Shaun Livingston
With Andre Miller headed for free agency, Wroten slides into his reserve role as a back-up to Ty Lawson. He may be the best passer in the draft behind Marshall. He has lottery size and potential but his poor perimeter shooting has knocked his stock down. This long, athletic guard could be a huge steal for Denver.

21. Boston Celtics – Royce White, PF, Iowa St
Best Case: Michael Beasley - Worst Case: Al Farouq Aminu
He's a do-it-all forward on a Celtic team that could use little big of everything. The Celtics are thin up front. If they choose not to retain Jeff Green in free agency, White becomes a shoe in for Ainge and the Celtics.

22. Boston Celtics - Fab Melo, C, Syracuse
Best Case: Brendon Haywood - Worst Case: Dan Gadzuric
Melo is a project for sure. But you can't teach size and Melo has plenty of that. If Boston can convince Garnett to resign this offseason, there is no better teacher for Melo to learn from as far as becoming a defensive anchor in the pros, much like he was for Syracuse last season.

23. Atlanta Hawks - Arnett Moultrie, PF, Mississippi State
Best Case: Antonio McDyess - Worst Case: Jason Thompson
Last season showed what a glaring weakness the Hawks had in the front court, especially with Horford out of the line-up. Moultrie gives the Hawks a big, mobile body that should complement Horford at either forward or center. His footwork is still raw but he's an outstanding free throw shooter, much like Horford. The two should complement each other quite nice and could lead to the departure of one Josh Smith.

24. Cleveland Cavaliers - Jared Sullinger, F/C, Ohio State
Best Case: Elton Brand - Worst Case: Glen Davis
As fast as Sullinger's stock is dropping with concerns about his back and weight, there's no way the home town Cav's pass on this talent. Although they drafted forward Tristan Thompson last season, Sullinger's face up game and ability to score on the block brings a new dimension to the Cav's front court.

25. Memphis Grizzlies - Doran Lamb, G, Kentucky
Best Case: Courtney Lee - Worst Case: Wayne Ellington
Depending on the Grizzlies willingness to let reserve guard OJ Mayo leave via free agency, Lamb is a logical replacement. Like Mayo, he's a combo guard that can play point guard in a pinch and still stroke it from deep. Playing for a star studded Kentucky team last season, Lamb should have no issue differing to the likes of Gasol, Randolph and Gay in Memphis.

26. Indiana Pacers – Quincy Miller, SF, Baylor
Best Case: Travis Outlaw - Worst Case: Austin Daye
There's no chance Indiana keeps this pick. There roster is already deep enough at each position. The money saved by trading this pick will surely go towards resigning Hibbert this offseason. Miller is the best prospect left on the board and will surely be coveted by veteran teams that can tap into his raw potential.

27. Miami Heat - Andrew Nicholson, F, St. Bonaventure
Best Case: Drew Gooden- Worst Case: Samardo Samuels
The Heat a very thin up front. Nicholson is a lanky big who has excellent footwork on the block and can protect the rim with his shot blocking. He can compliment both Bosh and Haslem as a reserve, making players like Joel Anthony and Ronnie Turiaf expendable this offseason.

28. Oklahoma City Thunder - Draymond Green, F, Michigan State
Best Case: Paul Milsap - Worst Case: Ryan Gomes
Green just makes to much sense for the Thunder. If Durant is maturing into this stretch four, then pairing a physical rebounder with him in the front court makes for an interesting dynamic to the Thunder's rotation. Green's improved mid-ranged game will benefit Westbrook and Durant in the event one of them is doubled and need to kick out.

29. Chicago Bulls – Jeff Taylor, SF, Purdue
Best Case: Thabo Sefalosha - Worst Case: Keith Bogans
He's got all the makings to be an elite defender, skills the Bulls always covet He's tough enough to defend big threes and relieve some of the pressure put on Luol Deng defensively.

30. Golden State Warriors - Jae Crowder, F, West Virginia
Best Case: Shane Battier- Worst Case: Dominic McGuire
The Warriors love playing small ball. Drafting an impact forward that can defend multiple positions and knock down three's fits right into coach Marc Jackson's scheme.